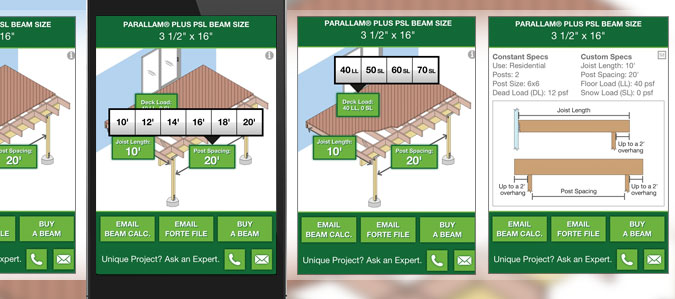 Are your customers building an elevated deck over a walk out basement? Do you want to offer them an option that opens up the space underneath and removes the column blocking the view? There's an app for that! In under a minute, size a deck beam that spans longer than traditional lumber and delivers long-term durability even in the harshest conditions. Then email supporting documentation such as a member design report to a building official all from your phone or tablet.
Join our many customers that have built better decks with the help of our Parallam Plus Deck Beam Sizer app for iOS. If you haven't tried it out yet, now is the perfect time to download it. That's because we've updated our app for an even richer experience. Some improvements include:
Allow your beam to span even further with the addition of a 20' post spacing option
Quickly find a Weyerhaeuser stocking lumber dealer by touching the "Buy a Beam" button
Get it now as a free download from the App Store℠.
P.S. Android users, we didn't forget about you: While the Parallam Plus Deck Beam Sizer app is only available at this time on the Apple App Store, it is coming to the Google Play™ Store very soon. Keep an eye on this blog for more information!
UPDATE: Available now for Android Phones. Get the Parallam Plus Deck Beam Sizer on the Google Play Store.
---
Trish Baird