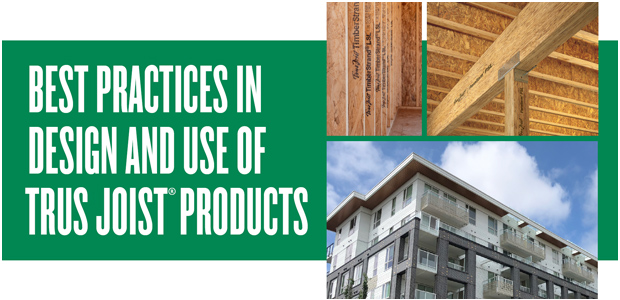 Join us for a new workshop
Engineered lumber products have become the standard in our market, particularly as structures are getting larger and more complex. Join us as we explore ways to save time and reduce the risk of costly errors as projects move from design to construction.

Date: Thursday, Oct 24, 2019
Welcome: 8:00 am - 8:30 am
Presentation: 8:30 am - 1:00 pm (Lunch will be provided at 12:00 pm)
Location: Crowne Plaza Sacramento Northeast - Magnolia Room

5321 Date Ave., Sacramento, CA 95841
PRESENTERS

Rob Miller, P.E., Region Engineer
Weyerhauser experience = 13 yrs

Renee Strand, P.E., Region Engineering Manager
Weyerhaeuser experience = 31 yrs

Randy Raatz, Territory Manager, N. California High Density Housing
Weyerhaeuser experience = 30 yrs

Mike Rasmussen, Territory Manager, N. California
Weyerhaeuser experience = 35 yrs
WHAT YOU'LL LEARN
Highlighting the best use of Trus Joist products in specific structural applications, this workshop will cover the following areas:
Lessons learned from mid-rise projects
Understanding Weyerhaeuser services and availabiltiy of Trus Joist Products
Proper specification of Trus Joist Products
General guidelines for field support
Repair approaches for Trus Joist components
Utilize Forte®WEB software efficiently
Understanding floor performance using TJ-Pro™ Rating
Certificate of completion will be available
---
WHO SHOULD ATTEND
For new engineers, the workshop is designed to help you become familiar with Engineered Lumber products and provide practical knowledge of the specification process, review of placement plans
and site reviews. It provides an opportunity to become familiar with the services and technical support provided by Weyerhaeuser in the field.
For senior engineers, the presentations will provide information on procedures and suggested specifications that can reduce errors and improve process reliability.
Architects, designers, and code officials are welcomed and will find value in the subject manner as well.