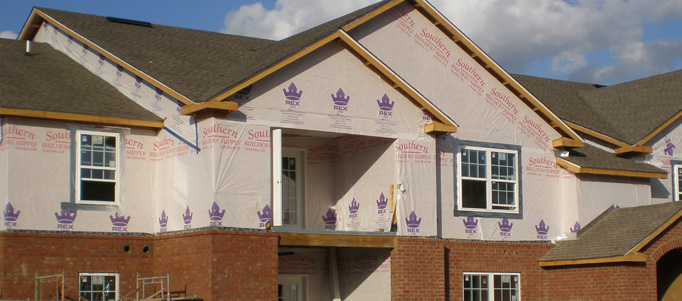 Here's a riddle for you. What product comes in white, gray or blue, is tear-resistant and used on just about every home site in America? The answer, of course, is housewrap.
A variety of housewraps exist in the marketplace to offer an air and moisture barrier for under-construction homes. However, REXWrapTM from Alpha Pro Tech is the only brand offering superior technology and strength in a variety of Made-in-America products that can help increase your profits.
The key in selling housewraps is to match your customer with the right product that fits the needs of his current project.
You can wrap up more sales with housewrap when you get familiar with the various REX product offerings. Here's a quick overview of their key products that can help increase your sales:
REXTM Wrap & REXTM Wrap Plus – feature a woven and coated tear-resistant polypropylene weather-resistant barrier that provides air and moisture protection while micro-perforations allow moisture to escape. Both products are lightweight and easy-to-install. REX Wrap Plus with Drain Plane has an advanced channel built into the fabric that allows water to drain down the surface of the membrane.
REXTM Wrap Fortis Weather Barrier – provides a strong woven fabric including a monolithic breather film and a non-woven sheet to offer a high-strength non-perforated membrane to protect from both air and water. This highly-engineered composite meets the latest ICC Code requirements for water resistive barriers along with air barrier requirements in accordance with ICC AC38.
"When builders come to you looking for housewrap that's tear-resistant, dependable, water resistant and dependable, nothing beats the full range of REX products," says Roger Gilley, business development manager with Weyerhaeuser Distribution. "These products are exceptionally strong and consistent in protecting a project from the elements. A bonus is that all products can be custom two-color printed at no cost when ordering a minimum of one pallet!
"You can really wrap up your sales when recommending all of these reliable house wraps."
Available from Weyerhaeuser Distribution Centers in Dallas, Houston, Denver, Easton, Charlotte, Richmond, Jacksonville, Albany, Northern California, Southern California, Phoenix and Boise.