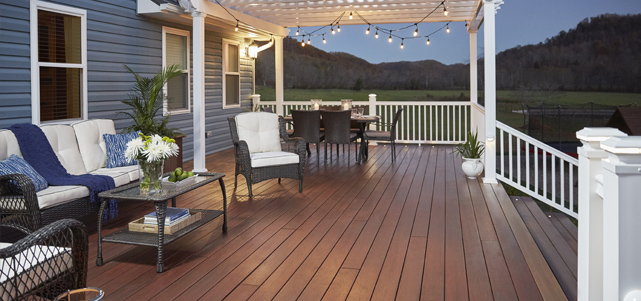 Weyerhaeuser Distribution now stocks Fiberon decking and railing products at its distribution centers in Houston, Texas and Phoenix, Arizona. Fiberon is a leading U.S. manufacturer of high-performing, low-maintenance composite decking, railing, cladding, and fencing. Weyerhaeuser's Houston location will carry the full-line of Fiberon decking and Symmetry railing products and the Phoenix location will carry ProTect Advantage and the Good Life decking product line.
Organized into good/better/best categories, the Fiberon decking products available in Houston include:
Also available in Houston, Fiberon Symmetry Railing has a classic, sculpted profile, durable composite constructions, reinforced top rail for added sturdiness, and two versatile color choices.
In Phoenix, Weyerhaeuser will stock Fiberon Good Life Decking and ProTect Advantage Decking. Recognized as a smart wood alternative for customers seeking a durable, entry-level capped composite deck board, Good Life Decking is available in two colors: Cabin (a classic brown) and Cottage (a soft gray). The all-around performer, ProTect Advantage, displays the multi-tonal streaking of premium hardwoods, without the maintenance of wood.
All Fiberon Decking is available in square edge and grooved profiles and is designed to resist staining, fading, insects, rot, and decay.
"We're excited to welcome Fiberon to the Houston and Phoenix markets broadening our composite deck board and railings offering," said David Helmers, vice president of Weyerhaeuser Distribution. "It complements our existing specialty building product portfolio and brings added value to our customers."
Fiberon decking is available in colors ranging from tans to grays to all shades of brown. 25-year limited stain and fade and performance warranties are available on all lines except Paramount PVC, which comes with a limited lifetime warranty.
"We are pleased to be working with Weyerhaeuser to grow the composite decking and railing business in these two markets," says Doug Mancosh, CEO, Fiberon. "We are committed to providing products that meet customers' needs while demonstrating our commitment to promoting sustainable, eco-friendly and affordable products."
For more details on Fiberon composite decking and railing, visit www.fiberondecking. For more information on Weyerhaeuser Distribution, visit www.weyerhaeuser.com/distribution.