Operation Diaper Drive
A cause you can get behind
More than ever, diapers are as essential to families as food and housing. They are also one of the most requested items in food banks and shelters, largely because they are not covered by social assistance programs. Annually, our employees collect and distribute thousands of diapers to organizations that support struggling families in communities where we operate across North America. We call it Operation Diaper Drive, our signature companywide event.
GIVING MILLIONS TO FAMILIES IN NEED
Since we launched the program in 2012, our employees, stakeholders, and Giving Fund have donated nearly 4 million diapers to families in need.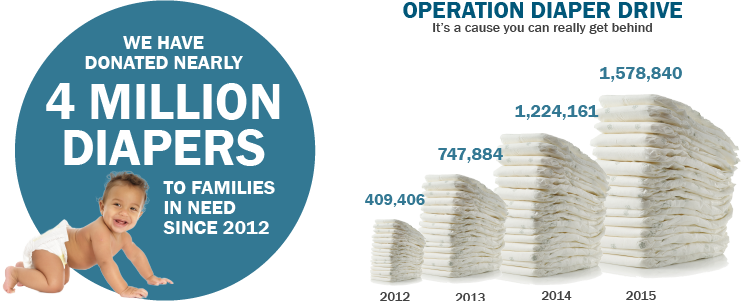 PARTNERING WITH OUR COMMUNITIES
It takes some logistics planning to distribute that many diapers! In our headquarters region, we teamed up with World Vision, a humanitarian non-profit based in Federal Way, Washington, to access their logistics and transportation expertise. In our operating communities across North America, we work with many other local nonprofits to collect and distribute diapers to those who need them most.
A NATURAL FIT — WE KNOW DIAPERS
Our Cellulose Fibers business makes fluff pulp that is found in many diapers on store shelves today. Our scientists have developed proprietary methods for making fluff pulp more absorbent. Our foresters work to ensure the fiber used to make pulp is grown and harvested on a sustainable basis so that future generations will always be able to rely on trees to meet basic human needs. And our sales people are on the front lines of a growing diaper demand, not just in the U.S., but worldwide, especially in emerging economies like China and India. Operation Diaper Drive is a perfect fit for us, a perfect solution for our communities, and a perfect opportunity to inspire others to help alleviate this "crying need" for families.
GET INSPIRED TO GIVE
Meet Jane and Natalie (2014). Watch to find out how a mother struggles with making decisions about providing everyday basic needs for her baby Natalie.
Bring it for Kids (2013). Watch this video to learn more about the impact our program is having for those in need.
How to Change a Diaper (2013). Watch what happened when we asked some little kids to solve a diaper problem, and then Weyerhaeuser employees acted out the conversation.
---
YOU MAY ALSO BE INTERESTED IN: