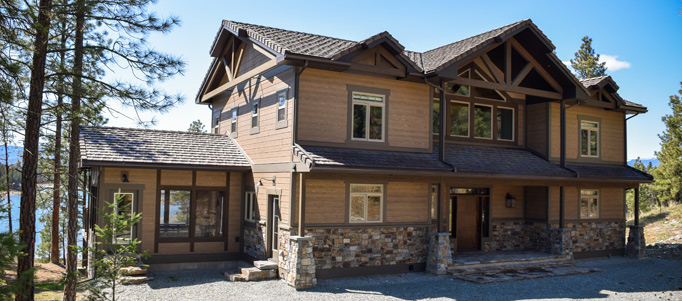 An uptick in cedar product sales. Strong multi-family housing starts. Accelerated interest in unique building products. From coast to coast, Weyerhaeuser Distribution sees indicators that the first part of 2016 shows promising signs for a healthy year of building.
Exciting Product Growth
The mild winter experienced by many across the country accelerated a robust demand for cedar products for use with decking and fencing, premium framing materials and trim. And, sales of innovative products so far this year show us that builders are setting themselves apart in their markets by incorporating unique, premium elements in their construction work.
What products are run-away hits with builders? Montana Ghost Wood® alternative reclaimed wood, ClipStone®mortarless stone veneer and TruGuard Siding are just a few of the products gaining in popularity so far this year. Product usage is also rising for StrandGuard® TimberStrand® LSL Treated Sill Plates and Ply Gem® PVC Trim. These are the type of products that make builders more competitive in their areas.
Labor Shortages
As business ramps up for the summer months, many at Weyerhaeuser have observed that our dealer customers continue to face quality labor shortages. Whether it's Portland or Charlotte, finding and keeping knowledgeable employees is challenging dealers from coast to coast.
One way Weyerhaeuser Distribution supports our customers is by making our 200+ sales team members available to ramp up product training sessions offered at dealer locations. This brings new hires up-to-speed as quickly as possible.
Multi-Family Growth
The acceleration of construction in the multi-family arena is a positive trend impacting Weyerhaeuser Distribution and other companies going into the summer months.
Even though the housing market is seeing single family residential business continuing to grow steadily, all eyes are on multi-family housing right now since it appears even stronger with more potential this year. From Atlanta to south Texas to northern California, multi-family construction is booming, making it the break-away building industry trend for 2016!