Availability and Ordering
Wholesale, retail and public sales
Decades of scientific research has helped start some of the most productive working forests in the world, now available to you. With Weyerhaeuser seed and seedlings, you can expect much higher yield and value from your timber harvest, all from naturally cross-pollinated, well-adapted seeds. Availability and ordering at our nurseries in Aurora, Oregon, and Rochester, Washington, are based on quantity:
WHOLESALE: 5,000 OR MORE
For our wholesale customers, our seed and seedlings are available at a discount.
RETAIL: 80 TO 200 TREES PER BAG/BOX (OREGON ONLY)
Seedlings are available from our Aurora, Oregon nursery each year, from early February through May. They can be purchased in bag or box quantities of 80 to 200 trees, depending on size. Your order can be picked up at our Aurora Nursery. The natural cycle of growing trees means orders are limited to stock on hand. Checks and cash accepted; no credit cards. To order, call (503) 266-2018. The retail sale period begins the Monday following the date of the first public sale and ends May 1.
ANNUAL PUBLIC SALES
Our annual seedling sales are a great way for the public to visit our nurseries and buy small quantities of seedlings. We also offer discounted bulk quantities.
Our public sales are held at our Aurora, Oregon nursery on the second Saturday in February, and at our Rochester, Washington nursery, on the first Saturday of March.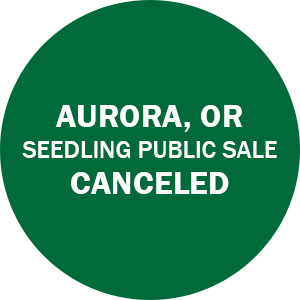 To do our part as a company to help contain the spread of coronavirus in our communities, we have decided to cancel our seedling public sale, previously scheduled for March 14, 2020. We apologize for the inconvenience and thank you for your understanding.
If you'd like to purchase seedlings in full bag amounts, or if you're interested in a limited supply of a smaller quantity of seedlings, contact our Aurora nursery at 503-266-2018 to place an order.
You can view the list of available seedlings for phone orders here.
By using this website, you agree to our Privacy Policy. California residents: See our CCPA Privacy Notice for details on what personal information we collect and for what purposes.