Forests in the Northern U.S.
We own approximately 1.2 million acres in Maine, New Hampshire, Vermont, West Virginia and Wisconsin. The climate in this region varies: Summers are generally humid, while the most northern states experience deep winter snows.
The geology of the region is dictated by glacial advances 25,000 years ago. Sheets of ice, thousands of feet thick, covered the highest mountains, and rock debris in the base of the glacier scraped the bedrock as it moved. As the glaciers retreated, depressions left in the Earth's crust were flooded by the sea, creating major river valleys like the Kennebec and Androscoggin in Maine.
FOREST MANAGEMENT
Our forests in this region are extremely diverse, supporting temperate broadleaf hardwoods and mixed conifer species, including American beech, balsam fir, birch, cedar, cherry, hemlock, maple, oak, red pine, spruce and white pine. Regeneration after harvesting is abundant and predominantly natural, meaning we rely on the native seeds for reforestation, and we supplement with direct planting of seedlings where appropriate. We primarily use mechanized harvesting techniques and machinery, such as cut-to-length and feller bunchers, but also rely on hand crews where needed.
ENVIRONMENTAL STEWARDSHIP
Our environmental stewardship in these northern forests is shaped by responsible forest management, the geography of our ownership, and past land management practices. Our forest management plans address biodiversity in line with state and federal environmental laws, collaborative projects with a variety of stakeholders, and practices that support sustainable forestry.
We create a diverse stand structure while conserving special habitat features such as snags (standing dead trees), down wood (dead trees on the ground) and legacy trees (large-diameter live trees). Streamside management zones protect water resources and riparian areas and address federal- and state-listed or globally imperiled species and natural plant communities.
Special management areas, such as more than 360,000 acres protected under conservation easements in Maine and more than 86,000 acres in Vermont, provide additional conservation and public value for biodiversity, recreation and natural aesthetics. These areas also provide habitat for important game species such as white-tailed deer, moose, ruffed grouse and American woodcock. Other key habitats protected in our forests are vernal pools, which support many species of amphibians, and our young regenerating coniferous forests provide winter habitat for the snowshoe hare, which is prey for the federally threatened Canada lynx.   
RESEARCH AND PARTNERSHIPS
To sustainably manage our forests, it is important we continue to learn about how our activities affect both the forest ecosystem and surrounding communities. We collaborate frequently with private conservation organizations, universities, and state and federal wildlife agencies on research and monitoring projects that help ensure our practices are consistent with the best available science.
Three of our recent projects involve a winter deer habitat agreement, creating enhanced habitat for brook trout, and research on the Bicknell's thrush.
Protecting shelter for white-tailed deer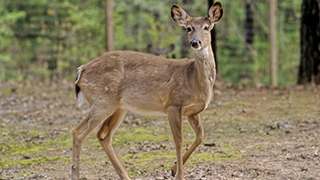 We signed a Winter Deer Habitat Agreement with the Maine Department of Inland Fisheries and Wildlife to protect and manage conifer stands that shelter herds of white-tailed deer.
Teaming up to enhance brook trout habitat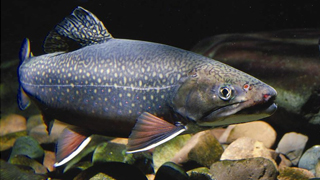 We teamed with the West Virginia Conservation Agency, Maine Forest Service and Trout Unlimited in Vermont to enhance habitat for eastern brook trout by increasing in-stream structures and development of pools.
Researching the Bicknell's thrush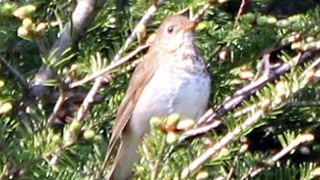 We are gaining new knowledge on Bicknell's thrush ecology through our work with the University of Maine, Vermont Center for Ecostudies, U.S. Fish and Wildlife Service, and Maine Department of Inland Fisheries and Wildlife.
By using this website, you agree to our Privacy Policy. California residents: See our CCPA Privacy Notice for details on what personal information we collect and for what purposes.