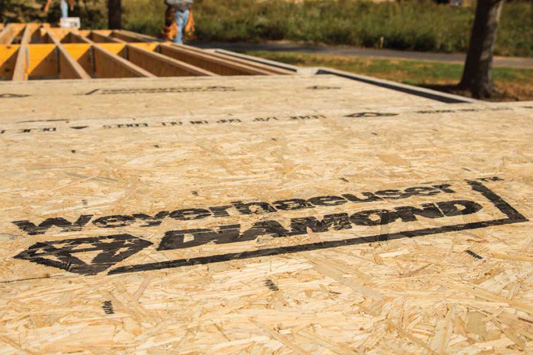 A diamond is one of the hardest and most impervious materials on earth. And our Weyerhaeuser Diamond panel lives up to that reputation: it's strong, durable and forged using time and pressure.
Over 25 years ago we pioneered the manufacture of enhanced subfloor panels, and as technology progressed, our scientists kept pace to deliver a new benchmark in performance: a panel that is tough, highly resistant to weather, and engineered to save you time and money with our easy-fit T&G edges. By adding Diamond to our line of quality subfloor solutions that include Edge® and Edge Gold™ panels, Weyerhaeuser can help you build the best floors possible, in the toughest of conditions.
WHY CHOOSE A DIAMOND FLOOR PANEL?
Engineered to compete with the best floor panels on the market in strength, nail retention and weather resistance.
Builders use our easy-fit tongue and-groove edge for hassle-free installations.
Down Pore® self-draining technology reduces rainwater ponding on the jobsite.
Use in conjunction with Trus Joist® TJI® joists for additional TJ-Pro™ Rating points.
Buy with confidence: limited lifetime warranty, a 500-day 'no-sand' guarantee, and backed by Weyerhaeuser's more than 120-year legacy of quality and customer service.
Structural 1 Rated.
Talk to a territory manager to learn more about Weyerhaeuser Diamond:
Looking for where to buy? Find a dealer near you.