Communities
We help make our rural communities thriving places to work and live
WHAT IS THE CHALLENGE?
Most of our employees live in rural communities across North America where we operate mills, distribution centers and other offices. These small towns are often built around a history of forestry and manufacturing, as well as a culture of outdoor activities that are closely tied to forests.
For many people, the appeal of rural living is powerful. These places generally offer less crime, a lower cost of living, less traffic and strong community connections. Society at large also benefits from thriving rural areas and landscapes because they are often crucial sources of water, food, energy and recreation for all people, no matter where they live.
In some rural areas, however, the barriers to economic and social prosperity can be difficult to overcome, particularly in communities that lack access to good job opportunities and are experiencing population declines and other demographic shifts. According to recent reports, the lasting negative effects of the Great Recession have disproportionately affected rural areas. A declining population in these areas is both the cause and effect of limited employment opportunities. Education, technology and infrastructure are often underfunded, especially for communities of color and other marginalized communities, and rural communities often experience limited access to critical services such as healthcare and higher education.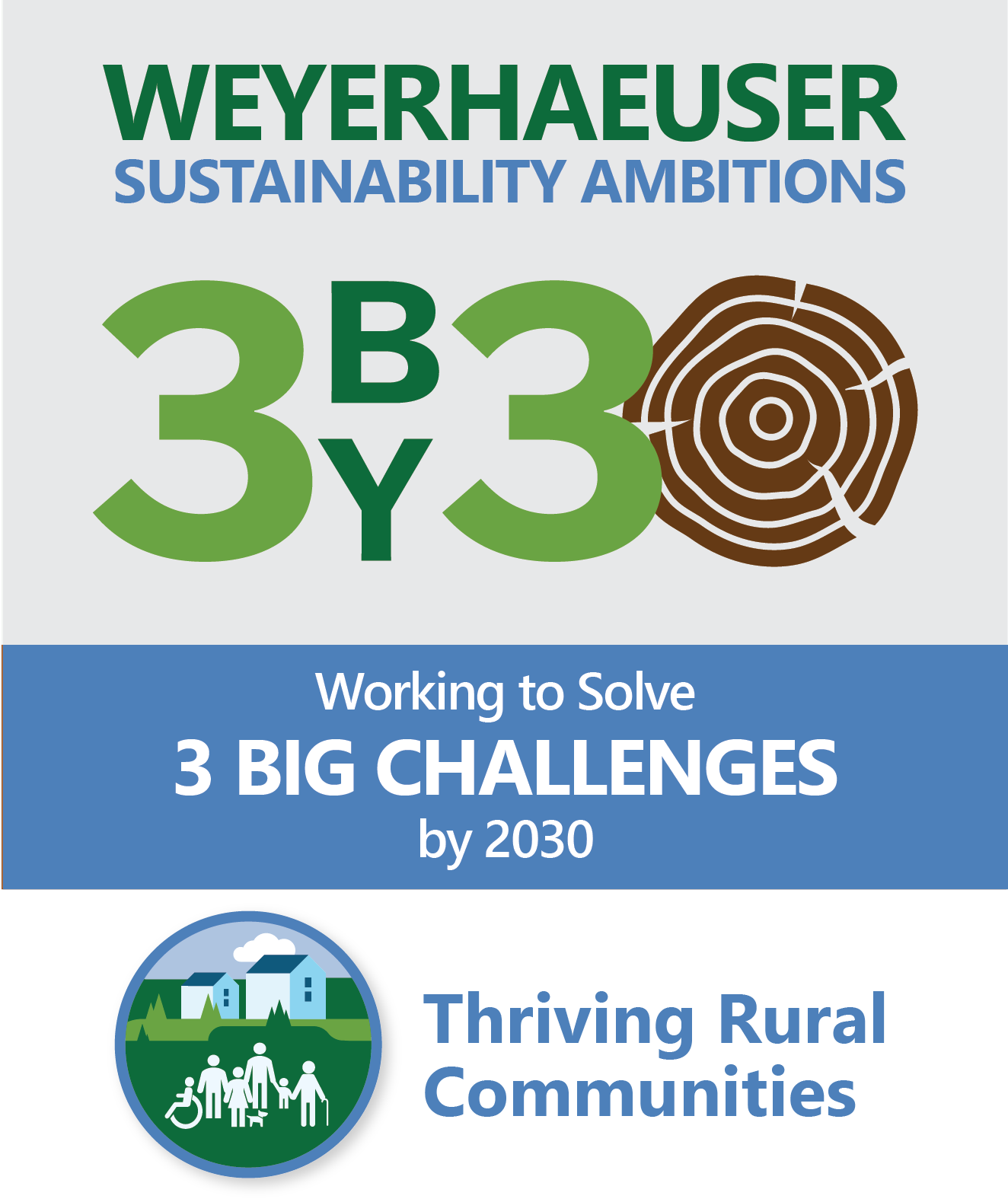 ---
WHAT IS OUR ROLE?
As a company with operations in many rural areas, we already play a significant role, providing family-wage jobs with opportunity for growth, a stable tax base, recreational access to our land and philanthropic support to local organizations. Our employees are also extremely active volunteers for causes they care about, and many are engaged in civic leadership and are part of the fabric of these communities.
At the same time, we are acutely aware of the challenges these communities face, and we are motivated to help ensure they remain great places to live, work and do business.
We believe permanent and successful solutions will require a combination of national attention, resources and leadership, combined with grassroots organization and engagement. Nobody is better equipped to chart a future for a community than the people living and working there every day, and we intend to leverage our resources and experience to participate in initiatives that support their priorities.
---
WHAT DO WE WANT TO ACHIEVE BY 2030?
By 2030, we envision real, measurable improvements in how we, and those we partner with, ensure rural communities are great places to live, work and do business. We view the health and vibrancy of our communities as integral to our long-term success as a company, and we expect to drive meaningful growth in how we engage with, invest in and otherwise support our operating areas.
---
WHERE WE ARE FOCUSED
While there is much we can accomplish over a decade, we have structured our long-term goals into three-year segments, or sprints, to effectively prioritize and accelerate progress. During the first three years of our 3 by 30 Sustainability Ambitions, we are focusing our work in two key areas and measuring our progress toward specific actions:
Improving how we direct our resources to ensure our rural communities are healthy and resilient
While we already do a good job of investing in our communities, we know there is room to improve. We want to do everything we can to funnel our resources to the highest-priority issues in the areas where we operate.
Leveraging our scale, voice and influence to help solve common rural challenges
By partnering with government agencies, other companies, nonprofits and community leaders, we can amplify the needs of rural communities and ensure resources are directed toward the highest-impact areas.
MEASURING SUCCESS
In 2022, as we explore and implement these solutions for rural communities, we are developing measurable-success metrics for our overall 2030 vision and within each focus area. We plan to report baseline measures beginning in 2023.
FOUNDATIONAL SUCCESS
In this first phase of our work to achieve our 3 by 30 Sustainability Ambitions, we are laying the groundwork for meaningful progress toward our goals. The key objectives and accomplishments below are foundational to our success and will be updated throughout our journey.
By using this website, you agree to our Privacy Policy. California residents: See our CCPA Privacy Notice for details on what personal information we collect and for what purposes.