Communities
We help our rural communities be thriving places to work and live
What is the challenge?
Most of our employees live in rural communities across North America where we operate mills, distribution centers and other offices. These small towns are often built around a history of forestry and manufacturing, and a culture of outdoor activities that are closely tied to forests and wildlife.
In some rural areas, however, the barriers to economic and social prosperity can be difficult to overcome, particularly in communities that lack access to good job opportunities and are experiencing population declines and other shifts in demographics. As a company with operations in many rural areas, we are acutely aware of the challenges these rural communities face.
According to recent reports, the lasting negative effects of the Great Recession have disproportionately affected rural areas. A declining population in these areas is both the cause and effect of limited employment opportunities. Education, technology and infrastructure are often underfunded, especially for communities of color and other marginalized communities. More recently, problems associated with the opioid epidemic and increasing reports of deaths due to despair have continued to plague rural areas more than urban areas. And like so many other challenges, the COVID-19 pandemic and the lack of progress in racial justice have only exacerbated these underlying issues.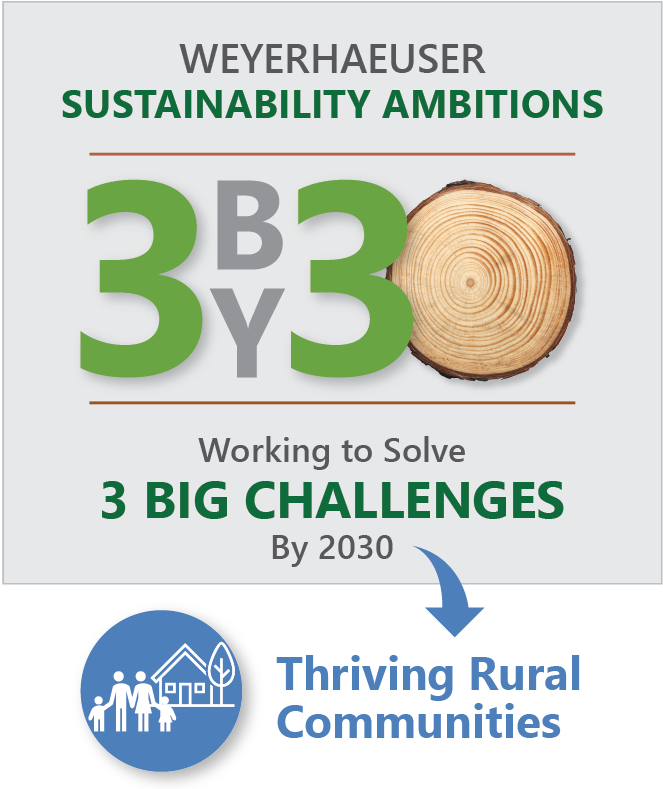 ---
Finding clarity on what can and should be done to ensure rural communities are thriving places to work and live can be difficult. Some say this decades-long decline might be impossible to overcome without large outside investment, while others believe these communities are already saving themselves and are showing many positive examples of small-town growth and wins.
We believe permanent and successful solutions will involve a combination of top-down direction of time and energy, combined with grassroots, local identification of the areas with the greatest gains. Nobody is better equipped to chart a future for a community than the people living and working there every day, and we believe we have an important role to play to leverage our resources and experience to support them. We provide family-wage jobs with opportunity for growth, a stable tax base, recreational access to our land, and philanthropic support to local organizations. Our employees are also extremely active volunteers for causes they care about, and many are engaged in civic leadership and are part of the fabric of these communities. We are proud to operate in these rural areas across North America, and we believe we can help ensure they remain thriving places to work and live far into the future.
---
What do we want to achieve by 2030?
By 2030, we envision measurable improvements in how we, and others in our communities, approach community investment and engagement; how we create resilient, diverse pipelines for workforce development opportunities; and how we bridge the divide between urban and rural views of nature and forests.
---
To accelerate this future, we are focusing our early actions in three areas:
We will share more about our future actions as they are explored and implemented, and we'll continue to keep our stakeholders apprised of our progress on all our actions.
1. Assess community resources
What's this about?
We have a strong and successful framework for our current giving strategy, including dozens of local advisory groups that make decisions about where funding and support are most needed in our communities. Building on this structure, we believe we can provide our advisory groups with an additional level of understanding to provide the most benefit to local communities. There are two main schools of thought for conducting community assessments. The first is a "needs" assessment, which identifies local gaps to fill. The other is a "resource" assessment, which identifies local assets and strengths that can be built upon. We believe by focusing our assessment work on both community needs and resources, we can increase our positive impact in our communities.
Our Early Actions
Create a resource assessment guide for our local advisory groups, including clear and meaningful data, and steps to understand what assets and programs are working well and could use additional support, as well as what is lacking in a community.

Integrate the outcomes of these assessments into our overall Giving Fund strategy, and build on the assessments for increased engagement from our businesses and employees in our local communities.
What's this about?
When we provide opportunities for meaningful and rewarding careers in our company, it's good for our business and our communities. We also have a responsibility to ensure equitable access to these opportunities by making sure our culture, practices and policies create pathways for diverse and historically underrepresented groups to join and thrive in our company.
What's this about?
Whether you grow up close to forests and natural areas, or in a city with less-immediate access to the outdoors, studies are finding a growing disconnect from nature and a lack of understanding of the role of natural resources in all communities, urban and rural. Drawing on our expertise in sustainable forest management and ecology, we will work to expand educational opportunities and forge new partnerships to help bridge this divide for current and future generations.
Our Early Actions
Reopen the newly redesigned Forest Learning Center, located inside the blast zone of Mount St. Helens. Originally opened to the public in 1996, the center has been updated in 2020 and includes exhibits that tell the story of the 1980 eruption; the recovery of the forest, fish and wildlife; and Weyerhaeuser's approach to sustainable forest management through interactive, hands-on activities, videos and visual displays.

Partner with Project Learning Tree to develop an adaptable suite of teaching materials and tools for natural resource professionals to use in the classroom, outdoor settings and online, ensuring alignment with standard curriculum requirements and existing programs and projects.

Explore enhancing our existing K-12 school outreach by providing funding for rural schools through an environmentally focused contest for teachers and students. 

Expand our partnerships with, and support of, organizations working on increasing access to the outdoors and nature, particularly in rural communities.
By using this website, you agree to our Privacy Policy. California residents: See our CCPA Privacy Notice for details on what personal information we collect and for what purposes.