Safety
Priorities can change, but values never waver. That's why safety is a core value at Weyerhaeuser and a constant guide for how we make decisions. Before we begin anything — completing a daily task, launching a new project or solving a challenging problem — we always ask: How will we do this safely? It also means that no matter how pressing a production or financial goal might be, we never compromise safety to reach our target. Safety is truly at the core of everything we do and is a fundamental part of Weyerhaeuser culture.
Our safety value is rooted in our conviction that all safety incidents are preventable and that operating injury-free is achievable. Because the work we do involves risk, all our facilities and operations use proven tools and systems to identify hazards, assess and control risk, learn from incidents when they do occur and inspire our people to always make the safe choice — every task, every time.
---
OUR SAFETY VISION
Everywhere you go in our operations, our safety vision hangs on walls as a reminder that working injury-free is achievable.
Our leaders hold themselves and others accountable for demonstrating caring, safe behaviors and correcting hazardous conditions. Our employees are fully engaged, empowered to intervene when they see unsafe conditions or behaviors, and committed to sharing responsibility and accountability for safety. And we use a common set of simple and proven tools to manage safety effectively, with a focus on managing our highest risks.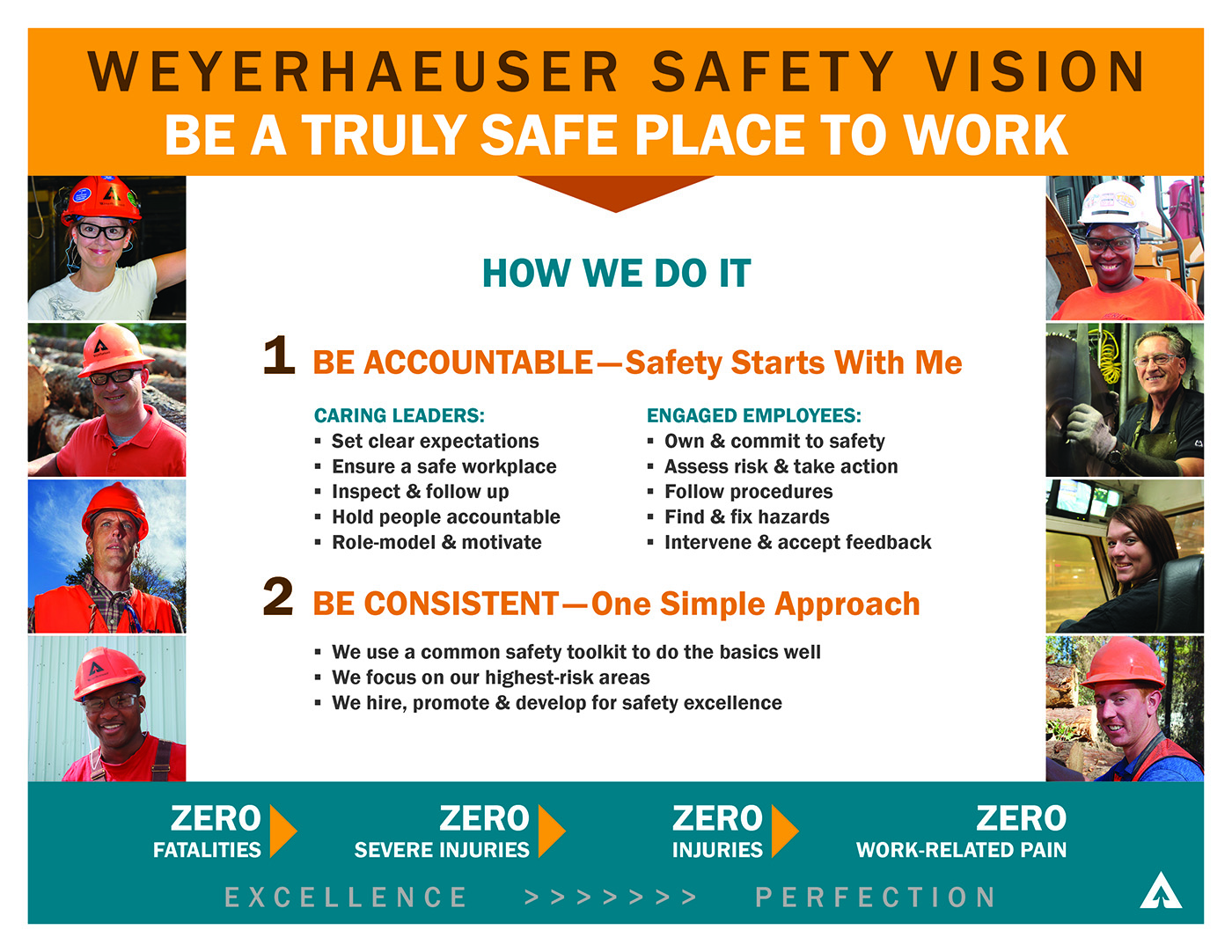 ---
HOW WE MANAGE SAFETY
To ensure our safety system is consistent and effective, our senior management team and board of directors are actively involved with regular reporting and discussion. We review our safety systems, update our company and business-level safety goals and aligned plans, implement adjustments and improvements, and equip leaders and employees with a safety toolkit that includes:
Our Company Vision includes safety as one of our core values
Our Safety Vision
A personal safety pledge document
An individualized safety goal in everyone's performance management plan
Our companywide and business-specific safety metrics
Our template for annual risk-based safety planning
A Weyerhaeuser-developed risk-assessment tool
Our Health and Safety Policy and safety standards
Our audit process for assessing compliance with regulatory and company standards and driving continuous improvement of our safety management system
Our standard process for reporting and investigating incidents
Our online incident-tracking tool
Online training for all employees
We also understand that, to prevent injuries and continuously improve our safety performance, we must learn from our safety incidents and near misses. We require that all incidents be reported, recorded and investigated according to defined processes based on incident type and severity. Causes must be identified, and action must be taken to prevent recurrence. We collect and analyze information about work-related injuries and illness, environmental incidents, near misses, hazard observations, property damage, fires/explosions and vehicle incidents. And, most importantly, we regularly communicate with employees what we have learned.
As part of our risk-based approach, our locations identify their highest safety risks annually and complete specific activities throughout the year to mitigate or eliminate those risks. As a company, we set annual prevention-focused safety goals, and our businesses and sites align their safety plans to these goals. We track our progress toward these goals, as well as serious incidents and incidents with serious potential, and share key learnings and preventative actions in companywide communications within 60 days.
---
HOW WE MEASURE SAFETY
As an example of our long-standing safety culture, we set a bold, long-range goal in 1990 to reduce our recordable incident rate more than tenfold. RIR is the number of Occupational Safety and Health Administration-defined recordable injuries and illnesses that occur in 100 workers working in one year. Our efforts since then have resulted in a significant reduction in both the number and severity of injuries, with a drop in our RIR from over 10 in 1990 to 1.62 in 2022. We are proud to have achieved this long-range goal, but even with a lower RIR, some of the injuries we still experience — while few — are very serious. For us, that is unacceptable. We know achieving our injury-free goal is possible because many of our locations already go 12 months on a rolling basis without injury.
As part of our path to injury-free operations, we are focused on achieving zero life-altering serious injuries and fatalities. To take our safety performance to the next level, we have de-emphasized our focus on tracking all recordable incidents and intensified our focus on proactively eliminating the most serious injuries from our workplace. We regularly review safety incidents, risk-identification reports and near-miss incidents; implement corrective actions; and apply key learnings across our organization.
The deliberate shift away from more traditional lagging safety metrics, such as RIR, which measure events that have already occurred, to a risk-based approach focused on preventing SIFs reduces the number and severity of serious incidents.
---
Our employees share what safety means to them in their day-to-day work.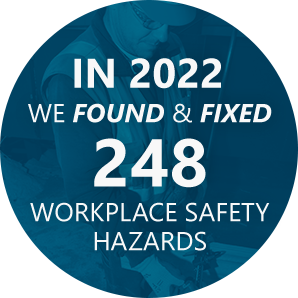 ---
CONTRACTOR SAFETY
The nature of our business often requires us to use contractors to complete various types of work. We understand the importance of a safe partnership. We have long required the companies we work with to have effective safety programs in place, because we value their people — whether employees or subcontractors — in addition to our own. We choose to work with contractors whose safety programs meet or exceed our contractual requirements.
We take a collaborative, values-based approach guided by our safety vision with an emphasis on encouraging preventive behaviors and managing high-risk areas and tasks. Our approach includes:
Contractor-developed risk-based safety plans that focus on recognizing and mitigating serious hazards.
Paired leadership visits during which our leaders join contractors on job sites to observe their crews in action and talk about shared values, strengths and opportunities for improvement.
By using this website, you agree to our Privacy Policy. California residents: See our CCPA Privacy Notice for details on what personal information we collect and for what purposes.