Growth & Development
Build your career with us
The success of any organization depends on the success of its people. We feel so strongly about this that we placed "people development" in a prominent spot on our company vision. When you join our team, your growth and development will begin right away and continue throughout your career.
We believe in the 70-20-10 approach to professional growth. This model acknowledges that at least 70 percent of our development occurs on the job through direct experience and skill-building. Another 20 percent comes from focused relationship-building and exposure to projects, processes and perspectives outside your normal expertise. The final 10 percent should be focused on targeted training courses and development programs that help you achieve your own specific career goals.
Here is a snapshot of the actions our people take to accelerate their growth and development:
Every year, we measure the success of our people development approach by monitoring our internal pipeline, tracking recruitment and retention data, and conducting surveys to assess the health of our workplace culture, career satisfaction and overall employee engagement. In our 2022 employee feedback survey, our overall engagement score was 86 percent, with 88 percent of our employees believing their work has meaning and purpose, 92 percent saying they're proud of the work they do, 85 percent saying they get enough opportunities to do challenging work, 87 percent agreeing they have the training they need to do their jobs well, and 92 percent saying they know how their work contributes to the company's overall performance.
We believe in the 70-20-10 approach to development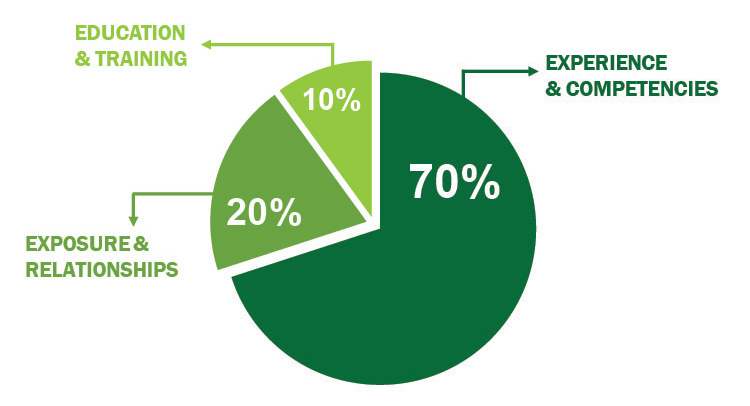 ANNUAL GOAL-SETTING & ONGOING COACHING
Each year, employees set goals to achieve performance targets and drive ongoing improvement in how we do business. Some of our primary focus areas for goal-setting include safety, operational excellence, innovation, customer satisfaction, people development and sustainability. All employees are encouraged to set what we call "stretch" goals, which means identifying targets that are challenging, but reasonable, and that push each of us to do better than we did the year before.
We conduct formal performance reviews twice a year, and we encourage ongoing coaching conversations all year long between employees and their managers to ensure goals are on track, feedback is given and received, and our people have the support and resources they need to be successful.
INDIVIDUAL DEVELOPMENT PLANNING
We also have a formal process for setting personal career development goals. Using our Individual Development Plan process, employees identify their career aspirations, strengths and areas that need improvement. This process is primarily focused on gathering feedback about what skills, competencies and experiences will help employees be more successful in their current roles and more competitive for future roles. Some employees also conduct 360-degree surveys to understand how their manager, peers, customers and members of their team perceive them. All employees review and update this plan annually, and then work with their managers to develop an action plan to address experience gaps, acquire needed skills and build important relationships.
LEADERSHIP DEVELOPMENT PROGRAMS
We are focused on building a strong pipeline of leaders who are always learning and improving their ability to inspire teams and deliver extraordinary business results. We have established a set of core leadership competencies that describe what we expect not just from our leaders, but also from anyone who aspires to become a leader in our company. We integrate these competencies into our hiring, promoting, development and succession-planning processes.
We also offer four signature leadership development programs that are focused on building core leadership skills, developing strong peer networks, and strengthening alignment to our company vision. Each program targets leaders at different stages of their careers:
Front-Line Leaders: For those who directly manage most of our employees and contractors
Mid-Level Leaders: For those with significant responsibility and/or who lead other leaders
Future Leaders: For those who have the desire and potential to eventually move into executive roles
Executive Leaders: For those currently in director or vice president positions
In 2021 alone, more than 200 of our employees participated in these programs.
When you have a great mentor, it can be one of the most powerful relationships in your career. Becoming a mentor to others is also extremely rewarding, as these relationships are rarely one-way. We strongly encourage mentoring at all levels of the company, and we have several informal mentoring programs to support this important relationship-building and exposure activity. That said, we also know the best and most lasting relationships are self-selected based on natural chemistry versus forced pairings, and we encourage all employees to seek and establish mentor/mentee relationships as part of their career development plans.
Since we believe most learning and development occur through direct on-the-job experience, we encourage employees to get involved in challenging projects that may not be directly related to their area of expertise. When people step outside their comfort zones, they not only learn how to apply their skills in new situations, but also gain valuable exposure to people, processes and perspectives they might not normally encounter in their day-to-day work environment. We also encourage employees to pursue open roles outside their current business or function. We have found that when people move around in an organization, it's great for the individuals because they gain new skills, experience and exposure, and it's great for our company because it helps foster cross-team learning and eliminates barriers between businesses and functional groups.
PROFESSIONAL DEVELOPMENT PROGRAM
Every year, we hire dozens of talented people into our Professional Development Program. These entry-level roles focus on disciplines such as engineering, forestry, and information technology, and they typically rotate through a variety of departments and even locations to accelerate the amount of experience and exposure each professional gains during their time in the role. The program has been incredibly successful, and the vast majority of people who participate are successfully hired into their next position at Weyerhaeuser within two years.
Here are four key metrics we use to measure the success of our people development approach:
Talent Pipeline: We track how many internal candidates we have ready to fill critical roles.
Attraction: We monitor whether new hires applied to work for us based on our reputation for excellent career growth (more than 90 percent of new hires say this was part of what attracted them to Weyerhaeuser).
Retention: We monitor our voluntary quit rate, understanding that often people leave when their careers feel stagnant. We want our people to stay at Weyerhaeuser.
Engagement: We know satisfaction with career growth is a critical driver for engagement, and we ask employees for feedback on this metric regularly.
By using this website, you agree to our Privacy Policy. California residents: See our CCPA Privacy Notice for details on what personal information we collect and for what purposes.