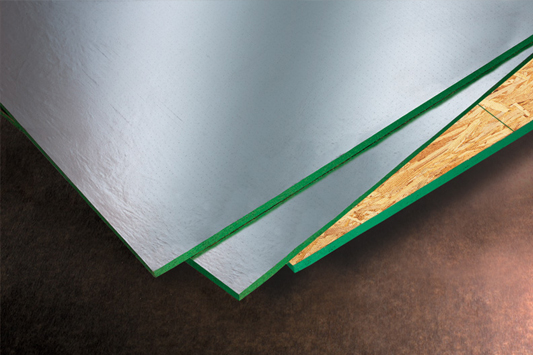 Weyerhaeuser Radiant Barrier Sheathing (RBS) comes pre-fabricated with a reflective foil layer that reflects up to 97%* of the sun's radiant energy, minimizing heat transfer through the roof and insulation to interior living spaces. As an added plus, Weyerhaeuser RBS can even help keep non-air-conditioned, uninsulated rooms like garages, workshops and porches cooler, increasing a home's usable space.
Installing RBS is an efficient, cost-effective way to help keep interior living spaces comfortable while saving energy costs. Weyerhaeuser RBS provides all these benefits with no additional labor or material hassles. Thanks to an innovative wood-resin combination, every Weyerhaeuser RBS panel is manufactured flat, installs flat and stays flat, and has been engineered to precise specifications to resist problems like cupping, warp and sag. The radiant foil layer is perforated for ventilation to protect against condensation and moisture build-up.
How traditional roof sheathing works

Radiant energy transferred through standard roof sheathing creates heat build-up in the attic. With no barrier to restrict the heat, it radiates through the insulation into living spaces, causing room temperatures to rise. More energy is needed to cool the house and that means higher energy costs for homeowners.
How Weyerhaeuser RBS works

Foil-laminated Weyerhaeuser RBS panels reflect the sun's radiant energy back outside, away from the attic and house. Up to 97%* of the sun's radiant energy is transferred away from the home, significantly lowering attic temperatures and reducing the amount of energy needed to cool the home.
RBS FEATURES & BENEFITS
Reflects up to 97%* of the sun's radiant energy
Helps increase energy efficiency
Minimizes heat transfer to living spaces
Engineered for quality and consistency
Backed by Weyerhaeuser's limited product warranty
Easy, one-step installation
Helps lower utility bills**
Improved indoor comfort
Cooler attics, garages and porches
Less strain on attic-mounted appliances
Long-term reliable performance
* 97% reflectivity and 3% emittance measurements derived by using an infrared reflectometer on aluminum foil laminate in accordance with ASTM E408, Method A.
** Actual savings will depend upon local utility rates, home size and climate.