Vision & Values
Growing a truly great company
No matter where you go in our company, you'll find our vision poster hanging in offices, hallways, break rooms and conference rooms. But for us, it's not just a poster on a wall. It's an equation for success, and we strive to live by it every day.
OUR VISION
Working together to be the world's premier timber, land, and forest products company.
WHY WE MATTER
We manage the most sustainable, versatile resource on earth: forests. We're experts at using trees to make products people need, and we do it the right way so our forests will last forever.
HOW WE WIN

Core Values

Relentless Focus Areas
Develop our people: We use a disciplined approach to develop people at all levels of the company to create an effective, diverse and engaged workforce.
Deliver the most value from every acre: Whether it's timber, real estate, recreation or conservation, we make the most of all our land assets.
Drive operational excellence: We're focused on delivering quality products that our customers want and are willing to pay for, and doing it at the lowest possible cost.
Optimize capital: We are disciplined about allocating capital to high-return projects that will generate value for our shareholders.

Key Behaviors
Act with urgency: Increase the clock speed. Make decisions quickly. Move fast.
Be accountable: Do what we say we're going to do. Do it on time. Do it right.
Be courageous: Be willing to take risks. Own up to mistakes and move forward.
Keep it simple: Don't overcomplicate. Eliminate what we don't need. Streamline.
Be innovative: Seek new and better ways to lower cost, add value, and serve our customers.

WHAT IS TRULY GREAT?
When we get those three areas right, we will be a truly great company.
But what does truly great mean? It breaks down like this:
1. Great Place to Work
A strong foundation of values that guides what we do. A place where people have opportunities to develop and grow throughout their careers. The knowledge that we're making a meaningful contribution every day. The great feeling of being part of a winning team.
2. Great Customer Focus
Understanding what our customers want and what they're willing to pay for. Delivering those products and services to them on time and on spec every time. Cultivating strong, long-term relationships.
3. Great Shareholder Value
Relentless focus on flawless execution every day. A total shareholder return that beats our competitors through the business cycle.
4. Great Community Support
A commitment to giving back to our operating communities through philanthropy and volunteerism.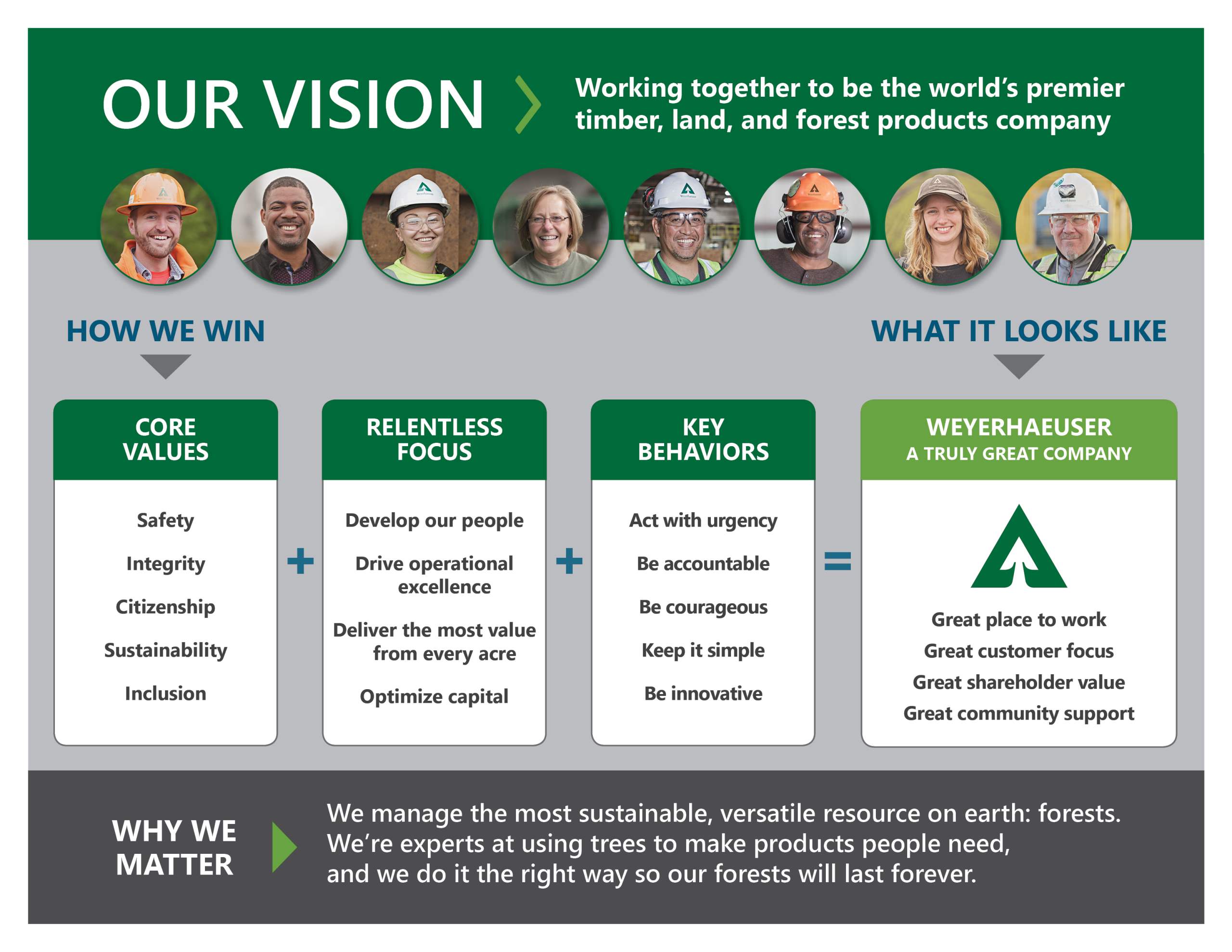 By using this website, you agree to our Privacy Policy. California residents: See our CCPA Privacy Notice for details on what personal information we collect and for what purposes.