Whether you're an architect or engineer sizing joists, beams, posts or studs, Forte® software performs load calculations and identifies solutions for the conditions and geometry you specify. Size for a specific spacing, member depth or just the best economical fit.
If you like Forte software, we know you're going to LOVE ForteWEB! ForteWEB is the next generation of our member sizing software available as a web-based application. We invite you to give it a try and see for yourself.
Usage and requirements
You never have to download or install a Forte update again, with ForteWEB software will always be up to date when you log in!
Free to use - simply create a user account to access web application
Compatible with most internet browsers - requires internet connection
Analyze floor and roof beams, floor and roof joists, roof hip and valley beams, and wall headers – additional members coming soon!
Access your job files from anywhere using secure cloud storage
Share files with team members for quick and easy collaboration
Forte desktop will soon be replaced by Forte WEB. If you still require the desktop version of Forte you can download the latest version here.
Release notes and system requirements
Installation instructions
Save the .exe file locally
Temporarily disable anti-virus software
Close down existing install of Forte
Double click .exe to install
FORTE FEATURES & BENEFITS
Graphical user interface and intuitive workflow – Forte software is designed to be used right away with practically no learning curve.
Ability to balance cost and performance with the TJ-Pro™ Rating System — the solutions list provides a view into product combinations that can save money while delivering on-floor performance expectations.
Loading assistance for complex conditions – easily calculate and apply loads on one tab using a variety of tools.
Ability to size engineered wood and dimension lumber in one tool – compare design results and select the most effective solution.
FORTE SOFTWARE SCREENSHOTS
These are just a few of the many ways Forte visually makes the job easier.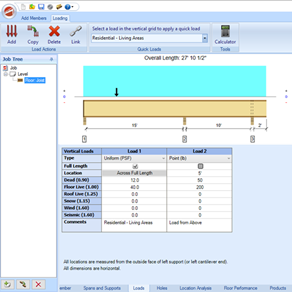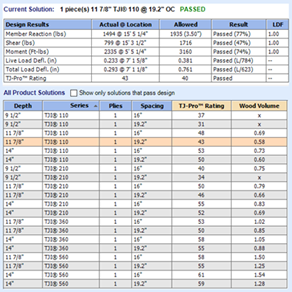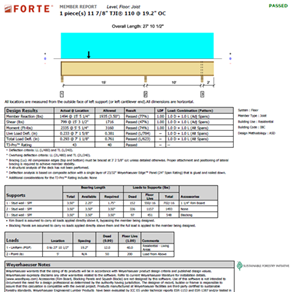 With the latest Forte software, you can:
Define multiple member connections — choose to include fastener schedules along with the member design for attaching member plies of a beam assembly together. Select from a variety of nails, screws or bolts.
Specify the required building code year — select the building code required to design members. The building code, along with the year (e.g., IBC 2015), will be included on the member reports.
Design members for lateral loading using ASCE 7-10 — new building code options (IBC 2012 and IBC 2015) will now reference ASCE 7-10 for lateral design of members for stud, column and header applications. Choose IBC 2009 to use ASCE 7-05 for lateral design.
Increase productivity —quickly determine the best solution to use for a member now with additional information about which design accessories are required for each solution.
Integrate with Autodesk® Revit® — users' modeling and design structures using Revit software will now have the ability to design Trus Joist® products using the MWF Advanced Revit extension from StrucSoft Solutions. Visit StrucSoft Solutions for more information.
FORTE TRAINING VIDEOS
We have many training videos to make using Forte software a breeze.

View the video play list using the icon on the top left of the video.
Watch specific instructions on how Forte software works.
OPEN FILE EXCHANGE
Send members to Forte for analysis from your software
We provide the Forte File Format Utility to software developers looking to enhance their software so it exports floor, wall, and roof members to the Forte application for analysis. This allows your customers to skip remodeling spans, supports, and loads in Forte and instead send these calculations to Forte with all the necessary information pre-populated.
Learn more about this interactive guide for software developers wanting to transfer information into Forte files from their own software applications.
Questions about software?
Contact Software Support
800-833-9491