Homes
Our sustainable products help provide homes for everyone
What is the challenge?
A home is a place where people sleep, break bread with friends and family, retreat from the busy world, and raise their children. For many, home is a sacred, personal space, and it can take many forms. It can be a single-family detached home in the suburbs or in a small town or city. It can be an apartment or condominium in a multifamily building, a place where two or more households live under the same roof, an intergenerational family home or a homestead in a rural setting. A home is essential shelter, in its many and varied forms.
In communities across North America, quality, affordable homes are in short supply. While construction and building materials are certainly part of the cost of building new homes, real estate (the land) costs are the primary driver of this shortage. A preference for single-family zoning drives housing scarcity and escalates costs, diminishing affordability. Adding to the challenge, housing costs and rental prices are increasing while median household income remains relatively flat. Even as the long-term effects of the COVID-19 pandemic on the housing market are unclear, one thing is: There simply aren't enough housing options in many of our communities.
One solution is to increase the overall availability of homes of all kinds. By opening the door to creative and less-restrictive land use and building options, an abundance of housing choices can flourish. These could include denser neighborhoods, more multifamily and single-family housing, more mixed-income housing, more planned communities, taller buildings, and investment in the repair of existing housing and infrastructure. As a society, we need to ensure enough options are available to meet different income levels, and that means we need to explore multiple solutions.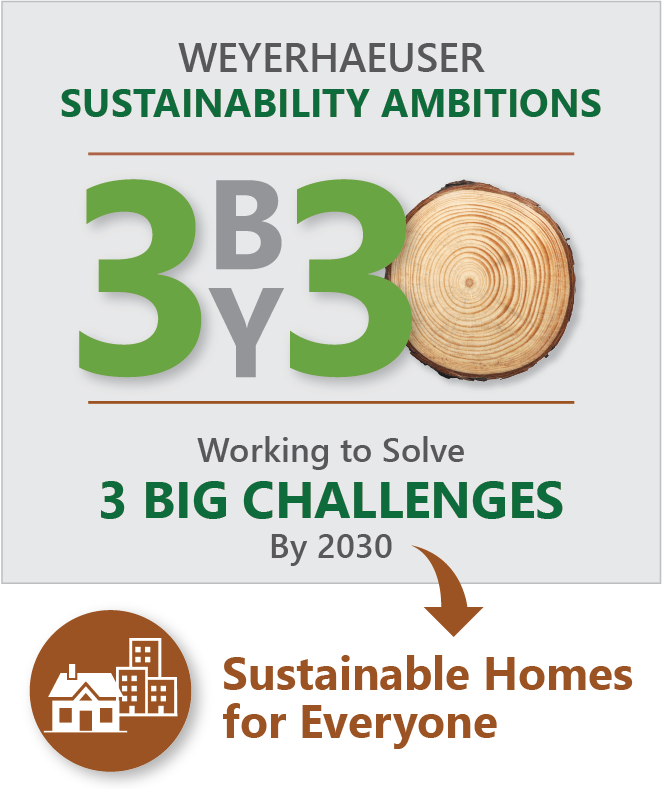 ---
Today, most single-family homes are built out of wood. Wood is beautiful and versatile as a building material. It is an efficient, low-cost structural framing option for homebuilders, and, when sourced from sustainably managed forests, it is endlessly renewable. However, not everyone agrees with — or understands — the benefits of wood as a renewable, sustainable building material. While some multifamily structures are built out of wood today, building codes have historically restricted the use of wood in larger developments. Many of the existing green building metrics and tools are complicated by the different, and competing, interpretations of what they measure. And balancing construction and material costs with "green" choices can sometimes be at odds.
We make wood products that are literally the building blocks of competitively priced structural framing for many homes in North America. And we believe innovative and traditional wood products, when used in the right applications, can help provide more homes that are sustainable, affordable and better for the planet and society.
As the largest private timberland owner in North America and one of the largest producers of lumber and engineered wood, we have an unrivaled ability to manage timber and wood products through the supply chain. With innovative uses for wood on the horizon that would allow for structures to be built even more efficiently and sustainably, we believe our wood products and deep industry expertise have a critical role to play in helping solve the challenge of affordable housing.
---
What do we want to achieve by 2030?
By 2030, we envision a world with abundant, creative opportunities for ensuring everyone has a home, and we believe the use of sustainable wood products from well-managed forests is a critical part of that solution. Achieving this vision will require all of us to be open to new possibilities, innovative products and unexpected partnerships.
---
To accelerate progress toward this future, we are focusing our early actions in three areas:
We will share more about our future actions as they are explored and implemented, and we'll continue to keep our stakeholders apprised of our progress on all our actions.
1. Promote innovative wood building materials
What's this about?
Mass timber is a group of building materials that are as strong as steel, lighter than concrete, fire resistant and carbon friendly. It's a catch-all term for a variety of wood building products that provide structural performance, carbon efficiency and resilience while linking urban sustainability solutions to rural economies. These mass timber products are made by mechanically fastening or bonding together smaller wood components, such as lumber, veneer or fiber strands, to form large wood elements like beams, columns, walls, floors and roofs.
By using more mass timber products in buildings, we decrease our planet's dependence on building materials that rely on large amounts of fossil fuels in their production, and we create a model for building structures that is anchored in natural, renewable and environmentally positive materials.
Our existing engineered wood products are already complementing mass timber construction for tall wood buildings. In fact, our Parallam product supports the lower levels of an 18-story University of British Columbia dorm building that became the tallest wood structure in the world when it was completed in 2017.
Our Early Actions
Strengthen mass timber prioritization in legislative action plans to support state code adoption, create wood construction incentives, and maintain the competitiveness of all sustainably certified wood.

Play a leadership role in increasing our trade group focus on improving the position of wood as a low-carbon and adaptable building material.

Through our national Giving Fund, partner with and support NGOs and other organizations that are driving improvements in the research or understanding of the use of mass timber as an innovative and affordable building option, including the University of Arkansas' Fay Jones School of Architecture and Design and Clemson University's Wood Utilization and Design Institute.
What's this about?
We believe in a future where architects, designers and engineers leverage the sustainability and durability of wood in every building project.
Our wood products already enable our customers to meet their sustainable building objectives, including being eligible for credits under major green-building standards, such as LEED®, Green Globes® and the National Green Building Standard™. To further enhance the adoption of wood in building projects, we're working to ensure that architects and designers have access to science-based research on both the environmental impacts and benefits of using wood.
One such calculation appeared in the journal Nature Sustainability in 2020. By substituting mass timber products such as cross-laminated timber, glulam beams and nail-laminated timber for steel and concrete in mid-rise urban building, researchers found potential to "transform cityscapes from their current status as net sources of GHG emissions into large scale, human-made carbon sinks."
We are also keenly aware of the need to provide green-building opportunities for all communities, rather than for just a wealthy few. We believe this will happen if green-building standards create competition in the market and include all products and designs that help make this world a more just, equitable and healthy place to live.
Our Early Actions
Continue supporting associations and ongoing research into the benefits of building with wood. This work includes ensuring green-building protocols incorporate appropriate science-based calculations to help architects, designers and engineers more accurately weigh the environmental impact of their buildings. For example, in a recent MIT study, scientists found that using lumber products instead of cement, iron and steel could significantly cut construction emissions and costs.

Partner with the Carbon Leadership Forum and the Embodied Carbon Calculator community to ensure wood products are accurately represented in emerging tools, and that architects and engineers understand the complex relationship between forests and wood products.

Lead our industry through improvements to the Environmental Product Declaration process, including better and more timely data, easier creation of the Life Cycle Assessments, and more information on EPDs about origin and certification status.
What's this about?
We believe everyone deserves a sustainable, affordable home. While our wood products already provide the essential building blocks for single-family housing across North America, we're focused on innovative ways to help make sustainable, affordable homes more accessible.
Our Early Actions
Continue our partnership with Habitat for Humanity chapters across North America, including awarding grants to the local chapter when our employees volunteer on a team build. During this time of social distancing due to COVID-19, we are still making these grants for teams who commit to organize around a build event at a more appropriate time.

Provide our scale and expertise to enhance partnerships with Habitat for Humanity and other affordable housing builders. We can leverage our distribution channels to get building products to their sites more easily, less expensively and more efficiently.
By using this website, you agree to our Privacy Policy. California residents: See our CCPA Privacy Notice for details on what personal information we collect and for what purposes.