Homes
Our sustainable products help provide homes for everyone
WHAT IS THE CHALLENGE?
Few amenities are more fundamental to life and comfort than a home. For many, home is a sacred, personal space, and it can take many forms. It can be a family home in the suburbs or in a small town. It can be an apartment or condominium, a tiny home, a backyard dwelling, an intergenerational home or a homestead in a rural setting.
Regardless of its form, a home is essential shelter — yet quality, affordable, sustainable housing is in short supply in communities across North America. In fact, recent research suggests the United States ended 2020 with a housing supply deficit of close to 4 million units. While construction and building materials are certainly part of the cost of building new homes, real estate costs (the land) are the primary driver of this shortage. Additionally, a preference for single-family zoning drives housing scarcity and escalates costs, diminishing affordability and access. Adding to the challenge, housing costs and rental prices are increasing, while median household income remains relatively flat.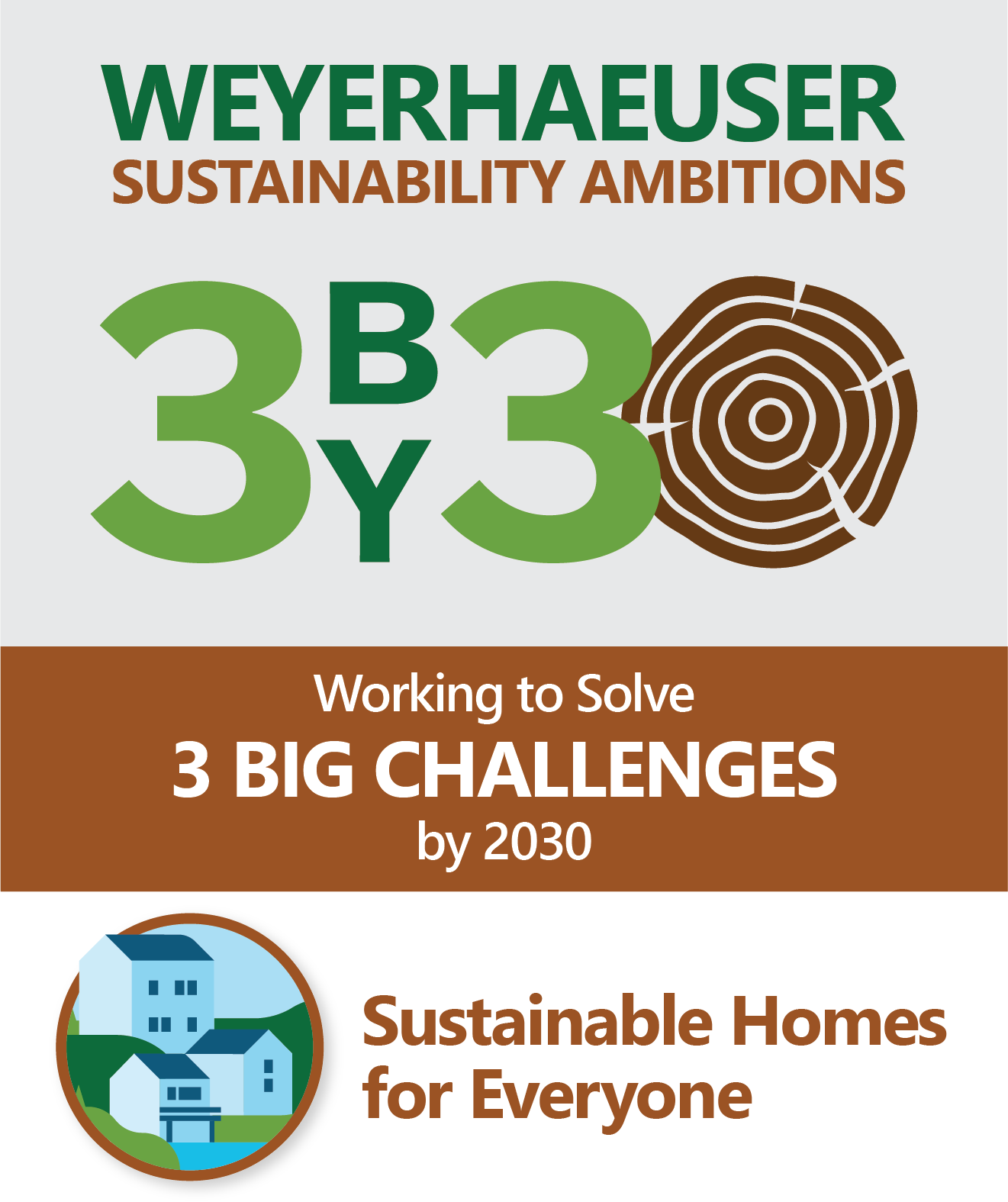 ---
WHAT IS OUR ROLE?
We believe that by working with partners and applying our deep industry and supply chain expertise, we can significantly increase the overall availability of quality housing — faster, more efficiently and at a scale to make a real difference for communities of all sizes across North America. And we see two areas, in particular, where we can have an important role in accelerating the volume, sustainability and diversity of housing on the market.
The first involves supporting innovation in the wood products industry to greatly increase the capacity of wood-based buildings through improved construction methods and updated building codes that would allow wood construction in midrise buildings of five to 10-plus stories. The second involves supporting the development of offsite construction and nontraditional housing options — from accessory dwelling units to tiny homes and other detached structures — to provide flexible, efficient alternatives for creating new homes through wood-based construction.
To get there, we need to ensure enough options are available to meet various income levels and suit different geographies. We also need to improve the overall understanding and acceptance of wood as the most sustainable, versatile and cost-effective building material. We see a double win in achieving these goals: More wood construction increases housing opportunities while simultaneously decreasing our planet's dependence on building materials such as concrete and steel that rely on large amounts of fossil fuels in their production and use and have much higher environmental impacts than wood.
---
WHAT DO WE WANT TO ACHIEVE BY 2030?
By 2030, we envision a world where sustainable wood products are providing abundant, creative opportunities for ensuring everyone has access to quality, sustainably built housing. We want to be help lead a paradigm shift where people have more housing options — of all shapes and sizes — anchored in natural, renewable and efficient materials.
---
WHERE ARE WE FOCUSED FOR PHASE 2?
While there is much we can accomplish over a decade, we have structured our long-term goals into three-year segments to effectively prioritize and accelerate progress. Our first phase was completed in 2022 and was marked by clear progress we will build on and momentum we will carry forward. During the second phase of our 3 by 30 Sustainability Ambitions, between 2023 and 2025, we are focusing our work in two key areas:
1. Supporting innovation and development of wood-based construction methods to replace less sustainable, nonrenewable materials
Through updated building codes, techniques and material innovation, we see an opportunity to create more housing units on the same land by expanding the use of wood in taller buildings.
Actions include: policy work focused on advancing supportive legislation; sponsorship of wood-based design competitions; support and sponsorship of wood-based and mass timber education events; and more.
2. Increasing available housing options by supporting innovations to improve building speed and efficiency, as well as high-quality alternative and unconventional home-building efforts
By improving supply chain efficiency and reducing building cycle time and waste, we see opportunities to enable the development of more houses with the same labor, time and money. By lending our resources to key partners focused on nontraditional home-building initiatives, we also see an opportunity to create more homes — of all shapes and sizes, and for all income levels — in our operational areas and key markets. Some key partnerships established in Phase 1 will continue, but the nature of our work will evolve, and we will continue to be open to new partnerships.
Actions include: Supporting advocacy activities focused on affordable housing with Habitat for Humanity International; working with the Bipartisan Policy Center's Executive Council for Housing Affordability; supporting programs focused on developing or increasing access to high-quality alternative or unconventional housing; and supporting industry events to educate housing designers and contractors on improving construction speed and efficiency.
---
PHASE 2 ACCOMPLISHMENTS
During the second phase of our 3 by 30 Sustainability Ambitions, we are intentionally making fewer, but more strategic, investments of our time and resources. We will share our accomplishments and baseline measures in this space semi-annually.
---
FOUNDATIONAL SUCCESSES FROM PHASE 1 (2020 – 2022)
In the first phase of our work to achieve our 3 by 30 Sustainability Ambition for Sustainable Homes, we focused on laying the groundwork for meaningful progress. We learned that increasing construction efficiency and expanding options for unconventional housing are highly interconnected and have adjusted our Phase 2 action items accordingly. We accomplished more than 80 percent of the actions we set out to achieve in the sustainable homes ambition; remaining actions were either rolled into Phase 2 or set aside in favor of more effective tactics.
KEY ACCOMPLISHMENTS
Partnered with and supported organizations to drive research and develop solutions for improved construction efficiency and increase available wood-based housing options.
In 2018, the International Code Council developed code provisions for mass timber construction projects up to 18 stories; these provisions were added to the 2021 International Building Code. Part of our ongoing activity includes working to get the IBC's codes adopted in states throughout the U.S. Our team is working with partners and associations at the state level to build acceptance of mass timber, position innovative wood building materials as a low-carbon option and encourage states to expand mass timber promotion and construction projects.
In 2020, we awarded a grant to the University of Arkansas' Fay Jones School of Architecture and Design for a research project and design studio called "Wood City: Timberizing the City's Building Blocks." The project received a 2021 Green Good Design Award.
Building on this success, in 2021 we funded a second design research project, "A Just Home for the Arkansas Timberlands." Together, these projects have helped amplify the school's emphasis on timber and wood products, as well as affordable housing. Both projects have since been expanded into additional work with new partners interested in using mass timber for affordable housing and also in rural, forest-centered communities.
We supported mass timber and wood innovation projects conducted by Clemson University's Wood Utilization + Design Institute.
In 2020, we became a Founding Partner of Ivory Innovations. To support solution development for the housing affordability crisis, Ivory Innovations brings public and private organizations together to support and promote innovations in the fields of policy, regulatory, finance, construction and design. Weyerhaeuser's support provides financial resources for research and convening an annual award to recognize innovative solutions and initiatives to engage university students in addressing housing affordability.
In 2021, we were the lead sponsor for Operation Tiny Home's "Alpha" House, a prototype for a small home, built in part from our products, that was then donated to Mattersville, a community supporting veteran housing.
Leveraged our relationships with global organizations to increase acceptance of wood-based solutions to both the housing and climate crises.
In 2021, 2022 and 2023, we sponsored the International Mass Timber Report, which informs the International Mass Timber Conference, the world's largest gathering of mass timber experts. We participated in panels and other discussions at the Mass Timber Conference to both learn and share information.
In 2021, we leveraged our participation in the National Association of Home Builders International Builders' Show to highlight our sustainability ambitions and engage our supply chain and customers in a discussion related to our 3 by 30 goals and the role of wood products in expanding housing options.
In 2021, we joined the World Economic Forum's Sustainable Mass Timber Action Committee, a group of civil society and business leaders focused on moving sustainable mass timber from a niche opportunity to a mainstream option and developing tools to expand the use of mass timber. As part of this committee, we participated in a virtual panel on the future of this green building material.
Identified legislative priorities that include advancing markets for wood products and mass timber.
In 2021, our government relations team worked with our business leaders to identify innovative wood building materials and mass timber building-code adoption as a top priority in our legislative action plans.
By using this website, you agree to our Privacy Policy. California residents: See our CCPA Privacy Notice for details on what personal information we collect and for what purposes.