Climate
Our working forests contribute to climate change solutions
WHAT IS THE CHALLENGE?
Climate change has the potential to cause enormous disruptions in our world, affecting everything from how we do business to our own well-being and the health of ecosystems around the planet. As global temperatures climb, changes in surface temperature and precipitation trends are leading to the increased frequency and intensity of extreme weather events, wildfires and a loss of biodiversity. Sea level rise, rising ocean temperatures and changes to standard growing conditions present challenges to our coastal communities and forests around the world. Risks to society, including threats to food security, water supply and economic growth, are also increasingly likely and severe.
To avoid the worst projected impacts, the Intergovernmental Panel on Climate Change has stressed the need to limit global warming to no more than 1.5 degrees Celsius. All pathways to limit warming rely on rapid and dramatic reductions in greenhouse gas emissions, coupled with the transition to low- or zero-carbon energy sources and materials and the removal of CO2 from the atmosphere to counterbalance residual emissions.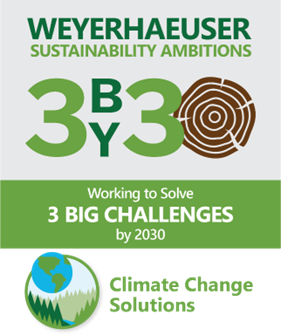 ---
WHAT IS OUR ROLE?
Climate change will almost certainly result in the disruption of normal business patterns, and it is essential for us to address the unique risks it poses for our people, our operations and the communities where we live and work. As the steward of millions of acres of sustainably managed forests in the United States and Canada, and one of the largest producers of wood products in the world, we believe we are uniquely positioned to be part of the solution to this global challenge.
Our role in addressing climate change is multifaceted. It starts with drastically reducing our CO2 emissions and producing low-carbon energy sources and materials. But our most significant contribution comes through providing immediate and long-term solutions to remove CO2 from the atmosphere. As they grow, all of the trees in our millions of acres of forests naturally sequester CO2 and store it as solid carbon. Every piece of lumber or joist we produce, or that our customers make from our logs, then stores much of that carbon for the life of the homes and buildings that our finished products are used to build. After harvest, we replant new trees (or in some situations, we make sure the forest is regenerated naturally) to begin the cycle again. Every year, our growing landscape of trees absorbs more carbon than we harvest. It's part of a continuous and ever-increasing equation of carbon sequestration and storage on the landscape and in our products, and it makes working forests a powerful, far-reaching and cost-effective tool to help limit the concentration of CO2 in the atmosphere.
As one of the world's largest forest landowners, we recognize our added responsibility to manage our forests well in the face of climate change, and we try to ensure they stay healthy and productive and continue to act as a natural climate solution. We also know that climate change is projected to more severely affect communities that are already vulnerable, and we are committed to leveraging our sustainable working forests and our influence as a company to deliver equitable, climate-smart solutions that benefit everyone.
---
WHAT DO WE WANT TO ACHIEVE BY 2030?
By 2030, we envision a world where the value of working forests and the products that come from them is fully recognized as one of the key solutions for slowing and reducing the impacts of climate change. Through our research, stewardship and industry leadership, we endeavor to be a model for how working forests can and should be part of a sustainable, biodiverse and climate-resilient solution — today and long into the future.
---
WHERE ARE WE FOCUSED?
While there is much we can accomplish over a decade, we have structured our long-term goals into three-year segments, or sprints, to effectively prioritize and accelerate progress. During the first three years of our 3 by 30 Sustainability Ambitions, we are focusing our work in two key areas and measuring our progress toward specific actions:
Improving the understanding of working forests as a climate solution
For working forests to effectively contribute to climate change mitigation, we need broader public awareness and understanding of their unique benefits as a mechanism for both carbon sequestration and carbon storage.
Ensuring working forests are climate resilient
Forests are complex ecosystems, and the potential impacts of climate change on forest health and productivity are constantly evolving. Additionally, understanding and incorporating climate-related risks and opportunities into our business decisions will be vital in ensuring working forests can continue to act as a climate solution — and be enjoyed for generations to come.
---
MEASURING SUCCESS
In 2022, as we explore and implement these — and other — roles for our forests and wood products to provide climate change solutions, we are developing measurable-success metrics for our overall 2030 vision and within each focus area. We plan to report baseline measures beginning in 2023.
FOUNDATIONAL SUCCESS
In this first phase of our work to achieve our 3 by 30 Sustainability Ambitions, we are laying the groundwork for meaningful progress toward our goals. The key objectives and accomplishments below are foundational to our success and will be updated throughout our journey.
Key Objective
Participate in the development of carbon-accounting and target-setting standards for our sector
Accomplishments
We are an active member of the technical working groups and drafting process for new guidance addressing how companies account for and report on 
carbon removals and land use as part of the Greenhouse Gas Protocol
. This guidance will ensure consistency in accounting for carbon-removal technologies, including forests and wood products. In addition to leveraging our technical time and expertise, we provided a grant to the World Resources Institute in direct support of the effort. Alongside other member companies in the World Business Council for Sustainable Development's Forest Solutions Group, we are preparing to pilot the draft guidance when it is available in 2022. In the meantime, we released our inaugural 
Carbon Record
, which reflects our general assumption of where the guidance will land. We will adjust our methodology, as needed, once the guidance is finalized.
Key Objective
Implement carbon-accounting and target-setting practices for our company​ and share our results with others
Accomplishments
In 2022, we joined The Climate Pledge and committed to achieving net-zero emissions by 2040 — 10 years ahead of the goals of the Paris Agreement. This commitment means we intend to measure and report greenhouse gas emissions on a regular basis; implement decarbonization strategies in line with the Paris Agreement through real business changes and innovations (including efficiency improvements, renewable energy, materials reductions and other carbon-emission elimination strategies); and neutralize any remaining emissions with additional quantifiable, real, permanent and socially beneficial offsets (or removals) to achieve net-zero annual carbon emissions by 2040.
Accomplishments
As one of the world's largest timberlands owners and one of North America's largest wood products manufacturers, we are a great test case for including carbon removals alongside carbon emissions in our greenhouse gas inventory. In 2021, we took a major step forward by publishing our inaugural Carbon Record, which provides a consolidated look at our carbon impact, from our emissions to our removals, across our entire value chain. With the publication of our Carbon Record, we can confidently and proudly declare that our net impact is significantly carbon negative, meaning we remove far more carbon from the atmosphere than we emit each year. We don't believe there is another industry that can make this claim. And given our scale, we believe there is no other company that provides a better carbon-negative solution than Weyerhaeuser.
Accomplishments
In 2021, we expanded our greenhouse gas inventory to include relevant Scope 3 emissions, which include all indirect emissions that occur from both upstream activities (our suppliers) and downstream activities (our customers and end users). We now include five significant categories of Scope 3 emissions in our inventory and share our assumptions and calculations in our Carbon Record methodology. Our Scope 3 emissions for 2022 were 9.2 million metric tons of carbon dioxide equivalent (mtCO2e) (These units are a useful way to describe the impact of many different greenhouse gases, standardized to one unit of carbon dioxide.)
Accomplishments
In 2021, we calculated and disclosed, through our public reporting, the net change in carbon stored in our U.S. timberlands. Our forests removed a net of 2 million metric tons of CO2e from the atmosphere between 2020 and 2021. That is equivalent to the greenhouse gas emissions avoided by running 3,800 wind turbines for a year.
Accomplishments
In 2020, we committed to setting a greenhouse gas reduction target in line with the latest climate science. In 2021, we set a target to reduce direct emissions and indirect emissions from purchased energy (called Scope 1 and 2 emissions, respectively) by 42 percent by 2030 from a 2020 base year, and to reduce Scope 3 greenhouse gas emissions by 25 percent per metric ton of production by 2030 from a 2020 base year. This target was approved by the Science Based Targets initiative as in line with limiting global warming to 1.5 degrees Celsius, which is the highest level of ambition recognized by SBTi. We are honored to join a select group of climate leaders who are working toward net-zero emissions, and you can explore our Carbon Record for details about our strategy for achieving these ambitious targets.
Key Objective
Lead our sector in positioning forests and wood products as natural climate solutions
Accomplishments
As part of the World Business Council for Sustainable Development, we participated in the first phase, "Enabling the transition to a net-zero economy," of the Forest Sector Net-Zero Roadmap, a publication released as part of Nature Day at COP26. Developed by members of WBCSD's Forest Solutions Group in consultation with 21 key stakeholders, this report describes the role of working forests and wood products in enabling a net-zero future, and it defines three focus areas for the forest sector: "reduce greenhouse gas emissions in operations and across the value chain; increase carbon removals through sequestration in sustainable working forests and storage in forest products; and grow the circular bioeconomy through the substitution of non-renewable and fossil-based materials with forest products."
A second report, planned to be released in 2023, will provide guidance for businesses in the forest sector to drive ambitious and science-based net-zero strategies based on global accounting frameworks and best practice examples. We are serving as one of four co-leads on this project.
Accomplishments
In 2021, we helped launch a sector-wide "forest to frame" carbon alliance to support projects that bring transparency and increase the understanding of the complex relationship between carbon and climate change in working forests and wood products. Through that effort, we also helped initiate a partner grant application to the USDA's Partnerships for Climate-Smart Commodities program with the goal to create an innovative and scientifically based system to track the carbon and climate impacts of forest products from the forest to a mill to a consumer.
Accomplishments
We are a longtime supporter of Michigan State University's Forest Carbon and Climate Program, and over the past three years we have provided grants to create education modules, webinars and learning materials for broader audiences, including the private sector, and funded graduate-level fellowships and academic support.
Accomplishments
With our support, the American Wood Council partnered with the Carbon Leadership Forum in 2020 to host the 
Wood Carbon Seminars
, an eight-part webinar series featuring wood products and forestry experts who answered questions from the building industry about the carbon and climate impacts of wood.
Accomplishments
In 2021, to inform the 
Embodied Carbon in Construction Calculator
's representation of variability within the industrywide environmental product declarations for the most common wood products, we awarded a grant to the 
Consortium for Research on Renewable Industrial Materials
 to analyze the ranges of energy use and greenhouse gas emissions associated with softwood lumber life-cycle assessments. This calculator is one of the prominent tools used to evaluate a building product's environmental impact.
Accomplishments
In 2020, as part of the creation of the 
North American Environmental Product Declarations
, we developed and helped implement an action plan with the American Wood Council to improve the quality and quantity of data collected from wood products manufacturing companies. Throughout 2021, this project worked to dramatically increase participation from manufacturing facilities and streamline the life cycle-assessment creation process with an online data portal​ to help builders and architects better quantify the climate impacts of wood products
Key Objective
Support policies that avoid and reduce greenhouse gas emissions and increase carbon storage through natural climate solutions
Accomplishments
We are one of the original members of the 
Forest-Climate Working Group
, the United States' largest forest sector coalition working to advance climate change policy solutions and cross-sector learning opportunities. For the past two years, we have provided funding to support critical behind-the-scenes staffing and a communications strategy and platform. In 2020 we 
endorsed the policy platform
 that outlines how policymakers can help private forest owners and public land managers grow the powerful climate solutions in America's forests and forest products while delivering other environmental and economic benefits. In 2021, we provided a grant for the Forest-Climate Working Group to develop an organizational governance plan to best meet the needs of a growing and long-lasting coalition. Today, we continue to be actively engaged in additional policy recommendations and learning opportunities.
Accomplishments
In 2021 we were one of the founding members of the 
Bipartisan Policy Center's Net Zero Business Alliance
, a group of leading companies from key sectors devoted to working with industry and policymakers to pursue net-zero greenhouse gas emissions by 2050. The Net Zero Business Alliance believes that decarbonization is "necessary, urgent, and profoundly challenging." Throughout 2021, we participated in the
BPC's Farm and Forest Carbon Solutions Task Force
 to help shape policy recommendations that enhance the role of agriculture and forestry as valuable natural climate solutions and provide new revenue streams to farmers, ranchers and foresters. The task force released its recommendations in early 2022, including a set of guiding principles and 24 initial recommendations organized according to six policy themes that together provide a framework for a comprehensive national approach to natural climate solutions.
Key Objective
Identify and assess the impact of climate-related risks and opportunities to our company and share our results with others
Accomplishment
In 2022 our Timberlands Strategy and Technology team completed a structured and collaborative process to identify climate-related risks and potential opportunities for our Timberlands business. This exercise and output represent the first version of our climate science research strategy, which identifies key areas for climate adaptation tactics and associated knowledge gaps for our timberlands ownership. We intend to share our learnings more broadly with industry and other partners once we begin to implement and test our approach.
Accomplishment
We are an active member of the 
Climate Smart Land Network
, a collaborative network of forest landowners and managers who are on the front line of adapting North American forests to climate change. In 2020 we signed on as a collaborator on a joint research project between Manomet and The Nature Conservancy focused on identifying and implementing measures that increase carbon sequestration and storage and the climate mitigation value of commercial forestland.
Key Objective
Integrate climate-related risks and opportunities into our business decisions
Accomplishment
In 2020, as part of a broader restructuring of our Corporate Development organization, we launched a new business in support of emerging natural climate solution opportunities and other carbon-related products that enhance our portfolio. Among other opportunities, this new business has accelerated the development of renewable energy projects on our land base, including the
establishment of the first wind farm in our Western Timberlands
, bringing the total number of wind farms on our property to six.
By using this website, you agree to our Privacy Policy. California residents: See our CCPA Privacy Notice for details on what personal information we collect and for what purposes.