Climate
Our working forests contribute to climate change solutions
What is the Challenge?
Climate change has the potential to cause enormous disruptions in our world, affecting everything from how we do business to our own well-being and the health of ecosystems around the planet. Despite a short-term decrease in carbon dioxide (CO2) emissions due to the COVID-19 pandemic, the concentration of CO2 remains at record levels, and 2020 is still on track to be the hottest year on record. And as global temperatures climb, changes in surface temperature and precipitation trends are leading to the increased frequency and intensity of extreme weather events and a loss of biodiversity. Sea level rise, rising ocean temperatures and changes to standard growing seasons present challenges to our coastal communities and forests around the world. Risks to society, including to food security, water supply and economic growth, are also becoming increasingly likely and severe.
To avoid the worst projected impacts, the Intergovernmental Panel on Climate Change has stressed the need to limit global warming to no more than 1.5°C — and all pathways to limit warming rely on reducing and removing CO2 from the atmosphere.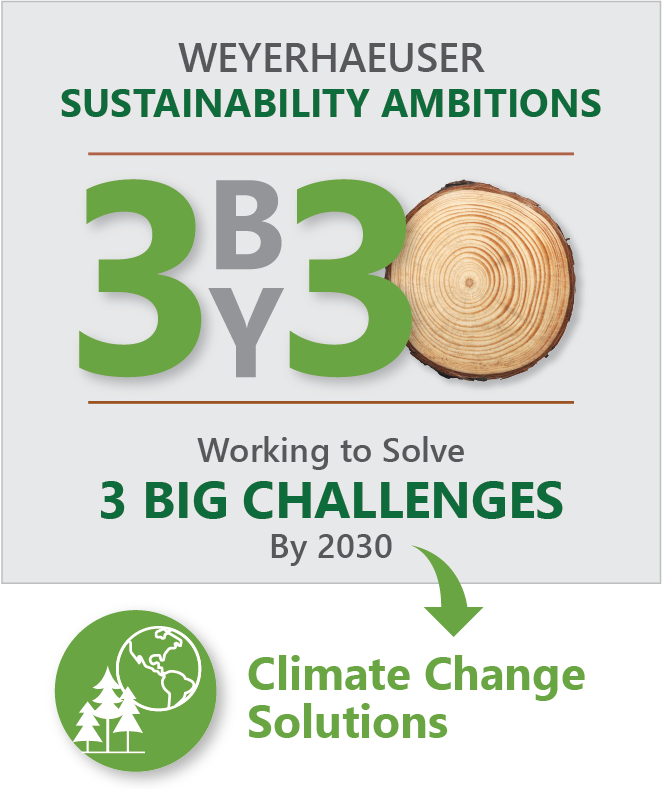 ---
Climate change will almost certainly result in the disruption of normal business patterns, and it's essential for us to address the unique risks it poses for our people, our operations and the communities where we live and work. Fortunately, one of the largest opportunities to remove CO2 already exists: forests. As they grow, trees naturally sequester CO2 and store it as solid carbon, making working forests a powerful, far-reaching and cost-effective tool to help limit the concentration of CO2 in the atmosphere. And as the steward of millions of acres of forests in the United States and Canada, and one of the largest producers of wood products in the world, we believe we are uniquely positioned to be part of the solution to this global challenge.
On a broad scale, our timberlands have a tremendous role to play in mitigating climate change by absorbing CO2 from the atmosphere and storing the carbon for decades in the wood products we make — all while providing a host of critical co-benefits, including increased biodiversity, improved soil quality, clean air and water, and a sustainable supply of timber. We recognize our added responsibility to manage our forests well in the face of climate change to ensure they stay healthy and productive and continue to act as a natural climate solution. We also know that climate change is projected to more severely affect communities that are already vulnerable, and Weyerhaeuser is committed to leveraging our sustainable working forests to deliver equitable, climate-smart solutions that benefit everyone.
We are not new to this work. In the early 2000s, we were one of the first forest products companies to set — and then exceed — an aggressive greenhouse gas reduction goal, including emissions associated with our forest management activities. We were an inaugural member of the Forest-Climate Working Group, a coalition of more than 50 organizations representing environmental nonprofits, private landowners, forest products manufacturers, academics and conservation investors. Also, our level of investment in research related to silviculture and precision forestry to improve forest growth and health sets us apart from our peers.
Despite this progress and potential, conflicting viewpoints remain about the role of working forests as a climate solution. Should forests be set aside just for carbon storage, or should they be actively managed, and how can the wood products that timber is turned into be recognized for their captured carbon? How will forests respond to changes in rainfall, temperature and increased pressures from native and invasive pests and disease? How much biological sequestration is possible without impacting global fiber supplies?
These are complex questions that require cooperatively working with partners, sector peers, forest carbon experts and more, and Weyerhaeuser is eager and well positioned to lead on this front.
---
What do we want to achieve by 2030?
By 2030, we envision a world where the value of working forests — and the products that come from these forests — is fully recognized as one of the key solutions to slowing and managing climate change.
We want forests to serve as one of the many levers and solutions available to mitigate the impacts of climate change. We want working forests to play their appropriate role. We envision a world where sustainably managed forests pull CO2 out of the atmosphere while growing as productively as possible, with that carbon continuing to be stored in wood products manufactured after harvest, followed by the growth of a new forest on the same land to begin the cycle all over again.
---
Over the next decade, we have much work to do. Today, we are focusing our early actions in three areas:
We will share more about our future actions as we explore and implement them, and we will continue to keep our stakeholders apprised of our progress.
1. Forest carbon markets and accounting
What's this about?
Current forest carbon offset protocols do not adequately account for productive working forests and the carbon stored in harvested wood products. There are also limitations to existing protocols that are challenging to overcome, making projects expensive and burdensome. Most important, as more capital is invested in forests as a climate solution, we need to ensure the combined contribution of forests and wood products is accounted for in developing science-based protocols and initiatives. Specifically, our goal is to help position working forests and wood products in existing or new carbon offset markets, as well as the just-developing carbon removals accounting initiatives.
Our Early Actions
Actively participate in the development of Greenhouse Gas Protocol guidance on carbon removals and land use. This standard will set the stage for how pledges and commitments related to natural climate solutions, particularly forests and wood products, will be accounted for and measured.

Explore forest carbon projects that complement or enhance our timberlands and wood products portfolio.

Commit to setting a companywide, science-based greenhouse gas reduction target that incorporates the net carbon sequestration on our land as well as the carbon stored in our wood products. This target will be aligned with what the latest climate science says is necessary to limit global warming to well below 2°C above pre-industrial levels.

Continue participation in the Forest Products Association of Canada's 30 by 30 Climate Change Challenge, the Canadian forest products industry pledge to remove 30 megatonnes of CO2 a year by 2030 — more than 13 percent of the Canadian government's emissions reduction target.
What's this about?
There is a great deal of interest in the role of forests as a climate solution, but there is less certainty about what that role actually is. We believe all forests provide important benefits to society and the planet, but not all forests can provide the same benefits. That's why it's so important for us to stay closely connected to key activities and continue to support the organizations and efforts that recognize the unique role of working forests in climate policy and investment. Specifically, our goal is to partner with NGOs and other organizations that are active in natural and forest climate solutions discussions and activities.
Our Early Actions
Play a leadership role in the Forest-Climate Working Group and support the development of a coalitionwide communications strategy and related materials. Formed in 2007, the Forest-Climate Working Group has worked together to identify ways to sustain and grow the role of U.S. forests and forest products in natural climate solutions. It has become a trusted resource for policymakers and the public, always hewing to a science-based and nonpartisan approach.

Continue to support a Weyerhaeuser Fellow enrolled in the Forest Carbon and Climate Graduate Program hosted by Michigan State University. Read about the fellows we supported last year.


Continue our leadership role in the Forest Management and Wetland Stewardship Initiative, a coalition of forestry companies, Ducks Unlimited and the Forest Products Association of Canada, which is working to calculate carbon sequestered in forested wetlands on working forests.
What's this about?
Forests are complex ecosystems, and the potential impacts of climate change on forest health, productivity and carbon storage is not always clear. Understanding the impacts from temperature and precipitation changes, rising sea levels, increased pest outbreaks, large storm events and wildfires will be vital to ensure forests continue to act as a climate solution. Specifically, our goal is to continue to improve the science and understanding of how forests are being impacted by a changing climate, and to increase our climate resiliency by incorporating these risks and opportunities into our operations.
Our Early Actions
Continue our participation in the Climate Smart Land Network, a collaborative network of forest landowners and managers who are on the front lines of adapting North American forests to climate change. By sharing data and research from across more than 33 million acres, the program aims to make climate change science more accessible, understandable and actionable.

Continue our partnership with the National Research Council of Canada to review the Canadian Council of Forest Ministers Climate Change Task Force's recently released Vulnerability Assessment Guidebook. This partnership will help identify opportunities for forest managers to build resiliency and adaptation in the face of a changing climate. This work will feed into a Climate Change Mitigation and Adaptation Toolkit, being developed by the Forest Products Association of Canada, to be integrated into our Detailed Forest Management Plans in Canada.

Each year, we spend millions of dollars on forest productivity research, including $7.7 million in 2019 alone. Our production forestry scientists will continue to be a critical part of ensuring we manage our forests sustainably in the face of a changing climate.

Recently, we identified opportunities and risks to each of our businesses and recommended a set of actions to better understand and respond to the impacts of climate change. These include increasing our monitoring and evaluation of the effects of changing weather patterns on tree and land productivity, and integrating climate impacts and scenarios in our portfolio evaluations.
By using this website, you agree to our Privacy Policy. California residents: See our CCPA Privacy Notice for details on what personal information we collect and for what purposes.