Climate
Our working forests contribute to climate change solutions
What is the Challenge?
Climate change has the potential to cause enormous disruptions in our world, affecting everything from how we do business to our own well-being and the health of ecosystems around the planet. Despite a short-term decrease in carbon dioxide (CO2) emissions due to the COVID-19 pandemic, the concentration of CO2 remains at record levels, and 2020 was the second-hottest year on record. As global temperatures climb, changes in surface temperature and precipitation trends are leading to the increased frequency and intensity of extreme weather events, wildfires and a loss of biodiversity. Sea level rise, rising ocean temperatures and changes to standard growing conditions present challenges to our coastal communities and forests around the world. Risks to society, including threats to food security, water supply and economic growth, are also increasingly likely and severe.   
To avoid the worst projected impacts, the Intergovernmental Panel on Climate Change has stressed the need to limit global warming to no more than 1.5°C — and all pathways to limit warming rely on reducing greenhouse gas emissions and removing CO2 from the atmosphere.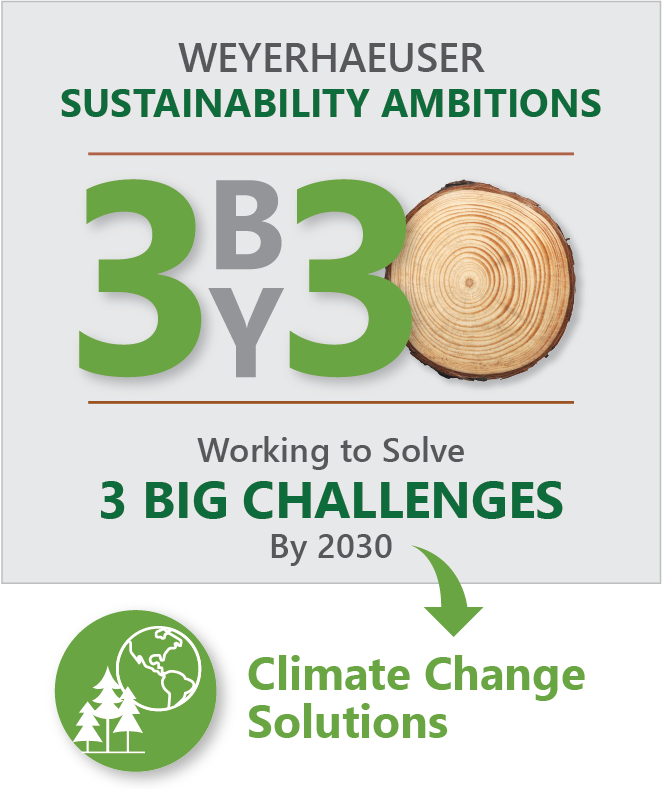 ---
What is our role?
Climate change will almost certainly result in the disruption of normal business patterns, and it is essential for us to address the unique risks it poses for our people, our operations and the communities where we live and work. We have a role to play both in decreasing our CO2 emissions and also in removing CO2 from the atmosphere.
Fortunately, one of the largest opportunities to remove CO2 already exists: forests. As they grow, trees naturally sequester CO2 and store it as solid carbon, making working forests a powerful, far-reaching and cost-effective tool to help limit the concentration of CO2 in the atmosphere. And as the steward of millions of acres of forests in the United States and Canada, and one of the largest producers of wood products in the world, we believe we are uniquely positioned to be part of the solution to this global challenge.
We recognize our added responsibility to manage our forests well in the face of climate change to ensure they stay healthy and productive and continue to act as a natural climate solution. We also know that climate change is projected to more severely affect communities that are already vulnerable, and Weyerhaeuser is committed to leveraging our sustainable working forests to deliver equitable, climate-smart solutions that benefit everyone.
---
What do we want to achieve by 2030?
By 2030, we envision a world where the value of working forests and the products that come from them is fully recognized as one of the key solutions for slowing and reducing the impacts of climate change. Through our research, stewardship and industry leadership, we will be a model for how working forests can and should be part of a sustainable, biodiverse and climate-resilient solution — today and long into the future.
---
While there is much we can do between now and 2030, we are structuring our long-term goals into three-year segments to effectively prioritize and accelerate progress. During these first three years, we are focusing our work in two key areas:
Improving the understanding of working forests as a climate solution
For working forests to effectively contribute to climate change mitigation, we need broader public awareness and understanding of their unique benefits as a mechanism for both carbon sequestration and carbon storage.
Ensuring working forests are climate-resilient
Forests are complex ecosystems, and the potential impacts of climate change on forest health and productivity are constantly evolving. Additionally, understanding and incorporating climate-related risks and opportunities into our business decisions will be vital in ensuring working forests can continue to act as a climate solution — and be enjoyed by humans for generations to come.
As we explore and implement solutions for climate change, we will develop and report progress and measurable-success metrics for each of our focus areas.
Foundational Success
While we are still early in our work to achieve our 3 by 30 sustainability ambitions, we are laying the groundwork for meaningful progress toward our goals. The key objectives and accomplishments below are foundational to our success and will be updated throughout our journey.
Key Objective
Participate in the development of carbon-accounting and target-setting standards for our sector
Accomplishment
We are an active member of the technical working groups and drafting process for new guidance addressing how companies account for and report on
carbon removals and land use as part of the Greenhouse Gas Protocol
. This guidance will ensure consistency in accounting for carbon-removal technologies, including forests and wood products. In addition to leveraging our technical time and expertise, we provided a grant to the World Resources Institute in direct support of the effort. We are preparing to pilot the guidance next year.
Key Objective
Implement carbon-accounting and target-setting practices for our company​ — and share our results with others
Accomplishment
As one of the world's largest timberlands owners and one of North America's largest wood products manufacturers, we are a great test case for including emission reductions with carbon removals in reporting and targets. In 2021 we expanded our greenhouse gas inventory to include relevant Scope 3 emissions ​and the amount of carbon removed by our forests and wood products. We have also set an emissions reduction target in-line with limiting global warming to 1.5C above pre-industrial levels. We have submitted our target for approval with the Science Based Targets initiative, and we expect to received confirmed of that target later this year. We are sharing our methodology for our entire Carbon Record and we welcome any feedback.
Key Objective
Lead our industry in positioning forests and wood products as natural climate solutions
Accomplishment
With our support, the American Wood Council partnered with the Carbon Leadership Forum in 2020 to host the
Wood Carbon Seminars
, an eight-part webinar series featuring wood products and forestry experts who answered questions from the building industry about the carbon and climate impacts of wood.
Accomplishment
To inform the Embodied Carbon in Construction Calculator's representation of variability within the industrywide environmental product declarations for various wood products, in 2021 we awarded a grant to the Consortium for Research on Renewable Industrial Materials to analyze the energy use and associated variability of greenhouse gas emissions among the softwood lumber life-cycle assessments. This calculator is one of the prominent tools being used to evaluate a building product's environmental impact.
Accomplishment
Over the past two years, as part of the creation of the North American Environmental Product Declarations, we developed and implemented an action plan with the American Wood Council to improve the quality and quantity of data collected from manufacturing companies. This project will dramatically increase participation from manufacturing facilities and streamline the life cycle-assessment creation process with an online data portal​.
Key Objective
Support policies that avoid and reduce greenhouse gas emissions and increase carbon storage through natural climate solutions
Accomplishment
We are one of the original members of the
Forest-Climate Working Group
, the United States' largest forest sector coalition working to advance climate change policy solutions and cross-sector learning opportunities. For the past two years, we have provided funding to support critical behind-the-scenes staffing and a communications strategy and platform. In 2020 we
endorsed the policy platform
that outlines how policymakers can help private forest owners and public land managers grow the powerful climate solutions in America's forests and forest products while delivering other environmental and economic benefits. Today, we continue to be engaged in additional policy recommendations and learning opportunities through the FCWG.
Accomplishment
In 2021 we were one of the founding members of the
Bipartisan Policy Center's Net Zero Business Alliance
, a group of leading companies from key sectors devoted to working with industry and policymakers to pursue net-zero greenhouse gas emissions by 2050. The Net Zero Business Alliance believes that decarbonization is "necessary, urgent, and profoundly challenging." We also joined the
BPC's Farm and Forest Carbon Solutions Task Force
to help shape policy recommendations that enhance the role of agriculture and forestry as valuable natural climate solutions and provide new revenue streams to farmers, ranchers and foresters.
Key Objective
Identify and assess the impact of climate-related risks and opportunities to our company and share our results
Accomplishment
In 2018 a team of internal experts identified key climate-related risks and opportunities to our business. In 2020 we incorporated these impacts into our
TCFD alignment document
. Climate-related impacts are reviewed annually across our business lines as a part of our overall risk management process.
Accomplishment
We are an active member of the
Climate Smart Land Network
, a collaborative network of forest landowners and managers who are on the front line of adapting North American forests to climate change. In 2020 we signed on as a collaborator on a joint research project between Manomet and The Nature Conservancy focused on identifying and implementing measures that increase carbon sequestration and storage on commercial forestland.
Key Objective
Integrate climate-related risks and opportunities into our business decisions
Accomplishment
In 2020 we
launched a new business
in support of emerging natural-climate-solution opportunities and other carbon-related products that enhance our portfolio.
Accomplishment
We are currently developing a comprehensive science strategy that integrates and expands on research and understanding of how climate change interacts with sustainable forest management and influences biodiversity, water quality and quantity, forest health, harvest planning, genetics and silviculture. With this strategic climate science plan, we will further integrate climate-related risks into our forest management decisions.
By using this website, you agree to our Privacy Policy. California residents: See our CCPA Privacy Notice for details on what personal information we collect and for what purposes.