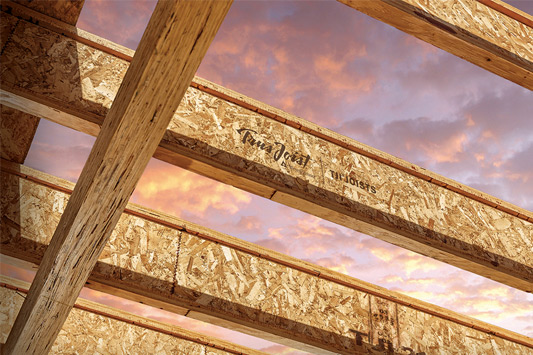 Trus Joist® TJI® joists are a key part of making a high-performance floor. The dimensional stability of TJI joists help them resist warping, twisting and shrinking that can lead to squeaky floors. TJI joists are lightweight and come in long lengths, which makes them faster and easier to install than traditional framing, and saves you both time and money.
TJI JOIST BENEFITS
Easily drilled and cut for plumbing and ductwork
Long lengths allow for versatile floor plans
Ease of installation helps reduce callbacks
TJ-Pro Rating provides customizable, predictable floor performance
Save time and money and increase customer satisfaction
Durable performance backed by a limited lifetime product warranty
Weyerhaeuser offers an array of software packages to help you specify individual framing members, create cut lists, manage inventories — even to help you design a complete structural frame. Lean more about software to help get the job done.
When you build with TJI joists, you not only get the best product, you also get unsurpassed customer service, design expertise and engineering support. Take advantage of our industry-leading software with the TJ-Pro™ Rating System. TJ-Pro helps you design and build a floor system with Trus Joist components that work together to meet, or exceed, customer expectations.