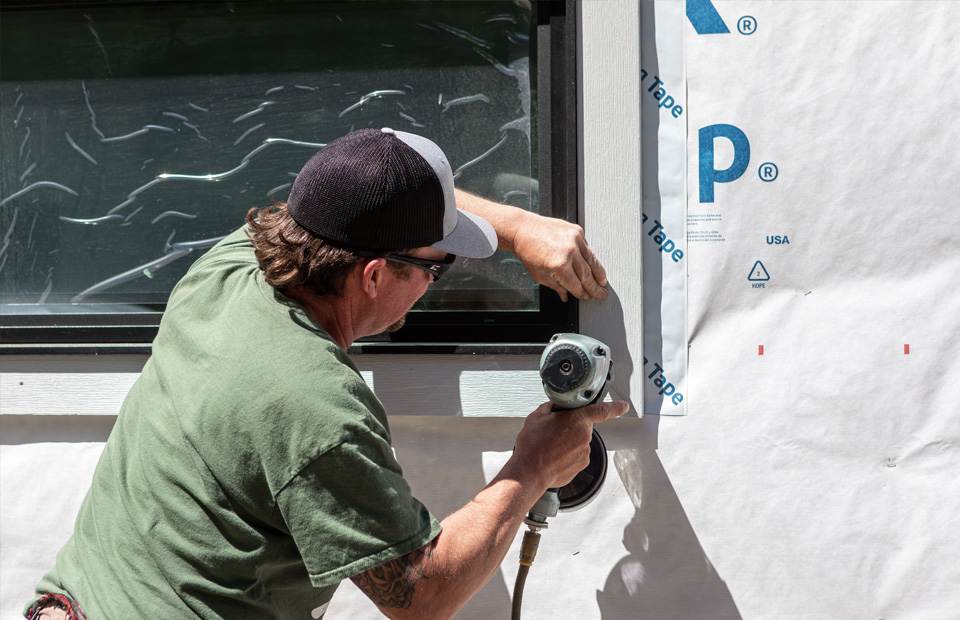 AZEK® Trim with PaintPro Technology offers the high-performance and low-maintenance benefits you expect from AZEK Trim but is engineered for paint to save installers time and money. It comes ready to paint with no sanding or priming required.
Like any building material, expected performance requires following installation instructions. Doing so will ensure AZEK Trim with PaintPro Technology, and its finish, lasts as long as intended.
Consider these installation strategies to help reduce callbacks and headaches.
Pay attention to fastening guidelines. AZEK Trim with PaintPro Technology installs the same as AZEK Trim. Unlike wood, AZEK Trim won't expand due to water absorption. Still, it may experience some expansion over time from the sun. Follow fastening guidelines, including fastening close to edge and then a maximum of every 16". (Download the installation guide for full details.)

Pay attention to spacing guidelines. Installers may be accustomed to leaving space between siding and trim or trim joints. But in most cases, you can butt AZEK Trim with PaintPro Technology tight and use much less caulk. One exception is longer runs, where you'll want to follow instructions for spacing to provide a little room for movement. You can leave room if butting up against non-AZEK materials or when it is being installed with a channel that will hide movement. For longer runs such as fascia and belly bands, use a scarf joint. Be sure to use glue on scarf joints (AZEK-to-AZEK joint) and fasten on both sides of the joint.

Use proper paint. AZEK Trim with PaintPro Technology was developed to have a superior paint bond to enhance long-term performance and reduce the need for frequent repainting. Specifying the right paint will ensure the finish lasts for as long as designed. Always use a 100% acrylic paint approved for exterior use. You can use a color with a light reflective value (LRV) above 55. For more color options, use preset colors from paint manufactures offering colors formulated for vinyl siding. And remember, ONLY ever have custom colors or color match with specialty paint with solar reflective pigments. Those seem like a lot of rules, so to make it easy, visit www.azekexteriors.com/painting to find the right color and paint product.
Learn more about AZEK Trim with PaintPro Technology at https://azekexteriors.com/products/trim/trim-boards/paintpro-trim.
Weyerhaeuser Distribution is committed to delivering the reliable, consistent products you can rely on. Connect with your Weyerhaeuser representative today about the exterior cladding solutions available in your market.