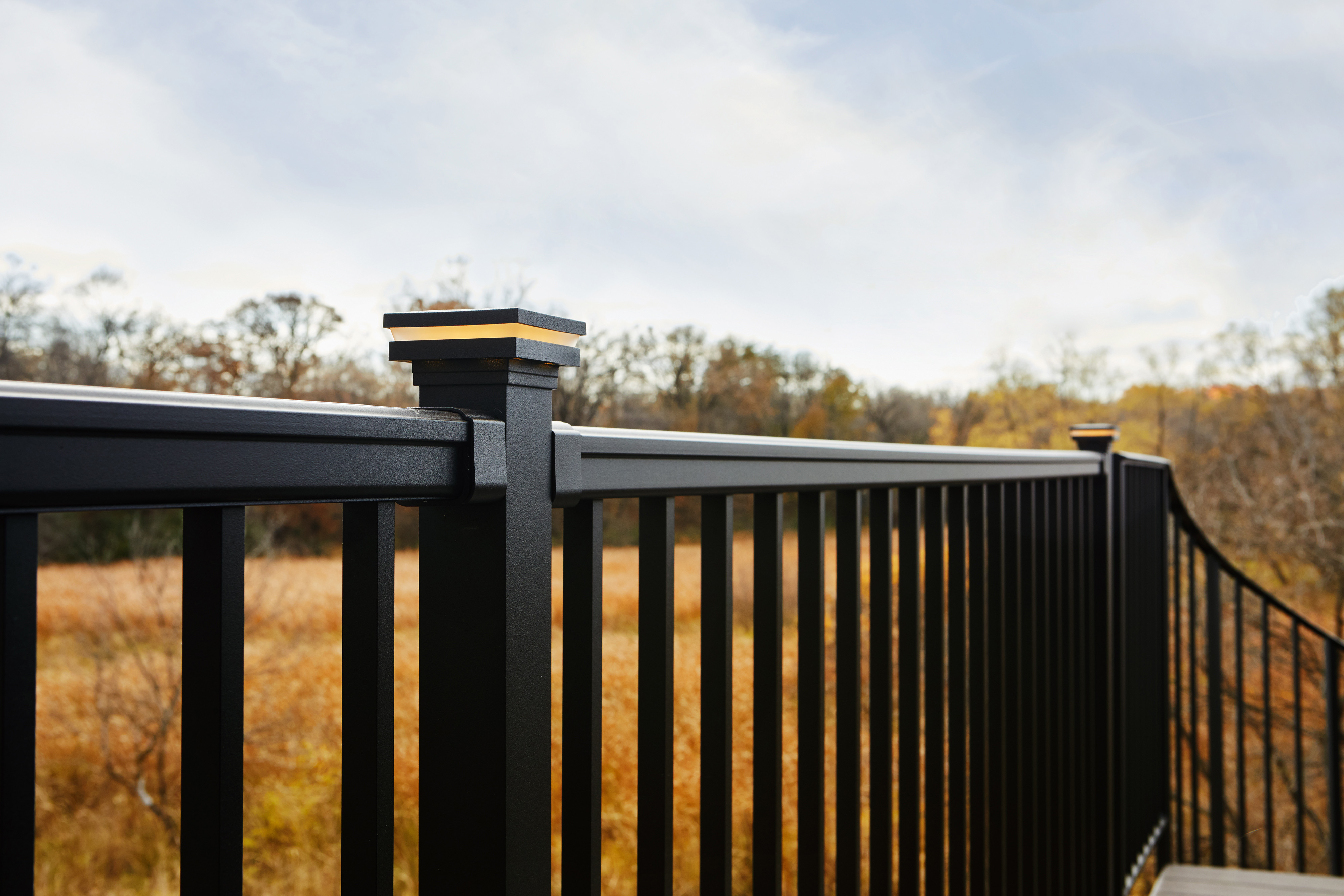 If you count DIYers among your customers, chances are some of them may be seeking deck railing that is simple, stylish—and easy to install.
To help them find the right easy deck railing, here are three options from TimberTech based on:
The easiest to install
The easiest to order
The easiest to customize
1. Easiest Deck Railing to Install: Impression Rail Express®
For an easy deck railing to DIY, offer TimberTech Impression Rail Express, which has straightforward and simple installation.
Impression Rail Express features a panelized railing system, in which the balusters come as one panel that can be installed into the top and bottom rails (as opposed to installing each baluster individually). Customizable 30- to 40-degree stair panels that can be adjusted 10 total degrees to suit the stair design. Plus, three top rail options—Classic, Drink Rail, and Modern—feature the same install features so they can customize your design without compromising install ease.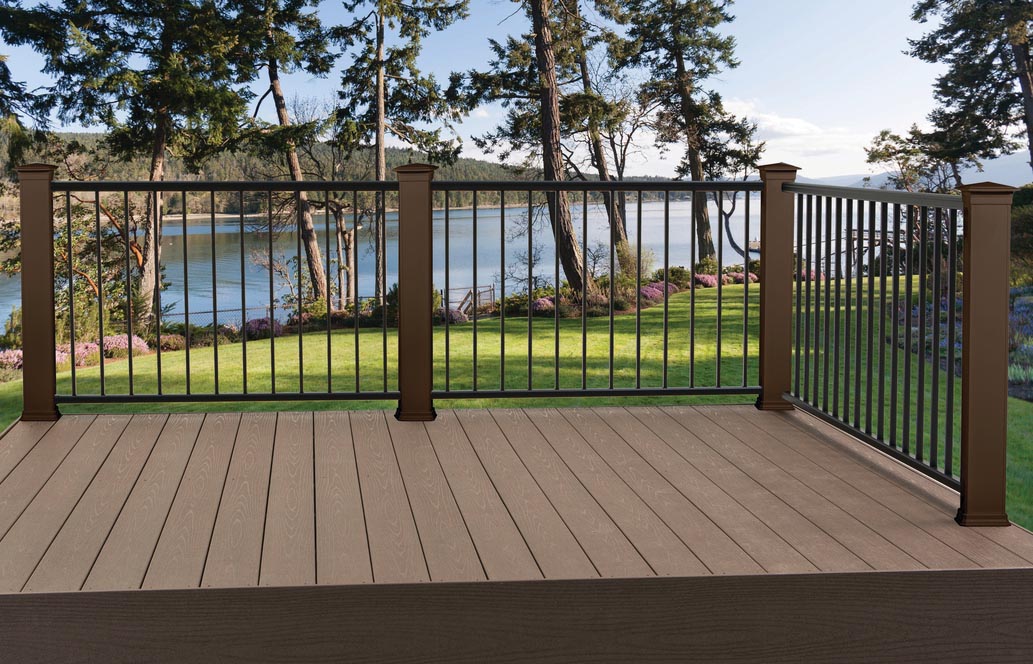 (Note: All TimberTech railing systems, when assembled properly, are designed to meet the most common deck railing code requirements. However, installers should always be sure to check with their local building codes department before beginning any deck project to check for any requirements specific to their area.)
2. Easiest Railing to Order: RadianceRail Express®
When it comes to ordering, most railing systems require you to order every piece individually, which is ideal if you're opting to customize your railing components; however, if they're looking for a simple, sophisticated design with a streamlined ordering process, then the RadianceRail Express is a great option.
Benefits of the RadianceRail Express:
Embrace the classics with the traditional milled look of the RadianceRail Express top rail.
Streamlined ordering process that features all the components (except the terminating posts, skirts, and post caps) needed to build the railing, including the top and bottom rails, balusters, post sleeves, hardware, and foot blocks.
Top and bottom rails come with pre-drilled baluster holes for straightforward installation.
No need to sand, stain, or seal for protection thanks to durable composite material composition that features far greater stain and weathering resistance than traditional wood.
Composite railing system featuring an attractive sculpted top rail with a milled wood look.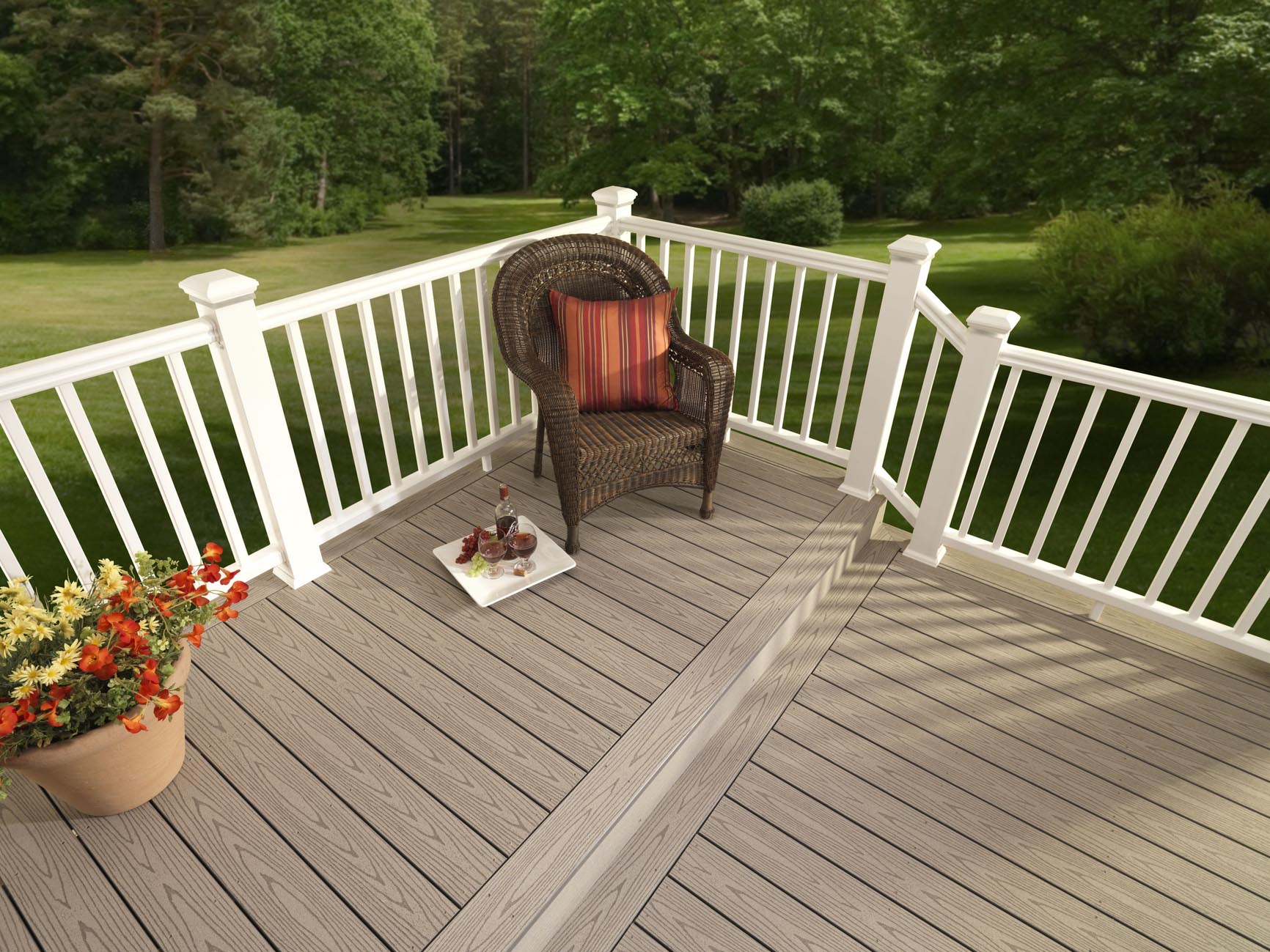 3. Easiest Railing for Customization: Classic Composite Series
If easy customization for a unique railing design is the buyer's highest priority, opt for the TimberTech Classic Composite Series. Whether they prefer a traditional railing or a contemporary look, the universal bottom rail featured in the Classic Composite Series allows them to easily customize their railing with multiple infill options. For this series, keep in mind that certain customization options may be more difficult to install than others. Working with a contractor can ensure their railing gets built right without having to lift a finger.
Customizing the railing takes just three simple steps:
Choose the top rail: Pick either a Traditional, Modern, Drink Rail, or another top rail design for the perimeter.
Choose the color: Complement the deck and yard with a railing in matte white, white, black, or another color.
Choose the infill: Find the best infill for the railing with either cable rail, glass, or traditional balusters.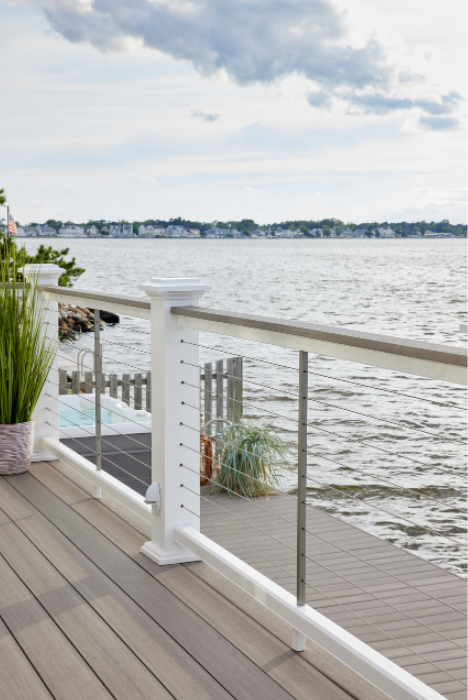 The Classic Composite Series also allows you to customize the post sleeves, caps, and skirts on the deck rail for an extra touch of color and style. You can even add lighting options to illuminate your deck for added ambience and safety.
For more details on DIY deck options, read the full TimberTech original blog post here.
Weyerhaeuser Distribution is committed to delivering the reliable, consistent products you can rely on. Connect with your Weyerhaeuser representative today about the exterior cladding solutions available in your market.