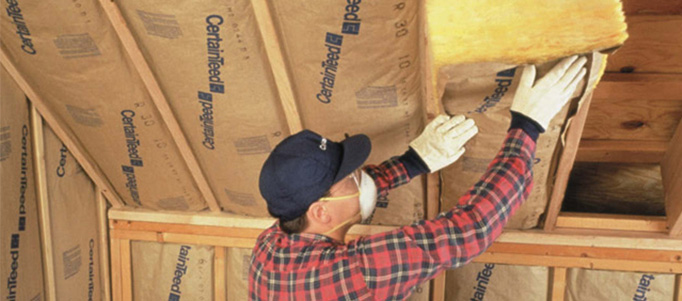 May is Home Improvement Month — the perfect time for homeowners to make upgrades to their homes.
"Owning a home means you have the ability to enhance your living space on a regular basis," says Allen Lyle, co-host of the Today's Homeowner with Danny Lipford radio show. "Home Improvement Month is the ideal time to consider updating your roof, replacing an old deck or adding insulation to the attic."
Lyle reminds people that improvements to the home are more than just a necessity — they're an investment in the life and value of the home. "Don't think of it as splurging on a new deck or siding," says Lyle. "Instead, know that every positive change you make to your home adds to its overall resale value."
In the 2016 Cost Versus Value Report issued by Remodeling magazine, 30 popular remodeling projects were evaluated. The study shows that, on an average, homeowners with mid-range priced homes can expect to recoup 116.9 percent of their investment when adding fiberglass insulation to an attic space. Other high return-on-investment projects around the house include adding manufactured stone veneer (92.9 percent cost recoup expected) and adding a composite deck (64.4 percent cost recoup expected).
With these insights and motivation in mind, here are five "projects with payback" you can consider tackling during Home Improvement Month to enhance your living space:
Project #1 – Get insulated. Adding more insulation to the walls, ceilings and attic space is a proven way to help reduce energy costs and noise levels in your home. High-quality roll insulation, like products manufactured by CertainTeed®, are lightweight and easy to install. A few hours upgrading the insulation in your home can produce big benefits in energy savings throughout the year!
Project #2 – Add a new deck. Ready to enjoy your outdoor living space in a new way? Add EverGrain® Composite Decking from TAMKO® and prepare to relax in style. Easy to install, this low-maintenance compression molded composite decking has a deep, lasting woodgrain look. Best of all, there's no need for painting or staining, and it comes in a variety of colors to complement your home exterior.
Project #3 – Accent a boring wall – Tired of the lackluster walls in your home — try picking a key wall and accenting it with a stone veneer. ClipStone mortarless stone veneer lets you easily turn a boring wall into an eye-catching showpiece. If you know how to put a screw in the wall, you can select one of the striking stone color combinations and tackle this easy DIY product.
Project #4 – Replace rotted exterior trim. Can you poke your finger into rotting trim around your home? If so, it's time to replace those insect-infested boards with cellular PVC trim. Long-term maintenance hassles disappear when you invest in composite trim pieces like those from Ply Gem®. The durable pieces don't absorb water like wood, so they won't rot or warp. And, because they're a cellular material, they tend to hold paint longer, giving you more time to enjoy your home rather than work on it.
Project #5 – Invest in new siding. Forget about warped vinyl siding or worrying about termites nibbling on your wood siding. Take the step to invest in high-performing fiber cement siding to enjoy decades of worry-free living. For curb appeal, durability and peace-of-mind, consider plank, shingle or panel siding options from James Hardie® that are weather, rot and termite resistant. These sidings have a 30-year non-prorated warranty and are backed by the Good Housekeeping Seal of Approval.