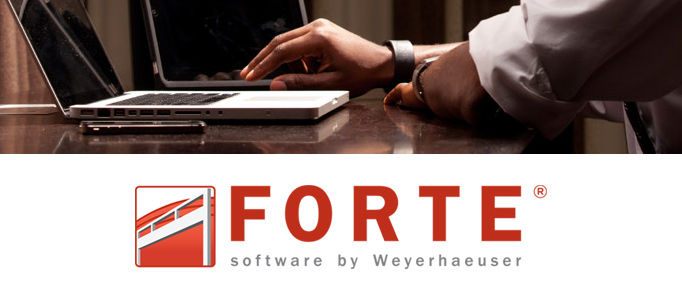 By Steve McManus, P. Eng.
Since its initial release several years ago, our easy to use yet powerful Forte® member sizing software has continued to evolve, incorporating new features with each release. Here are a few great advantages that you can use to save time and get the most out of Forte®.
Use Load Linking to Minimize Manual Entry
Structural engineers and designers can spend a large amount of time in the early stages of a project tracking loads down through a structure – from roof joists, through beams, walls and posts – sizing members and calculating the loads at each location. Quite often, changes are made at later stages to meet architectural or customer preferences that will affect the structure, which then requires the structural designer to repeat this time-consuming process.
In Forte®, you can minimize this rework by linking loads between members and their supports. In the example below, loads from each member have been linked to their supporting member. Let's assume that a change has been made to extend the upper roof joists further than initially specified.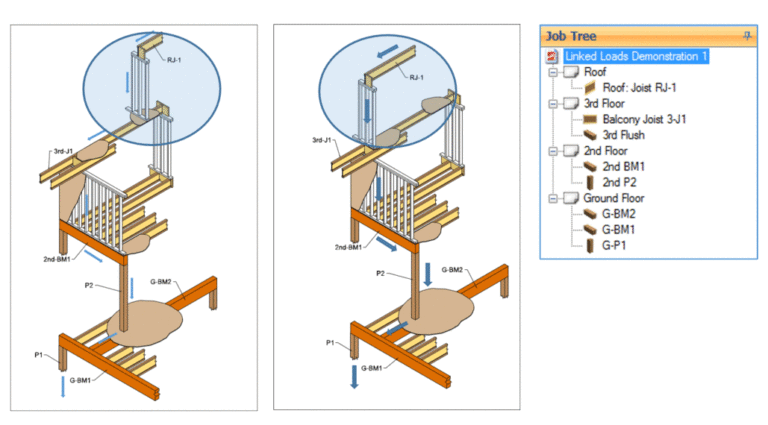 Rather than recalculating loads for all the supporting members, it is necessary to adjust only the upper load and its location, then simply click Design All to pass the adjusted load down through all of the linked supporting members.
Set Defaults and Manage Materials
Forte® provides two levels of material filtering to tailor material selection to your preferences. The Materials Manager allows you to select which materials the software will consider as potential design solutions, allowing you to switch off materials that may not be readily available in your market.
Further refinement can be achieved by using the Save as Default buttons to generate solutions based on your preferences for joist and beam materials, dimensions, spacing, decking type and floor performance options. You can still choose add other options from the available materials as needed.

Optimize Solutions by Performance or Cost
The Solutions tab allows you to quickly compare design solutions for the materials you have selected. Click on any of the headers in the product solutions window to sort solutions by category. Compare acceptable solutions from your selected items by wood volume (lower volume generally means lower relative cost). For TJI®, TimberStrand®, or Microllam® floor joists, you can also optimize solutions using TJ Pro Rating, our proprietary tool for predicting floor performance. To learn more about TJ Pro Rating, click here.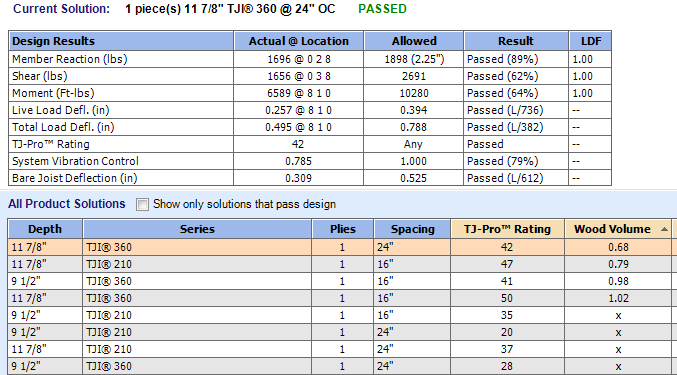 Specify Multiple-Ply Beam Connections
Beginning with version 5.1, Forte® is able to generate options for fastening of multiple-ply beams for both uniform and concentrated loads, including nails, bolts, and proprietary screws. You can turn this feature on in the Job Settings tab, after clicking on the top level of the job tree.

Analyze Holes in Beams and TJI Joists
Forte® can also analyze holes not only in TJI® joists, but also in TimberStrand® LSL, Microllam® LVL, and Parallam® PSL beams. As these designs are based on specific loading conditions, the results generated in Forte® will often be more accommodating than hole charts published in our literature.

To download your free copy of Forte® software, visit our Forte page here. While you are there, have a look at the wide range of Forte® training materials and videos. Our software support team is available should you have questions on Forte® at 1.800.833.9491 or by email.
For technical support for any Weyerhaeuser Trus Joist® brand engineered lumber product, contact us at 1.888.453.8358, by email at techsupport@weyerhaeuser.com, or online.
---
STEVE MCMANUS, P. ENG.