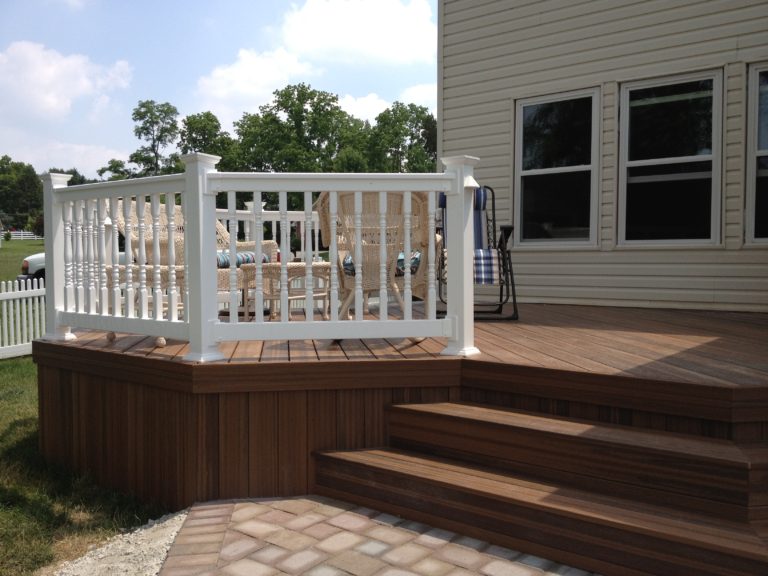 Not every backyard is roomy enough for a jumbo deck or patio, and not every family's budget is generous enough to pay for one. Still, a homeowner can live large on a small deck with an open floor plan that makes the best use of limited square footage.
Here are six tips for maximizing space—physically and visually—for small decks:
1. Create an Illusion
Railings and retaining walls can dress up a deck and make it look "finished." But they also close in the space and can make it appear smaller.
For decks that don't require railings for safety, such as those built close to the ground on a solid foundation, forgo the railings to avoid cutting the deck off from the yard. This will create a more open deck and will make it feel like part of a greater area instead of a confined, separate space.
Where hand rails are required or desired for privacy, wide slats or cable styles allow someone sitting on the deck to feel protected but still see through to the yard, says Barry Streett of Rolling Ridge Deck Co. in Evergreen, Colo.
2. Step Widely
Likewise, an extra-wide opening and a couple of extra-wide steps leading to the yard create the illusion that a diminutive deck reaches farther into the yard. Layer the steps in a cascading fashion to make the illusion even greater, says Tim Stephens, owner of Archadeck of West Central and Southwest Ohio.
Because the railing for a staircase is on the side of the steps instead of on the edge of the deck, make the steps—and the opening that leads to them—as wide as possible, he adds.
3. Consider Traffic Patterns
Position the steps as close to the back door as possible to give the homeowner more options for furniture placement. If the steps are built on the other side of the deck, across from the door, the furniture will obstruct the path from house to yard.
4. Embrace Angles
A deck designed with boards angled to point toward the steps leading to the yard can make the surface look longer or wider, just as vertical stripes on a piece of clothing make the wearer appear taller.
This is an especially effective optical illusion when the angled deck sits outside of a big patio window, notes Stephens. Deck boards that run parallel to the patio window stop the eye and make the space look smaller. But boards that run diagonally tease the eye away from the deck and into the yard.
Light-colored deck boards have a similar impact, making the deck feel a bit larger than one with a darker palette, says Tulsa, Okla., deck builder Sam McConnell of Magnum Fence & Deck.
5. Seek Guidance
Even a small deck has to comply with local building codes, so dealers and contractors should consult with code officials before investing in materials and starting the build.
Depending on the jurisdiction, railings might be required on stairways and raised decks. Some codes now require stairway lighting. And the size of the deck could be bound by rules about how close it may come to the lot line, especially in townhouse and condominium communities or in neighborhoods where houses sit close together.
In addition, a hot tub or fire pit on a deck might come with some rules and safety precautions of its own—often involving safety clearances that could make the features too tight a fit for a small deck.
Stephens warns that a 7′ by 7′ spa, for example, requires a 10′ by 10′ space so the lid can open and so the homeowner and maintenance techs can easily access the motor and plumbing.
6. Level Off
A deck with two or three tiers looks high-end and professionally designed, but chopping a space-challenged deck into sections will create platforms that are too small for entertaining or even for furniture. Keep small decks to a single level to maximize their limited space.
Weyerhaeuser Distribution offers a wide range of composite, cedar and treated wood products. Learn more here.