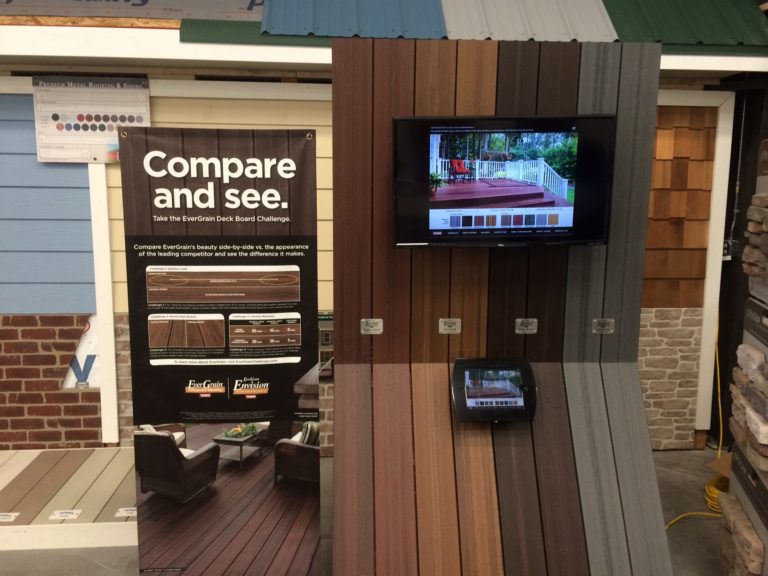 With the recovering economy, one building trend that's continuing to come on strong—and getting stronger—is a desire for well-designed outdoor spaces that extend the living area nearly year round.
"Outdoor living is booming because people plain and simply love being outside," says Michael Beaudry, executive vice president for the North American Deck and Railing Association (NADRA). "As dealers you're on the front lines and in a position to provide industry professionals and homeowners with the best products and services available in the marketplace."
But like many building material categories, decking presents dealers with a display challenge: how to properly showcase an extensive selection of materials and SKUs in a tight space in a way that inspires, rather than overwhelms, building pros and homeowners.
It's not an easy question to answer, for sure, and there's no one-size-fits-all solution. But there are several steps dealers can take to create more compelling and functional deck displays:
1. Get a Handle on Samples
One element that can bog a display down is the shear number of samples of textures and colors of composite decking. Instead of a chain hidden behind the desk or a hodgepodge of samples on the table, institute a more organized system, even with simply a simple, well-labeled shelving unit. Jeff Adkins, senior vice president of display company Milford Enterprises, recently developed a display (right) in conjunction with NADRA that showcases larger composite deck pieces and lifestyle images on a front display, with opening panels to reveal stacks of associated samples.
2. Think Beyond Your Manufacturer
The customized approach above also allows dealers to move beyond simply cobbling together multiple manufacturer point-of-purchase displays, which don't feel cohesive and can confuse customers even further. Customizing your decking area to showcase your offerings interchangeably, with an approach that helps customers shop by what they want, not just by what you have, can help relieve some of the strain.
3. Go Digital
Video boards within your display can provide ample information and inspiration in a small amount of space. Work with your manufacturers and distributors to develop video loops showcasing your location's specific lineup of products, interspersed with product information and inspiring images of what can be accomplished with those products.
Catering mostly to pros? Include installation tips and tricks as part of the video loop.
And don't forget about cool tools like Tamko's Marquee Color Visualizer and Decking Styles App to help customers better understand what their choices will look like in real life.
4. Reduce Options
Too many color choices can be overwhelming. Adkins follows lessons from the floorcovering industry, where only 20% of samples are top sellers. Display samples of your most popular products and then include a full selection of your colors in video displays and printed color sheets/catalogs.
5. Touch and Feel
Samples are great, but nothing replaces being able to walk on the real thing to get a true experience of how the deck will look and feel. Space is always a concern, but keep in mind that you don't have to build a full deck on site, but just enough for them to walk up the stairs, feel the material underfoot, and hold the railings.
For larger replicas, utilize other parts of your buildings, Beaudry advises. "What about your entry ways, loading docks, and storage material handling areas? All can be used to provide display areas for the category."
Also, consider using your exterior, he says. If you have roadside frontage, and space and codes permit, consider building an inspiring deck that can attract eyeballs and customers. "Design it well; include pergolas, fire pits, and outdoor kitchens, and be sure to have lots of detailing and good quality lights," he says. "These will not only act as the best billboards you could ever dream of, but also will add significant square footage to the category."
6. Market Upgrades
Make sure displays incorporate all the extras, such as lighting and rail cap options. By incorporating those options into the display deck, you can save space on the walls and give a more true-to-life feel.
7. Inspiring Take-Aways
Along with basic product information sheets, work with your manufacturer or distributor partner to develop project case studies that can help maintain the inspirational feeling after they leave the store. Show them not only pretty pictures, but how the products combine to bring about the end result.
When in doubt, put yourself into a buyer's shoes or walk around with a buyer to get a feel for their experience. Seeing the space through the eyes of a customer who is unfamiliar with your products can go a long way toward small and large refinements that serve their needs better.