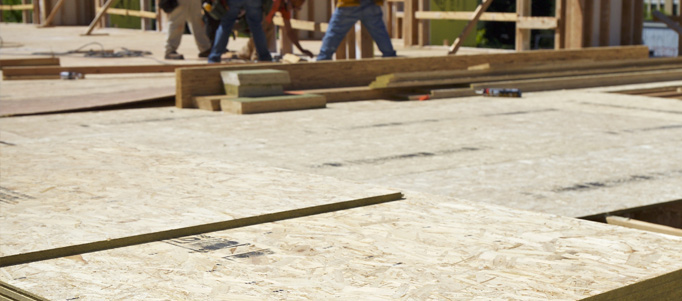 George Hendry, a marketing development manager for Weyerhaeuser with more than 30 years experience in the industry, eats, breathes and lives for OSB. We tapped into his knowledge base recently to share his insights into the wonderful world of OSB!

Q: What flames your enthusiasm for OSB?

A: I'm always awed that amazing things can be created from a green sustainable product. Marrying science and engineering with renewable, bio-based and resource-efficient engineered wood products is so smart. Every bit of the tree is used in our OSB manufacturing process. From the bark that gets burned to make energy for the plant to the strands from the tree core, we're efficiently producing a reliable building product.

Q: What differentiates Weyerhaeuser OSB products from other companies?

A: Time, knowledge and science. We've been manufacturing OSB for decades so we know how to do it right. Weyerhaeuser built one of the first OSB mills in North America in Grayling, Michigan in the early 1980's. That mill is still running today, manufacturing quality products for our customers. Many within our OSB workforce have 25+ years of experience making quality OSB.
Our manufacturing excellence is strengthened by Weyerhaeuser's engineering and technology teams that continue to find better ways for us to make OSB. This is a highly ethical operation that makes sure our products meet or exceed PS2 standards.

Q: Even with a good product, why should a dealer purchase Weyerhaeuser OSB?

A: We know dealers jump through hoops for their builder customers. We're there to make a dealer's life easier. Our enhanced logistics system means that we have a healthy inventory of OSB panels that can be delivered quickly by truck or rail to meet their needs. We provide reliable products through a proven delivery system they can depend on.

Q: What's one of your favorite OSB products?

A: That's easy. Edge Gold™ panels. We're the leaders of thick panels for subflooring. At 7/8 or 1-1/8 inches thick, these dense OSB boards can reduce the amount of joists in a construction project by extending the space for on center fastening. This saves jobsite time and effort while improving the floor performance! I like to say that "thicker is quicker!"