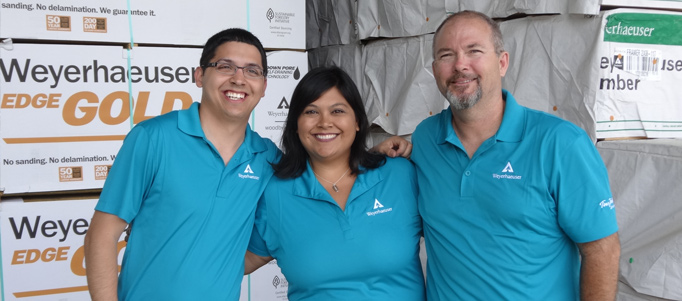 There's never a lack of conversation at family gatherings for Angel and Rob Butler, and their son Brandon Diaz. The three have one big thing in common to discuss: they all work at the Weyerhaeuser Distribution Center in Concord, North Carolina.
Angel, an inside sales rep, has worked at different Weyerhaeuser locations for almost 15 years. She started in sales support at the Baltimore distribution center location and moved to Concord last August. Her husband Rob quickly followed. Having started at the Baltimore facility he transferred as a forklift operator at the mega warehouse facility, where he plans to explore more growth opportunities in the company.
Next to make the move was Brandon, who arrived at the Concord facility in February of this year. After starting at the Weyerhaeuser Distribution Center in Baltimore in 2012 as a temporary employee and then an operations associate, Brandon pursued his dream of being in sales. The big dream fulfillment came when he was able to move to Concord as a customer service representative so he could be closer to his primary passion — cars.
"I always wanted to be in sales and Weyerhaeuser gave me the opportunity," says Diaz, who is a member of the Concord Car Club. "The fullness of my experiences at the company before joining sales provides valuable insights for when I'm working with our customers."
"We share a commonality since we all work for Weyerhaeuser … but because we're all in different areas of the company, we bring different perspectives to conversations," says Angel. "This is definitely a Weyerhaeuser family. Our 12-year-old daughter was really raised in the Baltimore office."