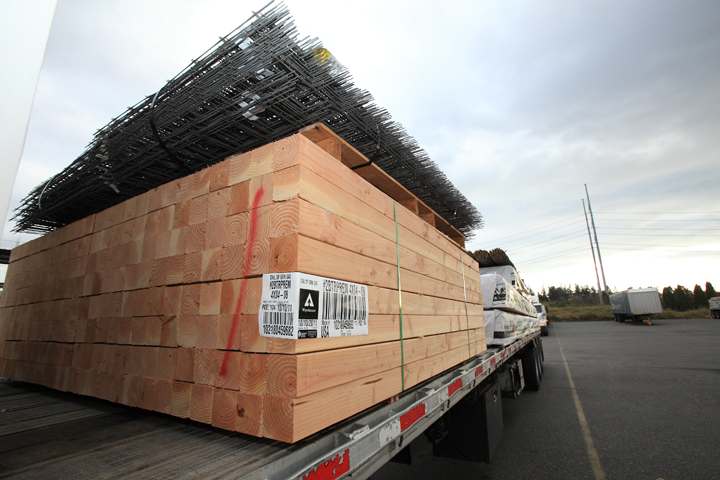 For the past 13 years Leo Vilela has safely transported millions of Weyerhaeuser Distribution products throughout Texas, Louisiana, Oklahoma and New Mexico. Now he has reached another "million" milestone — he has completed over 13,000 loads, more than 20,000 deliveries, delivered nearly 550,000,000 lbs of material, and driven one million miles with no accidents, or tickets.
Employed by JB Hunt, but a fully-dedicated truck driver for the Weyerhaeuser Dallas Distribution Center in Carrollton, Texas, Leo travels about 2,000 miles a week and makes 30 deliveries during that timeframe. His attention to detail on the road and with Weyerhaeuser customers is a rare, and appreciated asset.
"Leo has become one of the most recognized and renowned drivers," says Don Smith, Account Manager with JB Hunt who works with the Weyerhaeuser Dallas Distribution Center. "His dedication to customer satisfaction is unparalleled. Leo has been requested by several customers when they need assistance with special or difficult jobsite or secondary customer location deliveries."
Based out of Carrollton, Texas, Leo hauls massive truck loads of lumber, plywood, rebar, OSB and engineered lumber products to Weyerhaeuser customers. For the past several years his route has included a variety of key distribution customers, including 84 Lumber, BMC West and Home Depot locations throughout western Texas.
The Dallas Distribution Center has a long-standing partnership with JB Hunt, currently in its 21st year. This relationship is highlighted by associates such as Vilela. "JB Hunt's commitment to hire, train and develop drivers of this quality is why we work so well together," explained Area General Manager for Weyerhaeuser Dallas Distribution, Keith Keegan.
Keegan shared, "This milestone is something we are all proud of here at the site. Leo is more than someone who delivers product for us, he's a part of our family and extension of our team. For the sales team, knowing Leo is taking care of the order you committed to allows them to sell with more confidence knowing it will be there safely, on time and interactions with the customers will be a positive reflection upon our commitment to service."
"I find there's something new to learn every day while I'm on the road," says Vilela. "It's critical to pay attention to the road conditions, construction and everything around you. Staying focused is so important.
"To be safe you have to truly have no distractions … and you have to learn to be patient. I'm constantly asking other drivers for tips before I take a route. You can never tell what the road conditions will be on any given day. From dealing with construction zones to bad weather, the more information I have in advance, the safer I can be with the load I'm hauling."
Over the years, the team at Weyerhaeuser, and his regular customers, have become like family to Leo. He's thankful for the new technology JB Hunt routinely introduces into their trucks to make them safer. That's because safety is always on Leo's mind.
The father of three grown children, he has taken the time to drill into his family the importance of safe driving habits. "I tell them not to be on the phone or listen to music when driving," says Vilela. "Concentrate on just one thing, the driving. That's the way to be safe whether you're on the interstate or the back streets near your home."