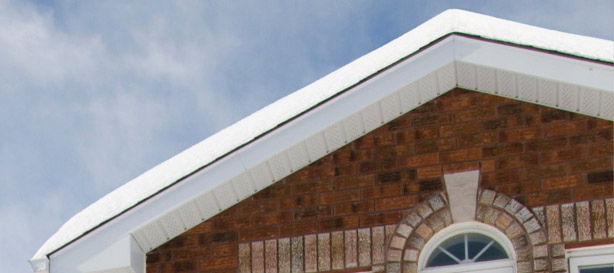 Winter weather can take a toll on residential roof systems. Snow and ice accumulation put downward force on the roof, and if the load exceeds the weight it was designed to carry, catastrophic failures can occur.
One way to ensure roofs can stand up to hefty snow loads is to choose structural wood panels, such as 5/8″ Edge Gold Roofing, that can shoulder the additional weight. As part of a properly installed roofing system, Edge Gold Roofing is thicker for added bending strength in climates with heavy snow loads, and is denser than commodity sheathing for superior performance. Using the proven Edge Gold formula of its flooring relatives, it also provides superior wet weather properties.
Along with these features for winter weather climates, Edge Gold Roofing is also engineered flat and to stay flat; resists cupping, warping, and sagging; and includes fastener guides pre-printed on the surface. The panels are Structural 1 certified by APA.
"Beyond just performance, there are also practical reasons to switch to an enhanced roofing product," said Fred Miller, OSB Market Development Rep for Weyerhaeuser in the New England region. "Through our research we've found that builders are increasingly interested in process reducing products (such as Edge Gold Roofing) because they add value by removing a step or two from the building process."
"What's more, the tongue-and-groove edges not only offer more efficient distribution of heavy loads, they also eliminate the need for the use of H clips, which can be time consuming to apply," Miller continued. "The T&G profile on our panels fit together easier than anything else on the market, resulting in a perfectly gapped panel."
For a limited time, first-time customers using Edge Gold Roofing can receive a rebate of up to $1.25 back per panel. (Click here for more information.)
The product is currently available only in select Northeastern markets. For more information on this or any other Weyerhaeuser OSB product, please contact Fred Miller at fred.miller@weyerhaeuser.com or Lou Bradner at lou.bradner@weyerhaeuser.com.