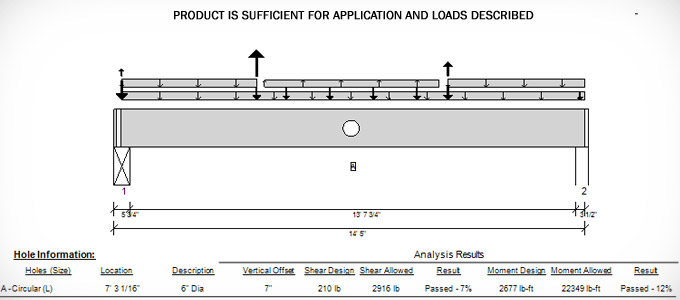 Do you find yourself switching joist direction, running vertical chases, or placing and cutting holes through multiple ply joists just to allow mechanical or plumbing to remain inside the floor system? These modifications typically result in increased complexity for the structure which leads to increased time to complete the job and, ultimately, increased cost for the builder.
Now with Javelin® software v5.1 you can eliminate those inefficiencies with the ability to analyze holes in Trus Joist® beams. Place members in the floor system as needed to provide a cost effective and sound floor system and fit mechanical and plumbing in there too. Use Javelin software to place obstructions through beams or joists in the floor system, creating a hole in the member(s) that will be analyzed as part of the Trus Joist floor system. During the design process, all the holes are analyzed whether in a TJI Joist or Trus Joist beam, so you can have confidence in your floor system.
Analyze holes in Microllam®, Parallam®, and TimberStrand® products. Place multiple holes in a beam member up to 2/3rds the depth of the member and get detailed analysis results in the member report. Analyze a floor system that maximizes savings knowing that beams will no longer be in your way.
Ask a Software Support Representative for more information regarding the latest release of Javelin software. And, look for the ability to analyze holes in Trus Joist beams in Forte® software by Weyerhaeuser early next year.