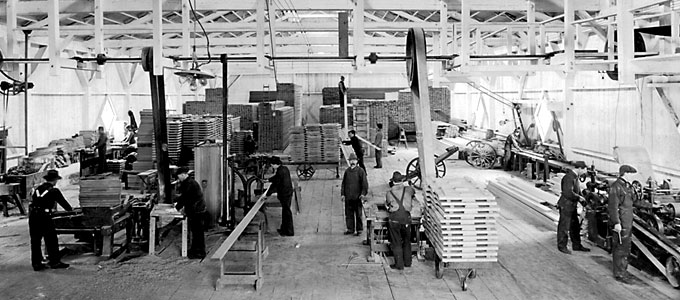 Above: Employees manufacture parts for Weyerhaeuser Silo kits, circa 1915.
---
Between 1911 and 1931, Weyerhaeuser produced build-it-yourself silo kits in Everett, Washington at the company's first sawmill. Like any other silo on the market, farmers used them to store feed for livestock. But Everett mill manager W.H. Boner knew Weyerhaeuser could deliver a better silo to farmers than what was offered at the time. Many early silos had a single door at the top through which feed was added and taken out. The Weyerhaeuser Silo, however, had doors from top to bottom placed six inches apart. These multiple access points greatly reduced the amount of work necessary to get the feed in and out.
In December 1912, Boner described the start-up rationale:
In starting in the manufacture of silos, we felt that we wanted to put out the best silo on the market. We had our reputation to make; we called it the Weyerhaeuser Silo. We were going into a new business… we had never handled silos before; and in carrying out this idea, I really believe that we have one of the best, if not the best silo on the market today.
Each standardized kit contained tongue-and-groove fir 2 by 6's, laminated wood rings, iron hoops, a set of doors, and roofing materials. The wood rings measured 10 to 12 feet in diameter, and the silo sizes ranged from 10 to 40 feet high.
After unpacking the kit, the farmer stacked the wooden rings on the ground. The circular wall of 2 by 6's was raised, and the rings were nailed in place at intervals for strength. Iron hoops were cinched around the outside, and then the roof was put on.
Although initial interest had been strong, more work was needed. Boner continued:
The silos we sold last year in each instance gave good satisfaction… If we develop sufficient business this year, I figure on putting up a silo factory and getting in shape to handle the increased volume of business which will probably come to us each year.
In an effort to increase business, the mill sent out 3,000 to 4,000 letters to retailers with a proposition to furnish each retail yard with a small but full-sized silo at "practically cost price." The retail dealer could use the silo for demonstration, and when done, "sell it for as much or more than it cost them." That offer received about 900 responses.
---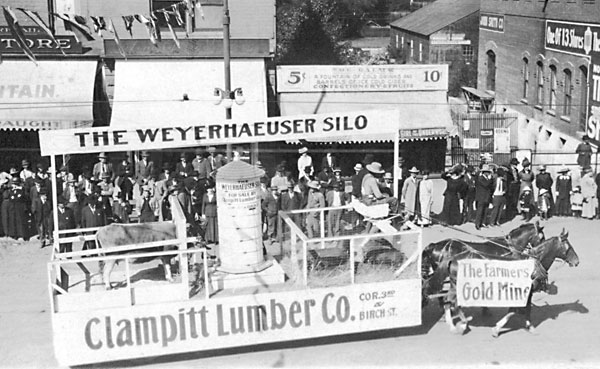 Viral marketing, circa 1913: Clampitt Lumber Company float featuring the Weyerhaeuser Silo at
Frontier Days in Walla Walla, Washington. The float won first prize.
---
Going forward, Boner was certain they would improve the cost ratio:
There is no question in my mind but what we will continue every year to rather cheapen our silo and still make it answer all purposes and comply with competitive and more economical conditions.
While the silo's market demand has come and gone, the innovation displayed in those early days continues to live on 100 years later at Weyerhaeuser.