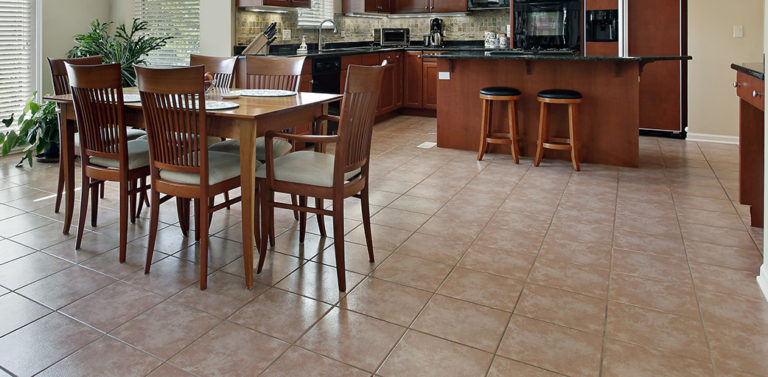 The beauty of what you see is often determined by the quality of what you don't see.
Builders and their tiling subcontractors know that the methods and materials used when installing a tile floor are just as important as the floor's design. It all starts with a solid base.
For more than 25 years, builders have found success using Weyerhaeuser Edge™ and Edge Gold™ oriented strand board (OSB) floor panels in demanding applications such as subfloor beneath ceramic tile. While subfloor material isn't the only factor that contributes to a successful ceramic tile floor application, most builders will agree that it's easier to install a quality subfloor upfront than it is to go back later to fix cracking tile.
Some of the most common problems associated with poor subfloor or underlayment installation for ceramic tile applications can be prevented by following these recommendations:
[cat-list]
[li]Limit subfloor deflection by reducing your joist spacing. Weyerhaeuser recommends using a maximum joist spacing of 16″ on-center when 23/32" Edge and Edge Gold floor panels are used in tile applications.[/li]
[li]Consider using a thicker subfloor panel, which will result in less panel deflection. This is true even when floor joists are designed at the maximum recommended on-center spacing, 24" on-center when using 7/8" Edge and Edge Gold floor panels with no need for an additional wood underlayment. The result is a 'flatter' floor system, which results in less flex of the tile above, and therefore less cracking.[/li]
[li]For the highest level of stiffness between the joists, install the subfloor and underlayment perpendicular to the floor joists.[/li]
[li]Never skimp when it comes to fastening. Use a quality subfloor adhesive to bond the subfloor to the joists and the underlayment to the subfloor.[/li]
[li]Take advantage of the self-gapping tongue-and-groove joints in Edge and Edge Gold floor panels. They automatically allow the 1/8-inch gap that helps you avoid ridges from panel expansion that could eventually cause tile cracking above.[/li]
[li]Before installing your tile, make sure both the subfloor and underlayment panels are clean, dry and free of any debris, with no protruding nails or screws. Fill any low areas and level high spots to provide a smooth, flat surface for the tile installer.[/li]
[/cat-list]
Many floor tile failures can be traced to inadequate subfloor installation. A properly-installed subfloor is critical to a successful ceramic tile application. While a good subfloor may not be fully appreciated by the homeowner, it does allow a good tile design to shine. By following these important recommendations, your tile floor will provide years of crack-free service.