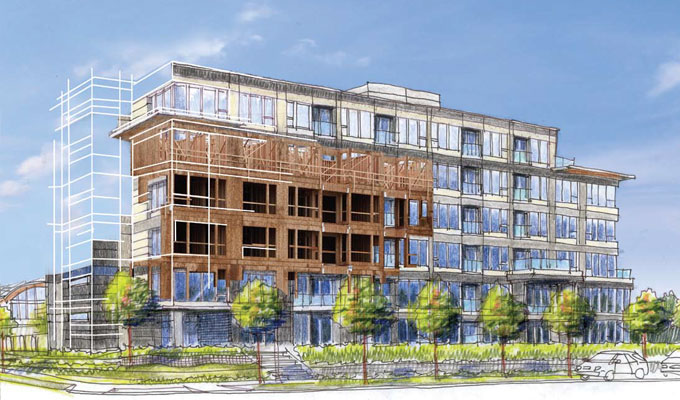 Really? A six-story building constructed of wood? Yes, and officials in British Columbia are leading the way in approving code changes needed for the use of wood in 5 and 6 story buildings – commonly known as "mid-rise" buildings.
Spearheaded by the provincial government in 2008 in an effort to support the economic growth and development of the forest industry, the first mid-rise wood building was completed in 2010. Now, there are 20 buildings completed or under construction using structural lumber and engineered wood in wall, floor, and roof framing where previously only steel and concrete would have been code-allowed. The buildings are either five or six stories in height, with an average total area of 30,000 square feet.
Click here to see a case study of the Remy project in Richmond, the first development to receive a permit under the revised BC building code (PDF).
In this mid-rise category, builders prefer framing with wood products because they can build at lower costs than with traditional alternatives. Pro-contractor lumber dealers now compete for business in a segment previously dominated by steel and concrete. Additionally, wood construction supports the forestry industry – an important engine for the economic development of British Columbia and the country.
Architects and specifiers have worked closely with the Canadian Wood Council (CWC) and manufacturers like Weyerhaeuser to best understand the technical challenges in considering and selecting products for mid-rise construction. Details such as load-stacking and dimensional stability become key considerations with the addition of stories, making engineered lumber a desirable choice.
Trus Joist® products have emerged as a preferred choice among builders and specifiers for many such projects. Products like Trus Joist TJI® joists and TimberStrand® LSL address the challenge of dimensional stability and minimize shrinkage in mid-rise buildings, and specifiers use Trus Joist Parallam® PSL and Microllam® LVL for beams, headers and columns to manage the higher vertical and lateral loads. With a broad product selection and the largest team of technical and sales support associates in Canada, Weyerhaeuser is the industry-leading manufacturer with a full range of project support.
Currently, the CWC and Weyerhaeuser are collaboratively working with authorities across Canada for NBCC acceptance of wood for mid-rise buildings. A country-wide code acceptance of wood framing would prove beneficial for builders, dealers, and the forest industry as a whole.