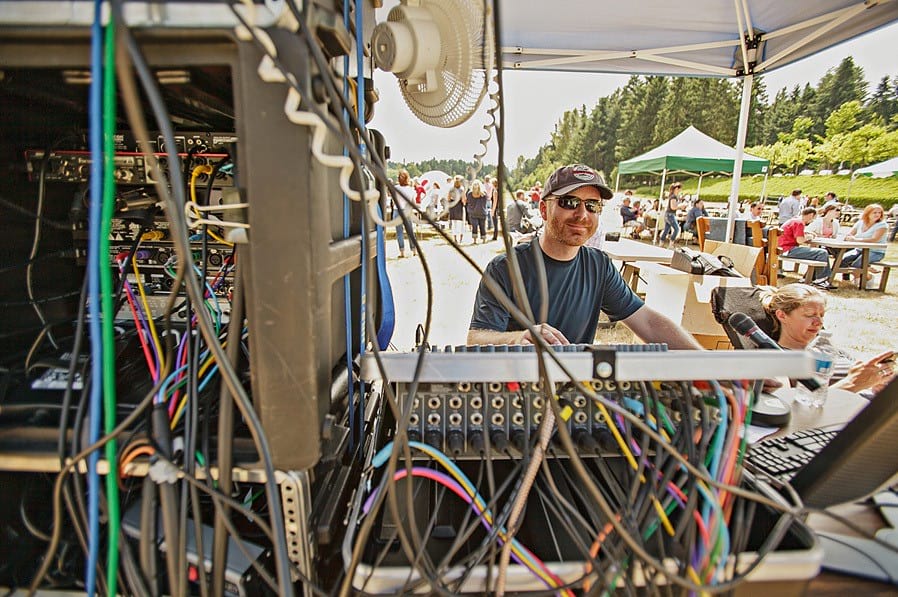 "I've always been interested in technology," says Ian Hamilton, Weyerhaeuser's Unified Communications team lead and Office 365 architect. "My dad had access to computers in the 1960s when he was working on his graduate degree at UC Berkeley, and I remember trying to figure out how the old IBM PCs worked. I got my own computer when I was in junior high, played SimCity with my brother and worked on the computer systems at my high school. I always knew computers were my thing."
Ian never lost his love of tinkering from those early days of discovery, and he has had ample opportunity to flex his problem-solving skills during the past 18 months.
His role is to make sure all of our employees have the resources they need to stay connected and collaborate effectively with internal and external stakeholders. So while Ian was already working on collaboration tools before the pandemic, his work became even more urgent when COVID arrived and sent thousands of our employees home from the office — pretty much overnight. That meant Ian had to help find technology solutions to keep everyone plugged in and productive in a virtual work environment, including through a companywide transition to Microsoft Teams as our primary collaboration tool.
Ian was recently recognized for his efforts supporting our shift to remote work during the pandemic, in fact. He was honored as a 2021 IT Hero by Enterprise Connect, a leading conference and exhibition for enterprise communications and collaboration in North America. The award highlights enterprise professionals who went above and beyond last year to provide exceptional service, vision and expertise.
For Ian's part, he says he's just doing a job he loves.
"I like being able to do so many things in a day," he says. "I get to use my technical skills, gain leadership opportunities, connect with internal and external customers to figure out what they need, and help them and us succeed."
MEET IAN
Your title is collaboration architect. Tell us what you do.
My group manages our Office 365 platform, which includes programs such as Microsoft Word, Excel and Outlook, and enterprise collaboration tools such as Teams, Skype for Business and our Contact Center Solution. As collaboration architect, I'm the person who develops the roadmap and figures out what tools we have and how they're currently configured, and then compares them to what we should have so that we can all work together while also interacting with our external customers. Our team's mission is to build and support the tools we use to collaborate with each other, which became even more important during the pandemic.
Who are your customers?
Every Weyerhaeuser employee is my customer, even if they don't use computers every day. We also serve external customers through the Contact Center Solution used by our distribution sales teams. When an external customer gets a quote through this system, my team considers them our customer, too.
What led you to choose this job?
I have a computer science degree from the University of Idaho, and I attended a career fair in 2001. Weyerhaeuser lured me in with free pizza, and I landed an internship and have been here ever since.
Tell us what your day is like.
I have lots of meetings — as you might imagine! We're in the middle of implementing an enterprise-wide deployment of Microsoft Teams and retiring Skype, so there's a lot of coordination to get the infrastructure ready.
What's your favorite part of your job?
I know some people in tech who only support a single application, but I like the variety of my job. We manage about 30 servers plus our voice and phone operations, which means I need a broad knowledge base.
You must have some challenges. What are they?
The software we support has broad capabilities but it's always changing, and we need to stay current with that. Years ago, someone from Microsoft told me that in the future, people like me will need less technical knowledge because Microsoft will take care of the back end for us. That means I need more end-user skills, like the ability to implement systems, conduct training, and communicate and manage change.
Tell us something about your job that might surprise people.
I think people are surprised to learn how complicated my job is. When they think of Teams, people assume you just buy a license, install it and it works. But like many enterprise apps of this scale, there's a lot of stuff under the covers with O365 that people don't see. For example, we've been busy working to add the ability to call 9-1-1 from Teams. Things like that are more complex than most people realize.
What advice would you give people who want a job like yours?
The word that comes to mind is "tinker." I'm a computer geek, so I've had a server at home for years. I've downloaded and installed free software and set up my own phone system. I tell people to play around and figure out how stuff works.
What are your career aspirations?
I'm new to my current role, so I still have work to do to modernize what we've already got and figure out what we need. But longer term, I'd like to broaden my scope, maybe to take on other applications.
What does your work area look like?
When I was in the Seattle office, I had three monitors surrounded by organized clutter — things I was testing like desk phones, conferencing devices and headsets. In my home "office," all three monitors plus all those doodads are set up on a folding table.
Tell us about your other interests. What do you like to do when you're not at work?
Besides working on landscaping and house projects, I enjoy doing stuff outdoors, like hiking and camping. I have two sons, ages 11 and 14, and I'm an assistant Scoutmaster for their Boy Scout troop, so that gets us outside as well.