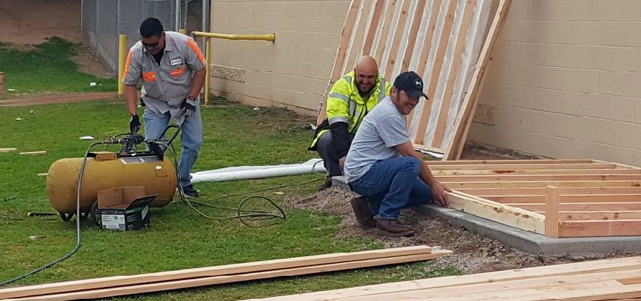 At Weyerhaeuser, the company vision isn't just words on a poster board or a recitation during a staff meeting. It's an equation for success that the team strives to meet each day, and all team members are encouraged to embody the core values of safety, integrity, citizenship, and sustainability 365 days a year.
When Phoenix DC operations supervisor, Rick Lujan, saw that his community was in need, he knew he could turn to the company for support. His daughter is the softball coach at nearby Millennium High School, and together, they had been working to find a storage solution for the teams' equipment. After cleaning, rearranging, and reorganizing the current room, the duo quickly realized that there simply wasn't enough space to effectively house all the freshman, junior varsity and varsity women's softball gear.
"I knew I could reach out to my boss for help in finding a solution for the team. Weyerhaeuser has a culture of caring – community involvement and volunteer projects – so I didn't even hesitate to ask for help," said Lujan. The company agreed to donate materials for a new storage shed to be constructed for the women's softball team at the high school. Lujan asked his coworkers Mario Amaya, Nick Rodriguez, and Mark Garcia if they'd like to join him in building it. They were happy to spend a Saturday together to get the job done.
Old storage
"These four individuals represent our company's continuing presence in community involvement and shared their time and spirit in making a difference for local students," said Charles Rivera, site operations manager at the Phoenix DC.
"At the end of the project, we took a picture of the shed. It was a good feeling for us, and it was good for the girls and it served a good purpose," said Lujan. And the softball players? They love being able to focus on sharpening their skills rather than hunting for a good glove.