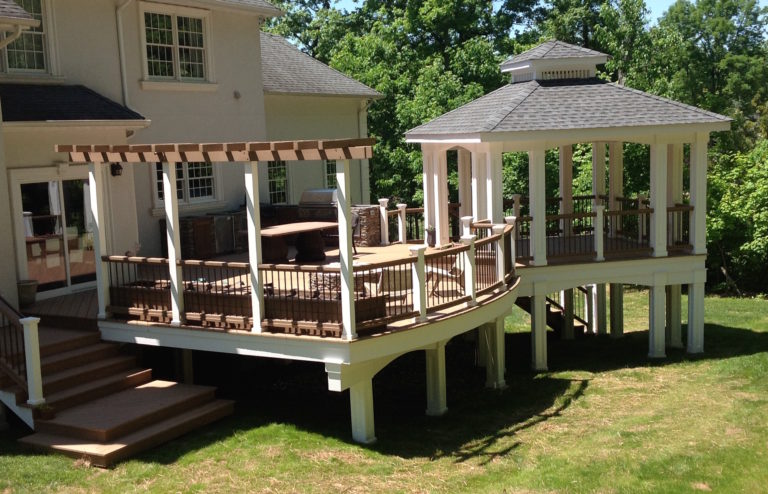 For the past several years, homeowners have clamored for outdoor spaces that extend their living areas and create the ultimate escape in their own backyard. And the trend is not showing any signs of abating.
"It's getting even bigger," says Bob Kiefer, owner of Decks by Kiefer (pictured above) in Martinsville, N.J., who is getting requests for decks and outdoor spaces with price tags as high as $200,000 or more.
And while they're not all that pricey, many backyard projects these days are far beyond a plain, square deck or simple patio. The most popular spaces have multiple levels, distinctive areas and luxury add-ons for cooking, relaxing and entertaining.
"No question about it, it's still a very, very hot item," says John Tailor, owner and president of Tailor Decks in Statham, Ga. "It seems people are staying home and entertaining more. And they'd rather be outside than in."
"[The trend has] evolved and matured a bit," adds Matt Breyer, president for Breyer Construction and Landscapein Reading, Pa. "It's a little less of a 'unique destination' and more of an extension of the inside living. Our clients are taking design cues from inside and expressing their personality outside with living spaces they can relax and entertain on—but it all flows."
Here are some of the popular considerations and must-haves for creating an outdoor oasis.
HAVE A PLAN
Tailor notes that even those homeowners who can't afford a $50,000 to $100,000 backyard oasis right away are doing so in pieces. "They're working toward an overall plan, sometimes in stages," he says.
"Lacking a proper overall plan is a huge mistake," confirms Breyer. "Even if you can't afford it all now, you should have a pretty good idea of what the end goal should look like, so you can do things in efficient stages—so it all fits, blends and is cost-effective."
DEFINE A LAYOUT
Just like the inside of the house, large outdoor spaces are open yet have clear designated sections for lounging, cooking, etc.
"Usually we try to create areas," Kiefer explains, "a dining area, a seating area around the fire. As decks get larger … we entertain as close to the kitchen as possible, unless something else, such as the fire pit, is a draw."
Often, creating those areas involves multiple levels of decking or the deck flowing cohesively into patios or backyard entertaining areas.
"We used to build decks," says Tailor. "But how often do you use a large deck? It's not inviting. If we do a large space, we are careful to create clear areas."
It's about thinking about what's important to you, says Breyer. "For instance, it could be privacy and personal relaxation; then some built-in or careful landscaping becomes important, and smaller, more personal spaces. Or, it could be entertaining that's important; then we'll be looking for larger, more open areas that flow together, possibly wider steps and more access points, and maybe a roof structure to make sure the 'party will go on' no matter what the weather."
CONSIDER COVERED AREAS
Indeed, "Having a covered area is a big trend now," confirms Kiefer. Whether a covered porch open at the sides or even pergolas or sunshades, these areas provide respite from the hot sun, helping to ensure the space can be used throughout the day.
Screened porches and glass enclosures are popular, as well, though are best for areas where bugs are a problem as they don't feel quite as outdoorsy as open porches.
Breyer notes that this trend is also driving increasing demand for outdoor ceiling fans.
INTEGRATE AMBIENT LIGHTING
Lighting is a must have to ensure usability and safety after dark. "A lot of times, homeowners are using their decks in the evening because they work all day," Tailor says. "The right lighting and ambiance makes a huge difference."
Look for subtle, not glaring/spotlight, options, such as embedded stairway and railing lights alongside unique lanterns and sconces that carry a style theme.
ADD FIRE
Fireplaces and fire pits are one of the most popular add-ons for backyards right now, creating an ambiance of their own, a natural gathering place and warmth in cooler months. Fireplaces are grand but are much pricier due to the large amount of material required. Firepits tend to be more practical for most homeowners and also offer a better seating arrangement as visitors can encircle the full pit in conversation.
DON'T NEGLECT LANDSCAPING
The most beautiful outdoor spaces cohesively connect decks and patios into the grass and landscaping. Deck builders and remodelers should work with a landscape expert from the beginning to ensure the landscaping is as much a part of the overall plan as the deck planks and the grill.
CONSIDER A KITCHEN
The extent of the "outdoor kitchen" really depends on a homeowner's budget. While full-on kitchens with exterior-grade appliances and plumbing are becoming increasingly popular, often a nice grill is enough for most budgets. To make the area feel special, provide clear delineation of the space and consider a built-in barbecue as a more upscale option. Extras such as a countertop or prep area and storage for cooking tools also can add a more authentic kitchen vibe. Consider what's underfoot, as well: install a grill mat or even a different material under the grill to protect the wood or composite material from splatter.
MAXIMIZE WHAT'S UNDERNEATH
Once an afterthought, more and more builders are treating the area under the deck with as much care and flair as the top. Under-deck ceiling options capture rainwater to protect the area from weather, creating an inviting, protected space perfect for additional seating and a great fair-weather option for decks without covered areas.
At bare minimum, pros shouldn't completely ignore the underside. Cover it over with latticework or at least ensure it's well manicured. Unfinished treated wood or concrete footings can steal ambiance away from the rest of the backyard oasis.
LBM dealers can help support deck builders in creating an outdoor escape by stocking the right mix of products. Rather than carrying just a few products across a multitude of brands, consider having broader stock of similar brands and materials. For instance, Tailor notes that wood decking is often stocked in 12- and 16-foot lengths, but not 18s and 20s, which can lead to less efficient installation and more waste.
In addition, many manufacturers offer software or online tools that allow homeowners to see what their decks will look like, making it easier to select colors and accessories—and also to determine if they're going overboard with their wish list. Tamko, for example, offers the Decking Styles app.
To see how leading deck builders are creating the outdoor oasis, check out the North American Deck and Railing Association's recent Deck Award winners here.