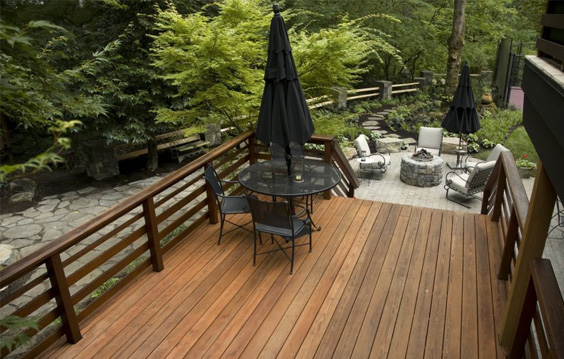 When it comes to return on investment for remodeling dollars, there's few safer bets than a wood deck. According to the latest Cost vs. Value Report, an annual study by Remodeling magazine, a wood deck addition recoups 75.6% of its cost.
A wood deck offered the fourth-highest ROI of all projects in the study, behind just garage door replacement, manufactured stone veneer, and minor kitchen remodel.
In fact, exterior projects dominated the rankings, accounting for nine of the top 10 high-return projects. "In order to make the best use of the Cost vs. Value tool, a remodeler has to think like a real-estate broker," advised Remodeling. "'Curb appeal' and 'first impressions' are central to a real-estate professional's estimation of resale value. Granted, a home's exterior will only persuade potential buyers to see more, and first impressions can vary from one individual to the next. But the impact these impressions make is critical in setting the stage for what a buyer is willing to pay for a home."
Regionally, wood decks recouped even higher returns in the Pacific (87.8%), West South Central (81.4%), and the Northeast (77.6%).
Learn more about the benefits of selling and installing Real Cedar decking here.