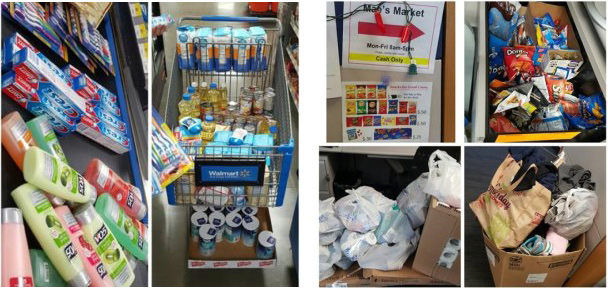 Hungry? If you're an associate at the Weyerhaeuser Distribution Center in Dallas, you can stop by Mae's Market for snacks or a special meal.
The convenient location inside the DC and the beat-the-vending-machine-pricing of Mae's Market items makes it a favorite of associates. Plus they know whatever they spend on munchies is going directly to support a local charity.
Mae Mengistu, an administrative assistant at the Dallas DC started the program after fellow associate Chi Ly came up with the idea at the beginning of 2016. They both serve on the DC's Wellness Committee. To implement the plan, Mae purchases bulk snack items and sells them at a reasonable price in "Mae's Market."
"So far this year we have raised $234.71," says Mengistu, a three-year employee at the facility. "We used those funds to go shopping and purchase a variety of needed items for Metrocrest Services, a local charity that provides assistance to people in crisis throughout our area.
"We've been able to buy items like shampoos, deodorants, toothbrushes and toothpaste, canned foods and cooking essentials. We have also coordinated donations from our team members in Dallas of clothing, shoes, diapers and canned foods for the organization's ongoing needs."
Metrocrest Services provided assistance to 14,976 adults, children and seniors in 2015 including 664,423 meals, rent assistance to 740 households and school supplies to 1,223 students.
"Every single donation we receive goes to support those in need in our community, says Tracy Eubanks, chief executive officer of Metrocrest Services. "The contributions from Weyerhaeuser are greatly appreciated and take us one step closer to helping those in crisis in our area.
"We value the support of the Weyerhaeuser team members. Concerned citizens like those who work at the Dallas distribution center truly help make a difference by reaching out to people in need."