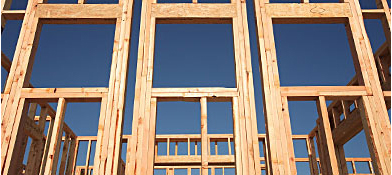 Shrinkage occurs when wood dries, potentially changing its structural dimensions. This is a factor in any wood structure, and the compounding effect of multiple stories can increase the problem.
Of particular concern is potential shrinkage around windows and window flashing – especially if different-behaving materials such as brick veneer are placed next to wood framing. Wood shrinkage around such openings may change the slope of flashing, creating a drainage problem. Another area of concern is around elevators with the potential for dimensional changes between the elevator core and floor levels.
Trus Joist® engineered wood products are made by re-combining veneers or strands of wood that are dried prior to manufacture. The result is engineered wood with a moisture content similar to the moisture content in the final building.
Proper storage after manufacture and limiting exposure to moisture during construction will ensure a final product that is dry and helps minimize vertical movement of the structure. Using TimberStrand® LSLand TJI® joists in your project can help reduce problems with differential heights and drainage to help keep your framing just the way you built it.
Even in "mid-rise" buildings of 5 or 6 storeys—now code-allowed in British Columbia—the problem of shrinkage is simple to solve with engineered products such as TimberStrand® LSL and TJI® joists.