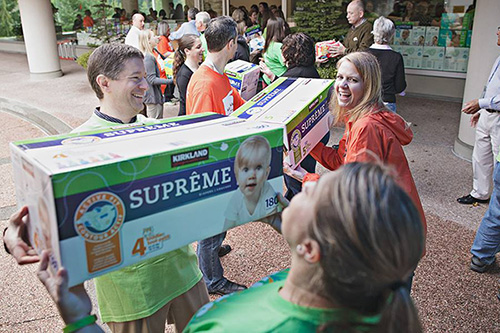 From collecting coats to raising funds to feed hungry children, Weyerhaeuser Distribution locations and employees were involved in several unique programs in 2015 to support their local communities.
"We continued our long-standing commitment in 2015 of supporting programs in communities where our employees live and work," says David Helmers, vice president of Weyerhaeuser Distribution. "The employees at our 17 distribution centers across the country look forward to giving back to our communities each year through donations of time, talents and products."
National Diaper Drive
As an overall campaign, all 17 Weyerhaeuser Distribution locations participated in Operation Diaper Drive, a companywide Weyerhaeuser campaign to collect diapers for needy family. More than 1.5 million diapers were collected during the company's fourth annual campaign in 2015, exceeding the goal of 1.3 million diapers. World Vision organization assisted Weyerhaeuser facilities across the country in determining distribution of the diapers within local communities.
Along with employee diaper donations, contributions came in from customers, vendors and the community. At the Weyerhaeuser Distribution location in Easton, Pa., financial and diaper contributions were received Highlander Equipment, Builder's General, Target and Ashley's Restaurant.  "Operation Diaper Drive may have the Weyerhaeuser name attached to it, but this is truly a community event," says Anne Leyva, community investment program manager for Weyerhaeuser. "We are very grateful for the outpouring of support from everyone who donated and to all those behind the scenes who make this program possible."
Local Volunteerism Efforts
At the Houston distribution center for Weyerhaeuser, a first-time effort in December to support 1000 Hills Ministry International generated a collection of 50 gently used coats and 30 blankets. "The Coalition for the Homeless in Houston reports there are more than 4,600 homeless people in our community, many of them living on the streets," says Kala Brummer with Weyerhaeuser Distribution in Houston. "Our donation drive helped at least 50 of those people stay a little warmer during the coldest time of the year."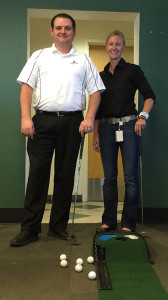 In Phoenix, the 30 members of the Weyerhaeuser Distribution team collected $5,372 to support the efforts of the Valley of the Sun United Way chapter in feeding hungry children. Once employees learned of the need for nonperishable food that students could take home over the weekend to assure they had meals, they ramped up their efforts to support the campaign.
"I'm extremely grateful for the support from the Weyerhaeuser team," says United Way's Robin Telle. "Working together, we're providing hope for our children and most vulnerable community members."
Efforts continued in 2015 for the Weyerhaeuser Distribution team in Denver to work with the Home Builders Foundation of Denver. What started in 2014 as time donated to help remodel a bathroom and add a ramp for a disabled resident, moved forward in 2015 with volunteer efforts for multiple projects. Employees at Weyerhaeuser assisted with the Pucks for Possibilities and Grapes & Galleries fundraisers, a summer builder blitz and constructing a ramp for a local resident in June.