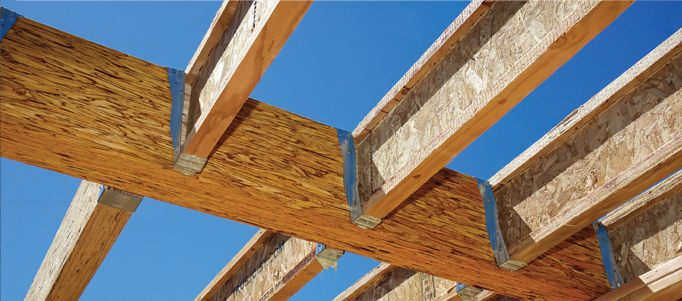 By Gary Schweizer, P.E.
What makes Eastern Parallam PSL special/unique?
PSL Technology– Parallel Strand Lumber (PSL) is made from 8' long veneer sheets clipped into ¾" wide strands. These strands are longitudinally oriented; coated with an exterior type structural adhesive; and, densified to a prescribed specification. The billet is cured using microwave technology resulting in a finished billet measuring 11" wide and 19" deep. The technology allows Weyerhaeuser to manufacture thick sections of Parallam PSL.
Yellow Poplar Wood Fiber– The Buckhannon plant is uniquely located in mixed hardwood forest, where the yellow-poplar species is under-utilized and is used in the manufacture of Parallam PSL. Yellow-Poplar is a soft hardwood species with high strength properties.
High Stiffness/Strength Design Properties– Eastern Species Parallam is manufactured at 2.0E/2900 Fb. This high stiffness and strength make it appropriate for long span and heavy loading applications. See the specifier's guide for Beams, Headers and Columns (TJ-9000) for complete design properties.
Unique Wide Beam Width– Parallam is available in 3-1/2", 5-1/4" and 7" beam widths. These widths allow engineers and designers to avoid complicated multi-ply connections; and, to utilize the enhanced lateral stability of a solid beam vs. multi-ply solid sawn or LVL beams.
Advantages over Glulam – Parallam PSL is a homogenous cross section manufactured with no camber. There is no unbalanced layup that results in top vs. bottom orientation field issues. Additionally, the manufacturing moisture content and dimensional tolerances are similar to TJI® joist; thereby allowing for a compatible product depths in beam applications.
Long Lengths– Eastern Parallam PSL is available in varying lengths up to 48' (shipment parameters).
What's new?
Coating – Eastern Parallam PSL is now coated with a patent pending proprietary surface modification on the narrow edge and wide face. The coating technology chemically modifies the outside wood surface to improve weatherability and decrease the rate of water absorption. The additional dimensional stability has been both laboratory and field tested to verify the increased weatherability during normal yarding and jobsite conditions.
Colorfast– The coating also inhibits ultra violet degradation; keeping the 'tan' coated product colorfast for longer periods of time. Field observations also indicate that minor mold staining tends to be reduced by the coating technology.
What is still suggested?
End seal– Eastern Parallam PSL has a proprietary Trus Joist end seal applied at the Buckhannon plant. This sealant retards water absorption at the ends of the beam or column. Weyerhaeuser always recommends that the end sealer be re-applied at the distributor or dealer when cutting job specific packages. Trus Joist end sealer is available in five gallon buckets and can be sprayed or rolled to quickly coat ends. Guidelines are published – "Sealant for Trus Joist® Products".
Dry-Use Condition– The new coating retards water absorption during normal construction cycles. Parallam PSL is not intended and should not be used for permanent exterior applications; or, any covered or interior applications where the product likely to be exposed to recurring moisture. All design information mentions that untreated Parallam PSL is intended for dry use applications only. Additionally, the product marking indicates "Not Preservative Treated".
Excellent Yarding Practices– Eastern Parallam PSL should be wrapped, stickered and handled in accordance with Weyerhaeuser literature Best Practices for Product Storage and Handling (TJ-1512).
Parallam Plus® PSL in exterior applications– Parallam Plus PSL with Wolmanized® preservative protection is the only Weyerhaeuser product available and approved for exterior, wet-use applications. See specifier's guide for Parallam Plus PSL Beams, Headers and Columns (TJ-7102) for additional information including the treating specifications and warranty terms.
---
GARY SCHWEIZER, P.E.

Gary Schweizer, P.E. is Director of Engineering for Weyerhaeuser's Engineered Lumber Products. He has thirty years of experience with Weyerhaeuser in a wide array of design and Trus Joist product support. Gary is a structural engineering graduate of Ohio State and has a Masters Degree in Business Administration from the University of Dayton.