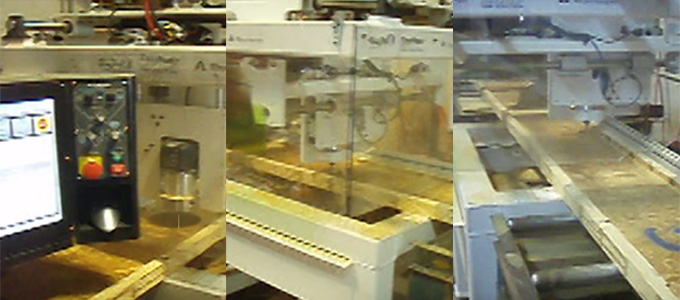 The latest in pre-cut saw technology has arrived: the EasyPack™ saw solution. Part of NextPhase® Site Solutions by Weyerhaeuser, EasyPack is a saw that enables dealers to provide pre-cut bundles of TJI® joists to their customers. The EasyPack saw is the simplest of four saws that automate precision-cutting, and optimize material lists against a dealer's current inventory using Javelin® and Stellar® software. To see a side-by-side comparison of all four saws, see the Saw Features brochure.
The first EasyPack saw solution was recently installed at a site in North Carolina. Previously, the dealer used a manual system in which a person measured and cut holes with a hand router. Due to regional builder demand and capacity limitations, the dealer needed to expand their business, selecting the EasyPack saw because of its ease of use. The EasyPack saw offers square cut, precision end-trimmed TJI® joists and centered holes. By automating with the EasyPack saw, they have improved their capacity and can provide their customers with accurate pre-cut products that are installation ready.
George Sander, Weyerhaeuser's NextPhase Site Solutions automation specialist, was on site to install the saw. George says that this first EasyPack saw installation was a terrific example of how we can work with dealers to provide them with a saw solution to best meet their specific needs, showing dealers how they can get into pre-cut framing even if they don't have huge volumes.
In addition to the EasyPack saw solution, there are three other NextPhase® saws available. The NextPhase EntryMax™, CrewMax™, and VolumeMax™ saws provide additional benefits for cutting TJI® joists and beams. Look for more information on those systems in a future blog post. If you're interested in converting your manual cutting process into a NextPhase Site Solutions automated process, email NextPhase@weyerhaeuser.com or call 800-833-9491.