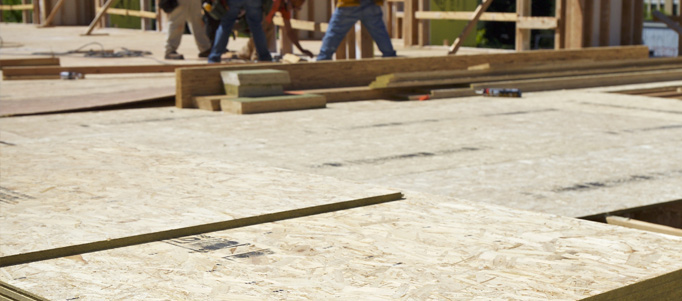 Imagine this: a jobsite where framing is going faster than anticipated. How? By selecting thick Edge Gold™ panels for the subflooring.
"The 1-1/8″ Edge Gold OSB panels are a great replacement on commercial projects for lightweight concrete toppings or gypcrete," says Alex Kuchar, OSB technical manager for Weyerhaeuser. "Using the thick OSB panels eliminates the curing process that can take days with concrete products. A builder can save labor and time using Edge Gold — plus the overall weight of the structure is reduced when eliminating a concrete type of subfloor.
"As an added bonus, these dense panels have greater nail retention and push out the default joist system. Nailing intervals can be at greater on center intervals, perhaps reaching even 24 inches on center!"
To help facilitate speed of installation, Edge Gold panels feature a fastener marking system on the surface of each panel. A series of dashed lines are located across the width and on the panel surface with each dash approximately two inches long by 3/16 inch wide.
The dashed lines on the panels are spaced out to accommodate support spacing of 16 inches, 19.2 inches and 24 inches on center. The dashes are placed 12 inches apart so that the proper fastener spacing on the interior of the panel can be maintained.
"Science advancements have changed the way structures are built," says Kuchar. "Engineered wood products make it possible to span greater lengths, use stronger sheathing and reduce jobsite labor. These are tremendous building improvements for both residential and commercial buildings."