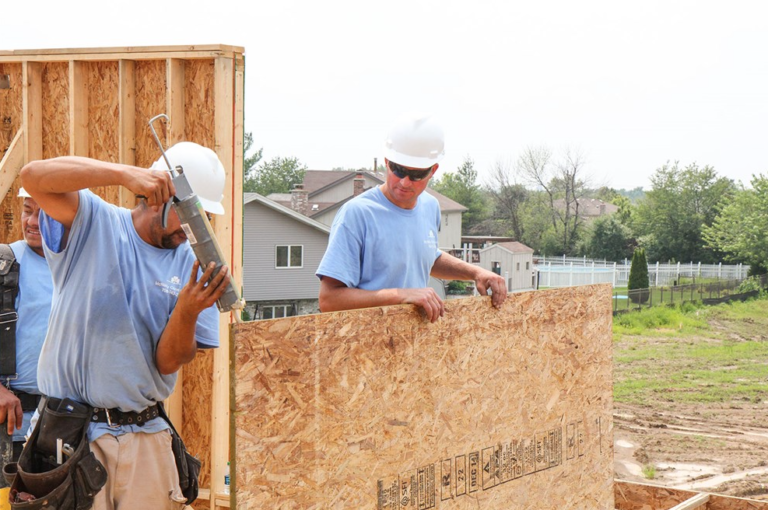 Conversations about energy-efficient homes don't stop with selecting the HVAC system and ensuring leaks are sealed. Many of the decisions builders make to meet the energy code influence or can be influenced by the framing behind the walls and underfoot.
In the floor system, those impacts come in the form of ductwork. As an increasing number of builders move HVAC ducts into conditioned space to reduce heating and cooling losses and meet new energy code requirements, joist spacing is widening to 24" on center to accommodate. The increased span, though allowed by code, can mean decreased stiffness in the floor—leading to uncomfortable bouncing and rattling dishes that homeowners will be less than thrilled about.
Avoiding noticeable movement can be easily accomplished with a simple panel upgrade from the typical 23/32" OSB to 7/8" Edge Gold premium subfloor. The thicker Edge Gold panels feel more solid and stable underfoot over the longer spans. They also can help minimize pops and squeaks in hardwood flooring, and provide a much better nail base for bottom plates of non-load bearing partition walls. Because 7/8″ Edge Gold is more than twice as stiff and produces less than half the expected subfloor curvature between joists, it can also help prevent tile and grout cracking.
If already framing 24" o.c. and using hardwood flooring, a 7/8" or thicker subfloor is required to be within the National Wood Flooring Association guidelines for proper hardwood flooring installation. The 7/8" subfloor provides up to 40% higher fastener withdrawal values, giving the builder increased peace of mind. More good news, 7/8" Edge Gold is produced at three different Weyerhaeuser mills and is readily available throughout the U.S. and Canada.
This more robust approach was recently on display at the Inside View demonstration home in Lockport, Ill. Under construction by Beechen & Dill Homes, the two-story, 2,880-square-foot house features a range of advanced framing techniques designed to increase cavity insulation space and reduce framing waste. To accommodate ductwork in conditioned space, the floor joists are spaced 24 inches o.c., which also eliminated about one-third of the required joists and adhesive and subsequently reduced labor by one-third.
Beechen & Dill then upgraded to 7/8" Edge Gold subflooring (pictured above) and to higher series, deeper 14-inch I-joists, resulting in a stiffer, higher-performing floor system despite the wider spacing.
The panel upgrade provides the same functionality as traditional code-compliant panels, so the change for contractors is minimal. In return, builders are constructing houses more likely to satisfy homeowners and ensure their word-of-mouth reputation.
"With prices going up and labor harder to find, techniques such as these that reduce energy use while making more efficient use of materials and allowing for more efficient construction are the direction the industry needs to be going," said Ed Kubiak, director of construction for Beechen & Dill.