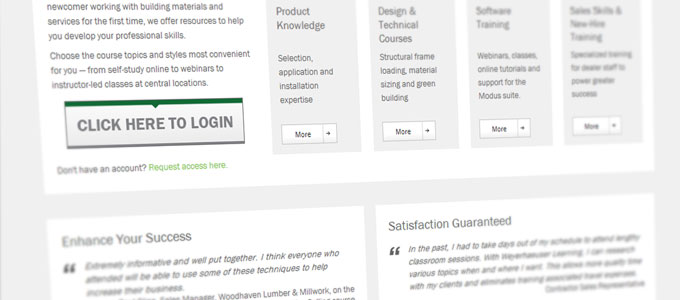 Order taker or order maker, which are you? The market is improving but will not likely return to a heyday, and your customers will demand suppliers with the knowledge and expertise to help them succeed. Sure, they still want to go golfing, but first, their businesses must be successful. So is it time to elevate your game and charge up your sales skills, or those of your team? Need an easy way to pick up technical training that'll boost your career? Check out the recent improvements and additions to Weyerhaeuser Learning.
This online learning portal provides dealers, builders, architects and engineers convenient access to construction professional education. Recently upgraded, it now offers training opportunities to suit a range of learning styles, educational needs and time availability.
You won't be able to fix your slice, but Weyerhaeuser Learning offers a class to learn almost everything else to help ensure your success. The professional education options include topics from green building and technical design to sales training, product knowledge and dealer new-hire orientations. Software training for the Weyerhaeuser Modus Suite, including Javelin and Forte, can be completed through the portal. Weyerhaeuser Learning also provides access to AIA accredited continuing education for architects and construction engineers.
"Thousands of customers or their employees have taken advantage of Weyerhaeuser Learning as an efficient way to increase their knowledge and improve their success. The latest changes make the portal and the training available through it even easier," says Kurt Schwab, senior training specialist.
Customers find Weyerhaeuser Learning training effective and convenient. As a sales representative for a building contractor said, "In the past, I had to take days out of my schedule to attend lengthy classroom sessions. With Weyerhaeuser Learning, I can research various topics whenever and wherever I want."
This resource offers career development exclusively for our colleagues in the construction industry. It's just one more way Weyerhaeuser supports customers to enhance our mutual success.
Learn more, download a course catalogue, or request your own access by visiting the Weyerhaeuser Learning website.