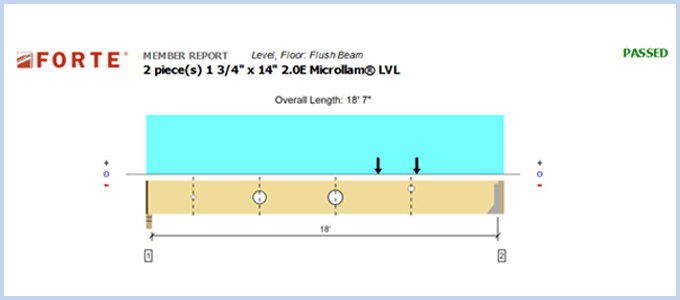 Forte software v4.6 now provides the ability to analyze round holes up to 2/3 the depth of the member for Microllam® LVL, Parallam® PSL and TimberStrand® LSL beam products. Additionally, with this release you can:
[checkboxes-list]
[li]Analyze members for commercial loading with improved input and analysis using commercial live load checks[/li]
[li]Use the latest Occupancy Types from IBC and NBCC for Forte Quick Loads[/li]
[li]Analyze members using the latest Trus Joist products and design information[/li]
[li]Use the newest hanger libraries from leading hanger manufacturers[/li]
[li]And more![/li]
[/checkboxes-list]
For additional information regarding any of the new features available with this release of Forte software, please refer to the Forte Release Notes (English or French).
Download Now
Visit the Forte Software website to download the latest version.
Forte Questions? We're here to help!
To request an installation disc, or for help, contact Software Support via email, by phone at 1.800.833.9491, or visit the Forte website to view documentation for current software releases.