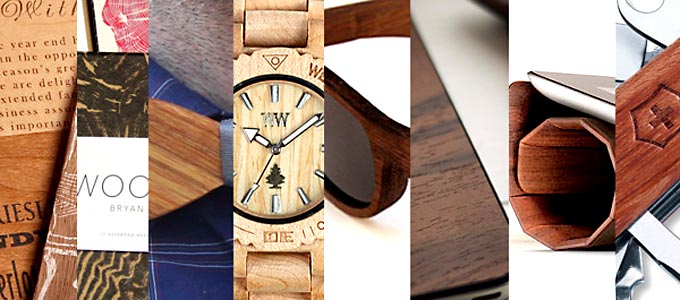 Here at Weyerhaeuser, our love for wood is… deeply rooted. With the holiday shopping season in full swing, it's time we present some of our favorite wood and wood-related gifts for 2013.
Disclaimer: These are not paid placements or Weyerhaeuser endorsements of these products. This blog post is simply a fun look at products using wood in creative ways.
For the Stocking

Designed for versatility, reliability, and functionality, the Swiss Army Spartan features the natural beauty and feel of hardwood handles. Each knife offers unique color and grain patterns for the perfect gift.
For the Techie

Miniot is based out of Holland and creates wood products for all the iOS devices. Docks, pouches and panels – they've got you — and your phone — covered.

Material 6 uses beautiful woods to give your phone a warmer feel by swapping out the entire glass back panel for a slab of wood.
For Looking Good

We've featured these on our Facebook page in the past and they still look as cool as ever. Every step is conducted in their Portland-based workshop to promise an entirely handcrafted piece of wooden eyewear. All models are accompanied by 100% UVA/UVB protection Carl Zeiss lenses imported from Italy. Polarized lenses are also available.

WEWOOD fashions wooden timepieces from mostly scrap-wood and uses state-of-the-art Miyota movements for the guts, a hybrid of technology and nature resulting in a unique watch that's handsome and earth friendly. Even better, for every watch sold they plant a tree. Since 2011, WEWOOD has planted 250,000 trees.

Launched in Tulsa, Oklahoma in 2012, Two Guys Bow Ties is the brainchild of designers, Adam Teague and Tim Paslay. Looking to fill a void in men's accessories the pair developed hand crafted bow ties that enabled them to fuse old school craftsmanship with modern style. Bow ties are made from a variety of rare and exotic pieces of hardwood. Sourced throughout the world, product materials include African Zebrawood, Peruvian Walnut, South American Bocote, Canary and more.
For Readers (or Writers)

If there is, indeed, nothing lovelier than a tree, artist Bryan Nash Gill shows us why. In this collection of notecards, based on the book Woodcut, the arboreal rings come to life in exquisite detail, revealing the great beauty and power within each tree. The notecards are contained in a handsome keepsake box, with removable bellyband.

Cards Of Wood is a third generation, family-owned business that has been in business for over 40 years. Cards of Wood is not only the manufacturers of the wood product, but also has a team of designers and printers to produce custom design work.
For the Do-it-Yourself'er

Make your own wood products with this 5-star rated Fiskars Axe. The X25 combines perfected weight distribution, advanced blade geometry, an ultra-sharp edge and virtually unbreakable design to maximize your performance.