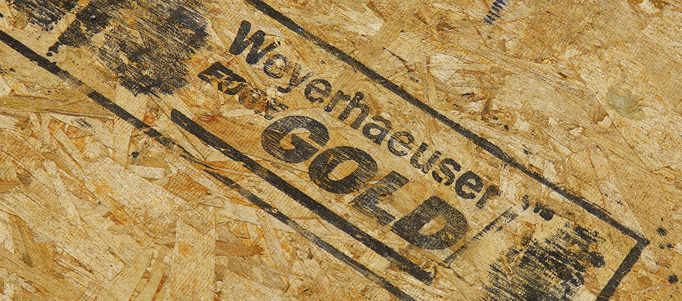 You don't have to be in Rio at the Olympics this month to "go for the gold." Just make the smart decision to investigate the many benefits of Weyerhaeuser Edge Gold™ panels.
Manufactured with a proprietary edge seal, these OSB panels can stand up to the elements. With a uniform appearance and tight thickness tolerances, Edge Gold panels come with a fastener marking system stamped on each panel to aid in fastener placement. Placed 12 inches apart, the dashed lines are spaced to accommodate support spacing of 16″, 19.2″ and 24″ on center.
If you're racing to the finish line of a project, Edge Gold panels can get you there. Each panel features the unique Down Pore technology that helps provide subfloor drainage. The unique notch and groove system efficiently channels water away from the edge of the panel and away from the supporting member. The result is that standing water collected on the surface of the floor during construction drains away.
The touch sanding provided to each Edge Gold panel at Weyerhaeuser's manufacturing facilities means panels arrive on the job site with a uniform thickness and ready for installation. Used successfully for both residential and multi-family construction, the precise tongue-and-groove fit of Edge Gold panels makes installation fast and efficient.
When you're ready to "go for the gold," contact Weyerhaeuser for more details on our high-performance panels. Backed by our 50-year limited warranty, these are the panels you want on your team to make your project a winner!