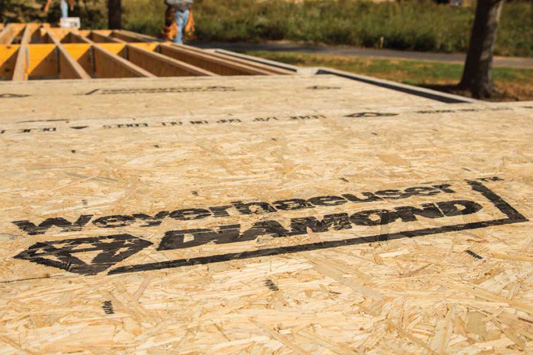 Weyerhaeuser will launch its newest oriented strand board product, Weyerhaeuser DiamondTM, at the 2017 International Builders' Show in January. The top-quality engineered subfloor panel is designed to provide industry-leading wet weather performance and superior strength and nail retention to help eliminate squeaky floors, providing builders a "worry free" subfloor solution.
"The new Diamond panel has been engineered to provide unmatched durability, backed by a limited lifetime warranty," says Travis D. Perry, market development manager with Weyerhaeuser. "It's specifically manufactured to resist inclement weather, while also saving effort in the installation process with our easy-fit tongue-and-groove edge construction. Diamond is a dream product for a builder because it reduces, or eliminates, steps in the installation process while providing superior panel properties.
"The fully-sanded face on the Diamond product assures uniform thickness. The panel provides hassle-free installation and is protected by a 500-day no-sand guarantee. We've built on the best technology in our Edge and Edge GoldTM panels and increased their qualities for this panel to assure the reduction of squeaking floors and ridging hardwood and tile. Best of all, Diamond is part of a larger family of flooring products provided by Weyerhaeuser. When combined with Trus Joist® I-Joists, builders can now construct a truly high performance floor system warranted by a single company."
Available on the East Coast starting in Spring 2017, Diamond features the patented Down Pore® self-draining technology introduced on Edge Gold panels several years ago. Down Pore's notch and groove system channels water away from the end of the panel and away from the supporting member. The result is that standing water collected on the surface of the floor during construction drains away.
More than 20 years ago Weyerhaeuser pioneered enhanced subfloor technology. During the past decades engineers with the company have continued to introduce time-saving and technological enhancements to the company's line of oriented strand board products.
"Our marketplace is very big on hardwood flooring so we anticipate Diamond will be well received," according to Brad Brubaker, area general manager for Weyerhaeuser Distribution out of Concord, N.C. "This area of the country has a strong need for high-end oriented strand board flooring products, and Diamond will perfectly fulfill those needs.
"What distinguishes Diamond from its competitors is its ability to combine all of the desired qualities of a panel product — such as superior strength properties, wet weather performance and durability, surface appearance and fastener retention — into one easy-to-install and worry-free subfloor. That's a product builders are going to appreciate and use."
To learn more about Weyerhaeuser Diamond, please contact Travis Perry, Weyerhaeuser's SE Market Development Manager, at 401-524-9626 or travis.perry2@weyerhaeuser.com.