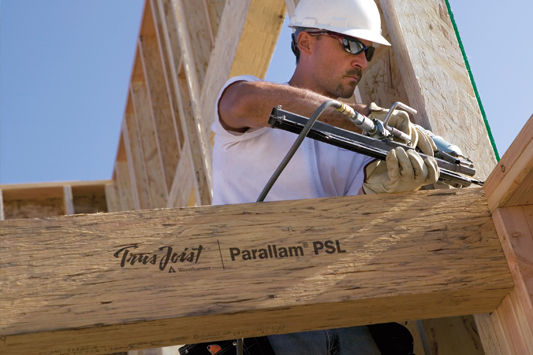 When it comes to beams and columns, how much is your time worth? Building up multi ply members such as solid lumber or LVL can be fast and seemingly consistent. But multi-ply comes with time consuming efforts such as required engineering, fastening review, and top edge bracing for lateral stability. And don't forget that they are usually for dry use only which limits their use.
Is there a better way?
Stepping up to a solid, one-piece solution like Parallam® PSL isn't as challenging as it may seem. Single member installations take the time and guesswork out of fastening and stability. When you substitute Parallam® PSL for Microllam® LVL, you don't need any additional design analysis to ensure your loads meet your requirement.
For the solid choice for framing larger width beams and columns, use Parallam PSL. Pick it up, put it in, and keep on framing.
For a deeper discussion on Parallam PSL vs LVL check out this recent webinar with Fine Homebuilding.
Get the most up to date news on Weyerhaeuser products as well as technical articles written by our own professional engineers here at Weyerhaeuser to help you design, spec and build for quality, performance and savings.