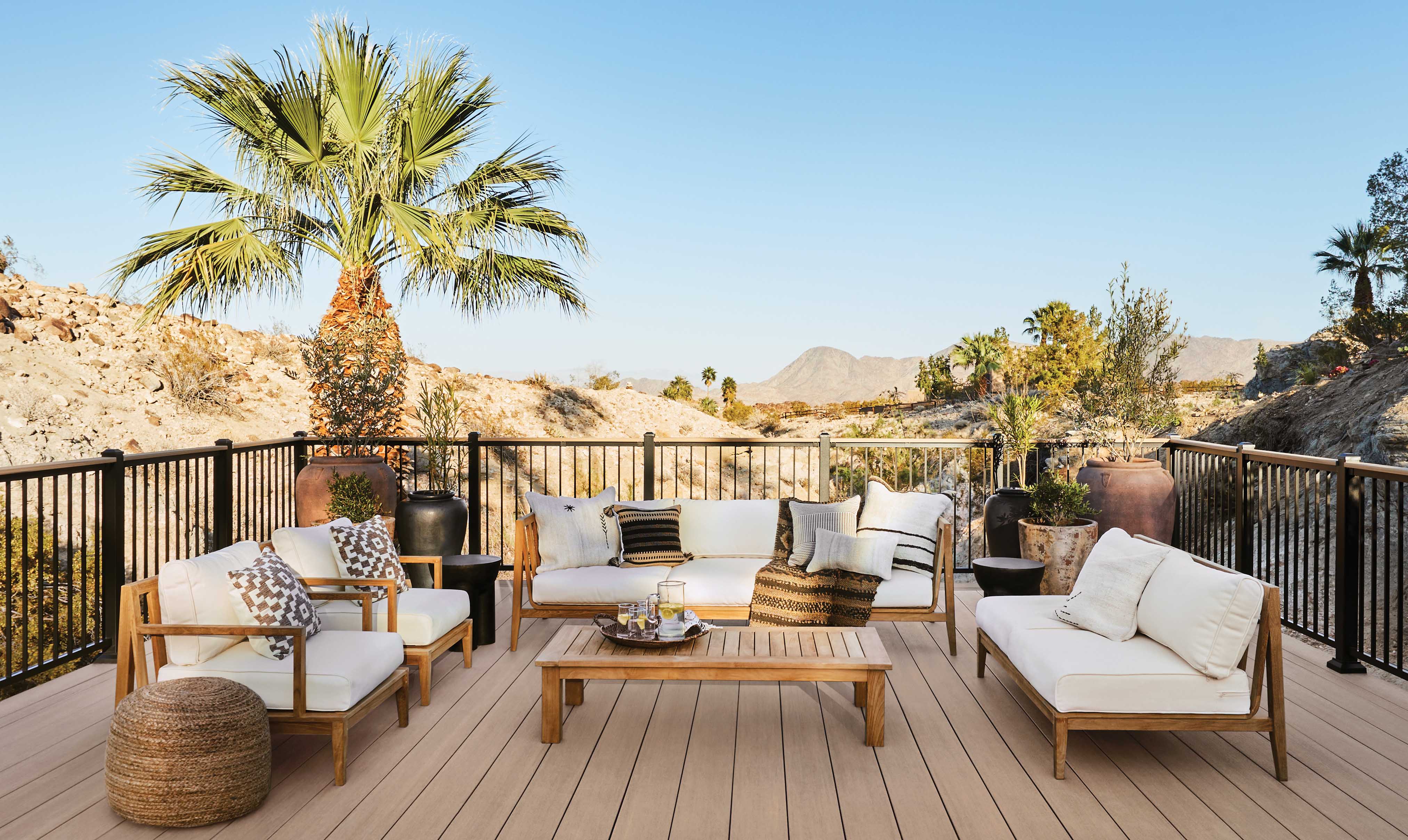 Where once building pros and homeowners had limited choices in deck railings, the growth in manmade materials has expanded their options dramatically, with hundreds of combinations of top and bottom rails, balusters and infills, and accessories. But this also means the process might get a little overwhelming for some buyers.
Here's a step-by-step guide to narrowing down TimberTech® railing color options to meet each client's style needs.
Choose the Railing Material
Before choosing a color, the first thing to consider is material, because that plays a big role in what colors are available—and how long those colors stay richly hued.
Natural wood railings are the most common and can achieve nearly any color through painting and staining but will require maintenance and re-painting to protect the rail from moisture and keep the color looking nice.
Composite railings mimic the look of wood but without the associated maintenance and without the need for painting or staining. TimberTech composite rail color options include white and black.
Aluminum railings are a lightweight option that offer the look of wrought iron without the rusting or corrosion concerns. Colors available from TimberTech Impression Rail Express® are white, black, and dark bronze. While Impression Rail™ colors are black and bronze.
Choose the Aesthetic Style
Different railing materials and colors exude different aesthetic styles, from traditional to modern to coastal, alpine, and more. If clients aren't sure where to begin, the home's exterior is a good place to start.
For a traditional style, a crisp white composite railing, designed to mimic milled wood, offers a classic look, and the bright white stands out for an eye-catching perimeter. To achieve a coastal look, combine the white composite railing with black infill. Or, for an alpine setting, try the clean, bold lines of black composite railing and cable infill.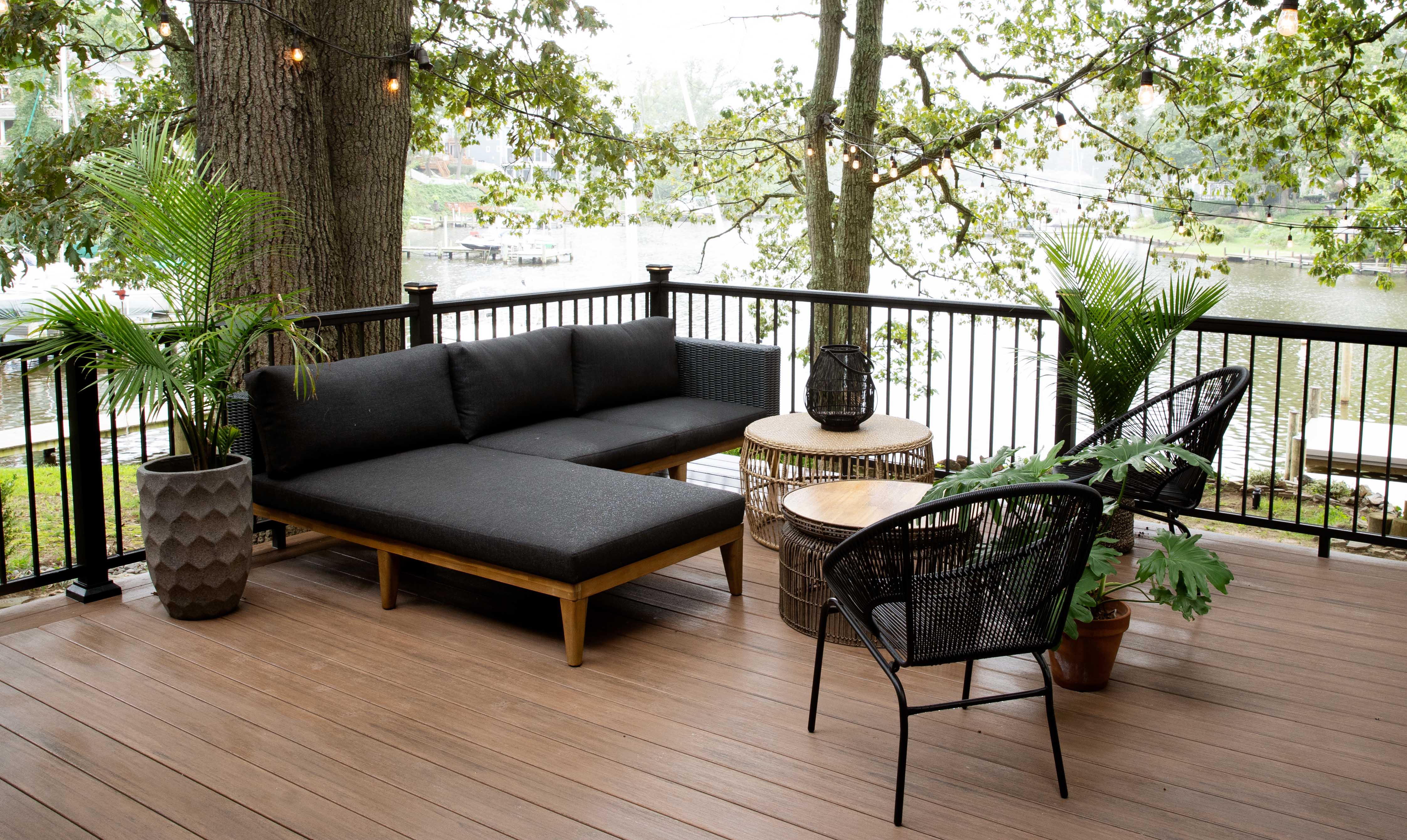 If the home sports a modern look, a sleek black aluminum railing provides for narrow lines and a dark, minimalist silhouette.
Decide Whether to Contrast or Complement the Exterior Color Palette
The home's exterior color palette will include not only the siding and trim, but also the deck board colors, so be sure to keep the deck board colors in mind when choosing a deck railing color.

If the homeowner prefers a cohesive, streamlined aesthetic, opt for a deck railing color that complements the existing color palettes. Dark, richly hued decking pairs well with a black railing, which in turn complements the dark trim of the home.
If they want to make a bigger impact, go for high contrast looks. A white composite railing with black balusters contrast each other nicely in the same way deeply hued decking contrasts with the home's white trim.
Consider Surrounding Scenery
How to choose a deck railing color will partially depend on backyard scenery, as certain railing colors will blend in or stand out against the backdrop. The buyer should consider if they want the railing to pop against the scenery in a statement-making design or serve as a subtle silhouette against the deck's magnificent views.
Is the deck built overlooking the waters of a lake or bay? Choose a white composite railing, which will blend into the light colors of the coastal surroundings. For an infill that doesn't hinder the view, go for a stainless steel cable infill, which will blend in seamlessly to the reflective waters beyond.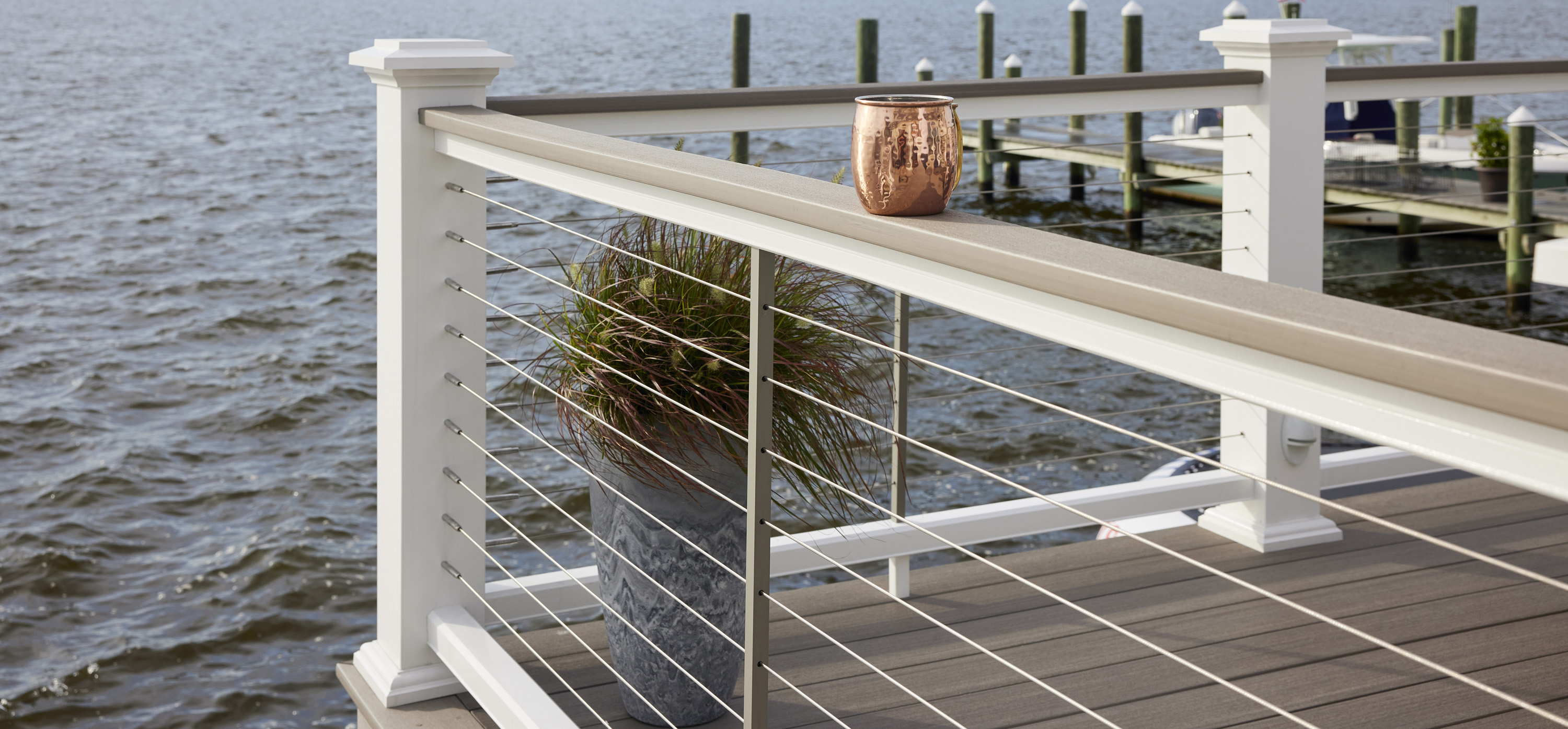 If the home is nestled in a woodland or sits in a mountain range, choose a black or dark bronze railing to blend into the dark, earthy colors of the lush backdrop. For a seamless horizontal line, opt for the Drink Rail, which gives the option of an over-the-post composite deck board top rail.
For more tips and tricks on selecting the right rail, see the full version of this blog on TimberTech.com.